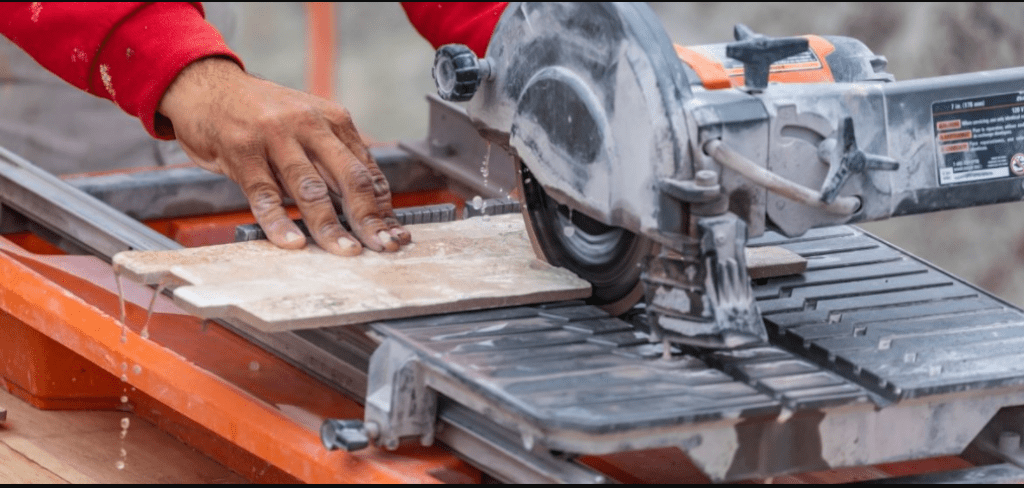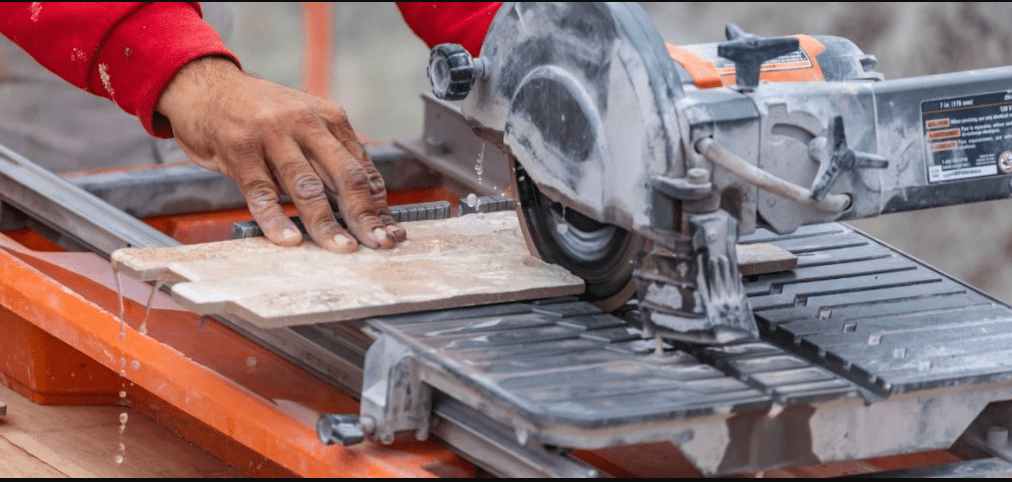 Do you need to cut some tiles on your own, and do you want to buy a durable wet tile blade? Or do you want to replace your old and inefficient saw blade? Then, a 10-inch wet tile saw blade is what you need for comfortable work with tile material.
It can be a challenge to select a good tile saw blade, but the good news is that here you can find reviews on some of the most reliable products. My name is Ronnie Collins, and I have been passionate about woodworking, gardening, and other housework for many years. I have even earned an MS degree in Botany from the University of Maryland. I have been working at a gardening company for a while, so I had the ability to try the best tile saw blades on the market.
Below, I want to share my experience with the best-wet tile saws on the market and provide you with 10-inch wet tile blade reviews. While describing the specifics of each item, I have taken into account what features you need to pay attention to so that you don't end up buying a low-quality product or the wrong type of blade.
Top 10+ of 10 Inch Wet Tile Blade Reviews
Here are the 11 wet tiles saw blade models I have personally used, and these have proved to be durable and reliable wet tile saw blades. If you have been looking for one for cutting tasks and household keeping, read the reviews below.
1. Diex Super Thin Diamond Tile Blade – Best Tile Saw Blade for Porcelain
Sometimes I find some of the blades by accident. That's how I found this pretty Chinese cutter by a brand called Diex. I needed a quick replacement for my portable DeWalt handheld wet tile saw and this was the only suitable option in the nearby store at the moment. I later found it on Amazon and figured out that there are thousands of positive reviews by fellow professionals and DIYers. It appeared that Diex is a rapidly growing and authoritative manufacturer in Asia.
The first thing you may notice is a unique pattern of the cutting part. They call it X-teeth and I think the technology makes sense. Although the blade is very-very thin (just 0,7″), it doesn't heat up too fast and remains sharp longer than its price suggests.
The cutting quality of this blade is also exceptional. The extra thin kerf lets you cut tile like butter with or without water, while the industrial-grade diamond coating provides a smooth finish without chipping. If you want a smaller blade for your tile saw, you can choose any diameter from 4″ to 10″ with different arbors. Regardless of the diameter, all the variations have strengthened central plates and the same thin kerf. It's a high-class affordable option for most use cases!
Product dimensions – 10.08 x 10 x 0.51 inches
Product weight – 1.49 pounds
Material – Industrial diamond
Unique feature – X-teeth
Maximum speed – 6,500 RPM
---
PROS:
Strengthened central plate;
Ultra-thin design;
Affordable accessory;
Cuts everything from porcelain to stone.
CONS:
The brand is still very new to the US market;
Too utilitarian design.
---
2. QEP 6-1008BW 10-Inch Black Widow – Best Diamond Blade for Porcelain Tile
QEP brand is famous for its high-quality equipment. I have used many of their saw blades over the years, and the QEP 6-1008BW 10-inch saw blade has been among my favorites yet. The thing I like best about this product is the fact that it is relatively inexpensive and still works just as well as the more expensive saw blades.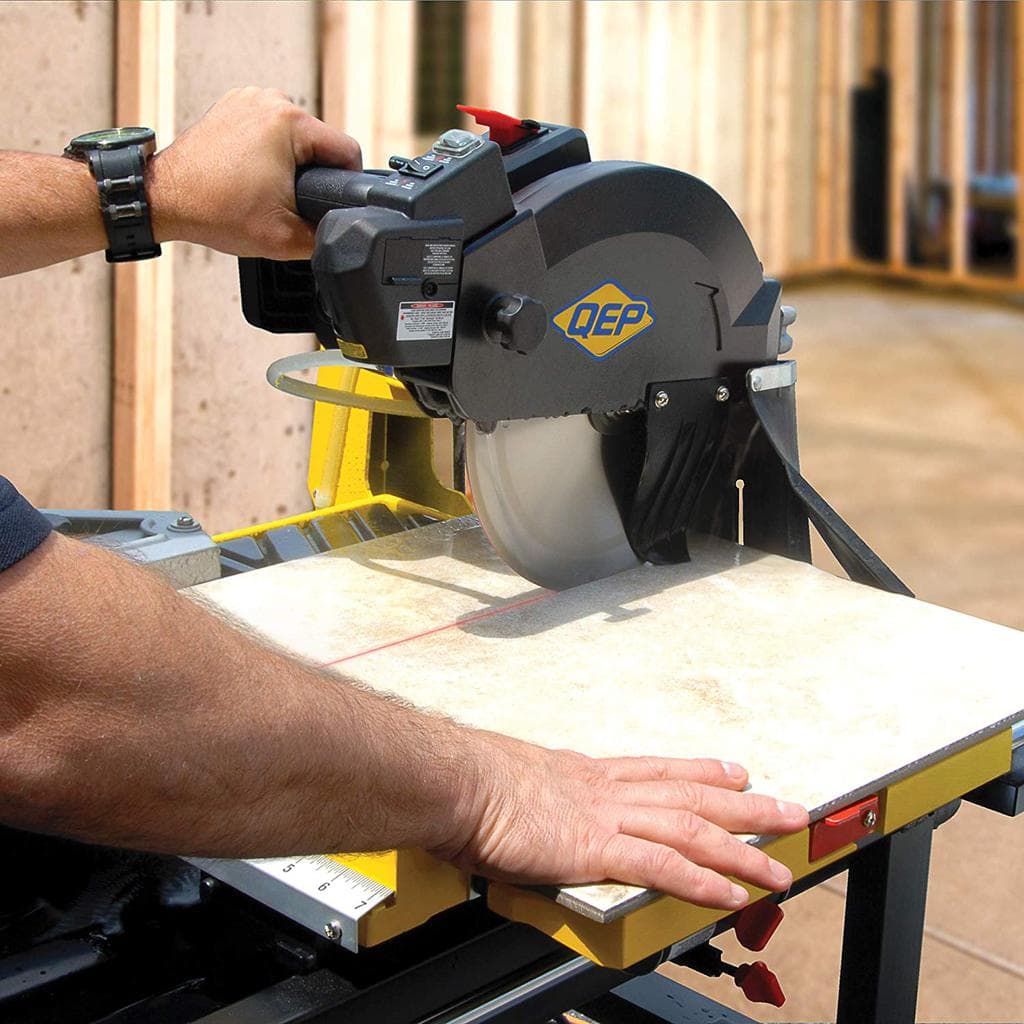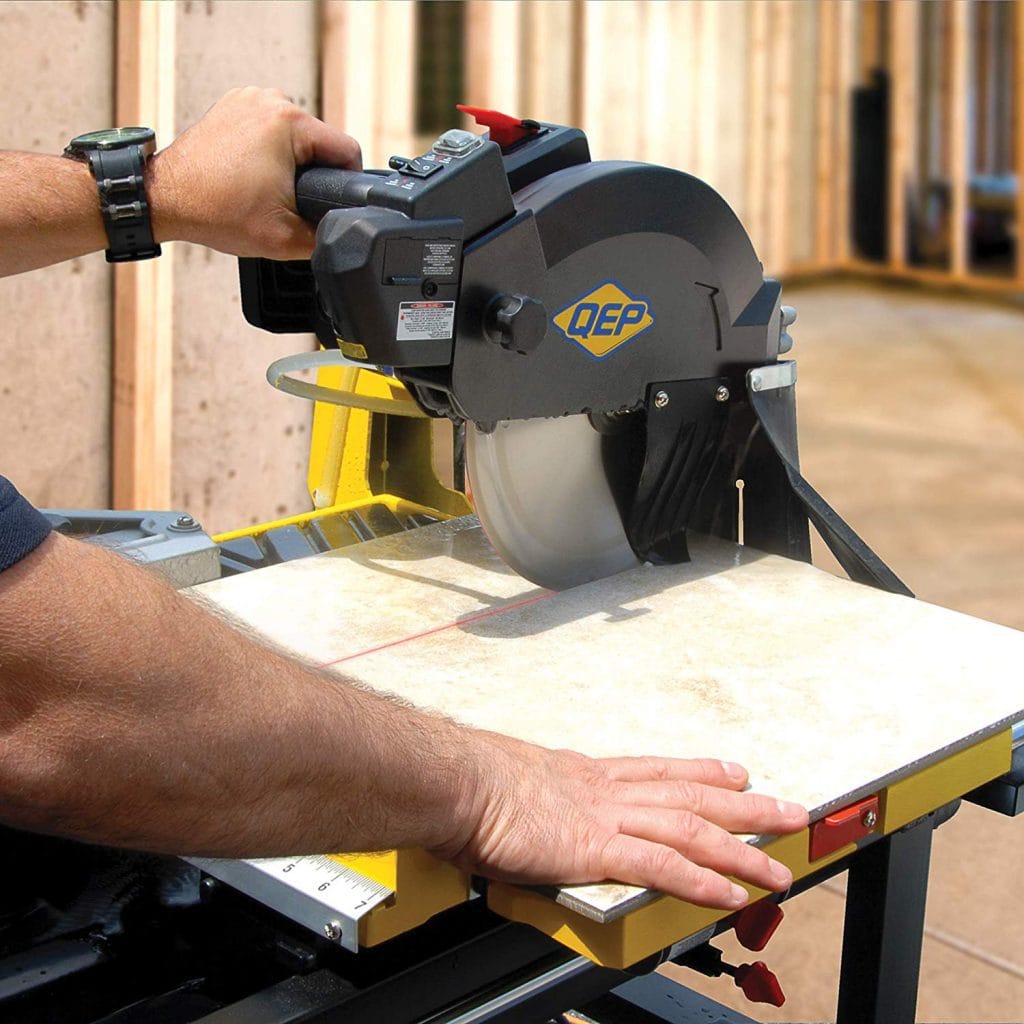 QEP 6-1008BW 10 in saw blade can do straight and clean lines in a very short time. Although it is made with diamond for precise cuts with a small amount of chipping the material you are working on, this model is an affordable saw blade. For its price, it delivers the best value and has served me for a long time.
However, I have noticed that this saw blade does not work very well when you want to cut your tiles in patterns. You will have to use more energy to make the patterns sharp and clean. It shows the best results when used for cutting straight lines, but it is not the best choice if you need to cut some patterns.
Here is some useful information about QEP 10 in. premium diamond blade for wet cutting porcalain you should be aware of before you make your purchase:
Product dimensions – 0.2 inches by 12.22 inches by 13.2 inches
Product weight – 1.35 pounds
Material – diamond
Unique feature – clean cuts in no time
Maximum speed – 6115 rpm
Suitable for wet cutting
And here are the good and bad points I have experienced with this item:
---
PROS:
A premium-grade and thin-rim diamond blade;
A high cutting speed;
Cheaper than other models on the market;
Allows for clean cuts.
CONS:
Does not make great pattern cuts.
---
3. DEWALT (DW4764) – Extended-Performance Cutter for Tile
DEWALT is a premium power tool and accessory manufacturer from the US. The brand has always been a tech pioneer and a quality standard in the construction industry. DeWalt's blades are quite costly, but every cent is justified by superb performance and durability.
DW4764 is a 10″ tile blate with a unique diamond matrix. It reduces the item's friction over the workpiece and prolongs its lifespan as a result. Regardless of the tile type you cut, you can be sure about chip-free cutting due to the continuous cutting rim. Although the peak RPM allowed for this blade is only 6,000, it allows you to keep cutting without dropping the RPM for hours in a row. The heat buildup is effectively reduced by the multiple expansion slots. All these features make this blade a perfect match for both heavy-duty outdoor tile batching and fine porcelain tile cutting. You will easily achieve perfect finish quality in both cases.
The blade belongs to the XP4 category, which means that it can withstand up to 4 times heavier and longer workloads than standard tile-cutting blades. Of course, an extended lifespan costs more too, but I can't call an average difference of $15 significant, considering the benefits you get.
Product dimensions – 0.75 x 11.5 x 13.5 inches
Product weight – 2 pounds
Material – metal
Unique feature – extended lifespan
Maximum speed – 6000 RPM
---
PROS:
Exceptional DEWALT pro-grade quality;
Super-long-living blade (4x longer than average);
Low-heat performance.
CONS:
It's quite expensive;
Not the lightest blade.
---
4. Bosch DB1041C – A Powerful 10″ Tile Saw Blade for Heavy-Duty Work
This Bosch saw blade comes in five different sizes, but I recommend choosing the 10-inch saw blade for concrete- and masonry-cutting applications.
What is special about this saw blade is that it is designed with segmented rims, which increase the cutting speed of different materials. If you want to cut tiles and stones, use continuous rim saws. The turbo rims provided with this model are ideal for cutting concrete, stone, and masonry.
I find this product as the best 10" tile saw blade for tough jobs. It will not slow down when cutting hard materials, and that makes it durable and reliable equipment. The blade is slightly expensive, but the quality and accuracy of cuts are worth it.
Here are some specifics of this 10" tile saw blade:
Product dimensions – 12.5 inches by 11.1 inches by 0.3 inches
Product weight – 1.75 pounds
Material – steel
Unique feature – turbo rims
Maximum speed – 6115 rpm
It can be used for both wet and dry cutting
Check out the pros and cons of this powerful wet tile saw blade:
---
PROS:
High-quality;
Durable;
Can be used to make different types of cuts;
Turbo rims.
---
5. MK Diamond 158436 – A Perfect 10 Inch Wet Tile Saw Blade for Porcelain
This is the best 10-inch tile saw blade for users who need to cut porcelain, ceramic tiles, and vitreous. The high-quality blade is meant for wet cutting. Even though it is designed with a thin kerf blade, it is extremely steady and does not shake during work.
I find this product perfect for handling thick porcelain tiles, as well as softer ceramic ones. However, it cuts a bit slow when used on harder and thicker materials. The blade is durable, but you should keep it sharp at all times. Compared to other blades of similar quality and with similar features, this one comes at a lower price. If you are on a budget and looking for an efficient 10 diamond blade wet saw, I profoundly recommend going for this model.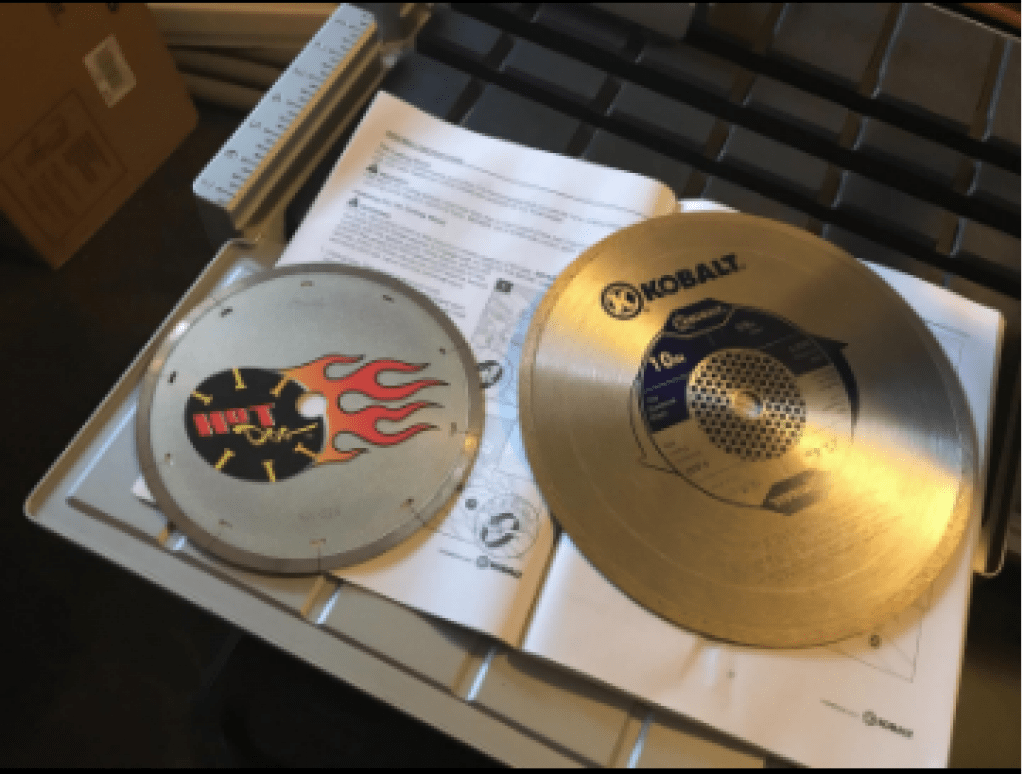 This is the best 10" wet saw blade if you don't need to complete high-performance tasks. The model does not have extra features, but I found it extremely useful when cutting porcelain and ceramic tiles. It offers minimal wastage and can cut such materials quickly. Moreover, it does not wobble. Still, it definitely will not work well for precise cuts.
Here are the technical characteristics of this product:
Product dimensions – 10.5 inches by 10.5 inches by 0.1 inches
Item weight – 0.75 pounds
Material – metal/diamond coated eagle
Unique feature – the lightest model
Maximum speed – 6115 rpm
Good for wet cutting
Below you can compare the advantages and the only con I have experienced with this saw blade:
---
PROS:
Allows cutting really fast;
Very lightweight;
Does not wobble;
Has a very small amount of chipping;
It comes at a great price for the value.
CONS:
Because of its thin kerf, it is not good enough for more precise work.
---
6. MK Diamond 153696 – 10 Inch Wet Tile Saw Blade for Professionals
If you need to cut rare and valuable stone materials, you should consider buying this best tile cutting blade. It might be quite expensive, but you will get a performance that matches the price.
The product is made for professional use, and as such, it offers the least wastage when cutting the materials. I have put this blade through the toughest processes, and it was still able to make clean and straight cuts. The only drawback is that it makes cuts at speeds of 4500 rpm to allow these clean cuts.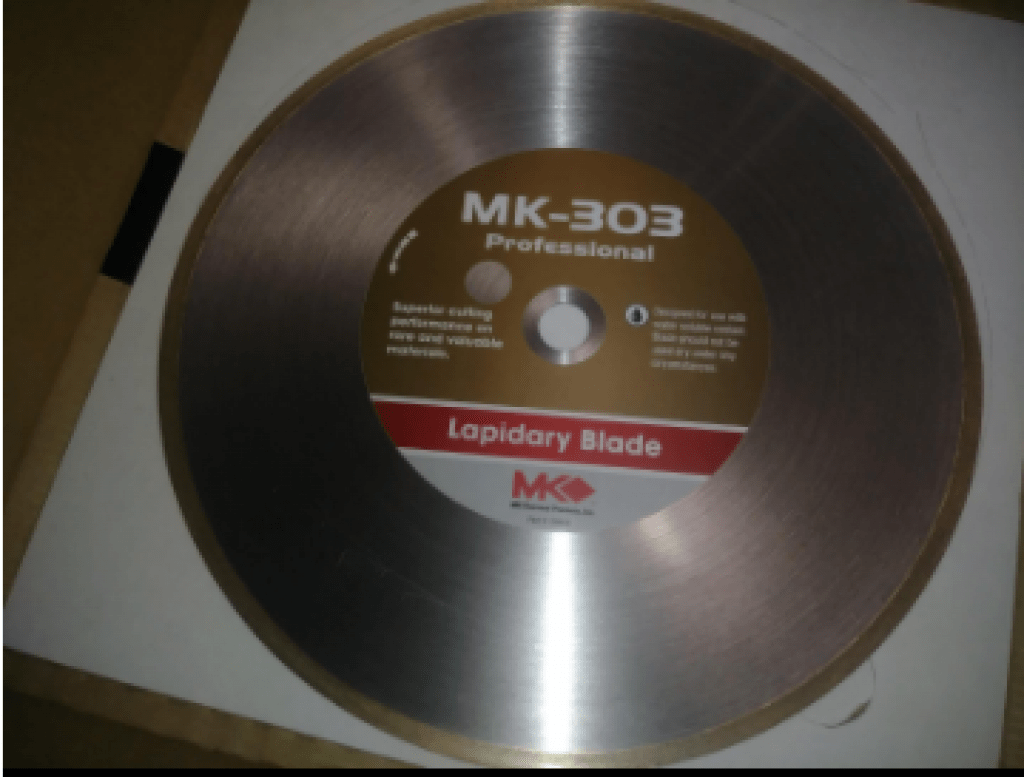 You can expect this MK Diamond 153696 10 inch tile saw blade to last for a long time. It comes with great value for money, and I recommend going for this product if you need a high-quality saw blade not only for cutting tiles and other materials in the household but for working with valuable stones, too.
Here are the features I want to mention about this product:
Product dimensions – 11 inches by 11 inches by 1 inch
Material – steel
Unique feature – steel blade for the toughest tasks
Item weight – 1.1 pounds
Maximum speed – 4500 rpm
Great for wet cutting saw
Below you can find the pros and cons of this item highlighted:
---
PROS:
Can cut even valuable stones without chipping the material;
Made of steel for heavy-duty tasks.
CONS:
Pricey;
Loses at speed compared to other options.
---
7. BOSCH DB1041S – Best Blade for Cutting Porcelain Tile
You may think "Hey, Ronnie, you've already reviewed the 100% same blade above! Well, they really look almost identical, and I even have stickers on them to avoid confusion! However, these blades are actually very different due to the coating they have on them.
While the C model has a rough diamond cutting surface for concrete, stone, and brick (and the tiles made of these materials), the S model offers a smoother surface for cheap-free cutting of ceramic and softer types of brick and stone tiles. The S model also permits up to 7,650 RPM (instead of 6,800), which adds up to the finish smoothness and cutting speed.
It's a very appealing blade that can effectively deal with most tile materials, including the tender soft brick and pavers, regardless of their thickness.
Product dimensions – 0.26 x 12 x 12.75 inches
Product weight – 1.06 pounds
Material – Diamond & Tensioned Steel
Unique feature – Faster cutting
Maximum speed – 6,500 RPM
---
PROS:
Relatively affordable professional cutter (If you buy on Amazon);
Works great on softer tile materials;
Ultra-lightweight alloy;
Protected from overheating
CONS:
Not the best for rough cutting.
---
8. Kingthai 10″ Continuous Rim – An Affordable 10 Inch Wet Tile Saw Blade
This is a great wet-cutting saw blade that comes at a very low price. I liked that it did not chip the tiles, and it cut the stone quite fast. The maximum speed of the blade is 6110 rpm, and that is quite fast. You can also expect it to be sturdy and not wiggle when in operation. That means the cuts will be straight.
Besides its great performance, I loved the hot-pressed and polished design of the saw blade. It is almost a professional saw blade that can stand through heavy-duty work.
Unfortunately, it won't last you for a very long time. I had to replace it after a few months of performance. However, if you need a tool for clean cuts from time to time and don't want to spend too much money on equipment, this is the item you need for your cutting needs. So, this saw blade is the best for people who don't intend to work with tough materials and do the cutting jobs daily.
Check out the specifics of the last wet saw blade I want to mention here:
Product dimensions – 11.6 inches by 11.3 inches by 0.3 inches
Material – heat-treated steel
Unique feature – Has a precise tolerance control, which adds to the speed of the saw blade
Item weight – 1.5 pounds
Maximum speed – 6110 rpm
Suitable for wet cutting
Here are the positive aspects and the only con of this Kingthai 10-ich saw blade:
---
PROS:
Cuts quickly;
Makes clean cuts;
Does not chip the material;
Sturdy;
Affordable.
CONS:
Won't last for long when in daily use or used for tough materials.
---
9. DEWALT DW4762 – A Durable 10 Inch Diamond Blade
This DEWALT blade is part of the XP series, which stands for Extended Performance. This is due to the specially designed, aggressive diamond matrix that prolongs the blade's life while also adding to its cutting efficiency.
The matrix has an optimized height to increase exposure to diamond, which also appears in increased concentration. This combination translates to a higher cutting speed.
The 1-pound model has been found to show excellent performance on ceramics, porcelain, and granite but isn't recommended for glass or marble. Being a tile-oriented blade designed specifically for wet cutting, it comes with anti-chip features such as a continuous rim.
The blade utilizes a steel core made in a way to minimize distortion due to high operating temperatures. It's also tensioned to resist wobbly movement. Reduced vibration and walking result in clean, precise wet tile cuts.
Here are the specs:
Product dimensions – 13.41 x 11.41 x 0.5 inches
Product weight – 1 pound
Material – diamond
Unique feature – extra-durable matrix
Maximum speed – 6,000 rpm
Suitable for wet cutting
The pros and cons of the model are as follows:
---
PROS:
Specialized wet tile design;
Continuous rim prevents chipping;
Resists distortion due to overheating;
Reduced vibration;
Quick, aggressive matrix.
---
10. Bosch DB1043S – A Premium 10 Tile Saw Blade for Wet/Dry Cutting
While definitely on the expensive side of things, this diamond blade by Bosch can be a viable investment if accurate and clean cuts are your top priority.
With the standard 5/8 inch arbor hole, the blade will fit most 10 inch saws. It's also a multipurpose tool as it's designed for either wet or dry cutting and shows excellent performance in both settings. Precision and cleanness are its greatest advantage as its continuous rim reduces splinter and waviness to a bare minimum with most tile materials. It can also be utilized to cut slate.
This 10 tile saw blade comes with a stability feature – its core is tensioned to keep vibration in check. The diamond matrix it uses boasts an even distribution of diamond content, which again helps precision while also increasing cutting speed.
The specifications of this blade are as follows:
Product dimensions – 0.33 x 12 x 12.75 inches
Product weight – 9.1 ounces
Material – diamond
Unique feature – smooth and stable due to consistent diamond content
Maximum speed – 6,150 rpm
Suitable for wet and dry cutting
Here's what's good and not so good about it:
---
PROS:
Versatile wet/dry tile and slate application;
Consistent diamond content for smooth operation;
Minimum vibration and splinter;
Good cutting speed.
---
11. SHDIATOOL 10` Diamond – A 10 Inch Wet Saw Blade for Stable Cutting
Designed to cut ceramic tiles, marble, brick, and granite, this blade can be applied in wet or dry conditions, but the manufacturer emphasizes that it will last longer with wet cutting.
The product features low segment thickness, which enables it to deliver clean cuts. Splintering and chipping are somewhat more common with this blade than with the premium options featured here; however, overall accuracy is decent, especially when used on relatively thin material.
The artificial diamond matrix ensures good cutting speed. The blade comes with a reinforced ring core on both sides, which adds to the stability and, consequently, finishing quality. Multiple holes are included to help dissipate heat and reduce noise.
This blade is reasonably robust but wears more quickly than the premium models. Here are its key specifications:
Product dimensions – 9.84 x 9.84 x 0.07 inches
Product weight – 1.59 pounds
Material – diamond
Unique feature – reinforced core
Maximum speed – 6,115 rpm
You can use it both for wet and dry cutting
The model has the following advantages and disadvantages:
---
PROS:
Good accuracy;
Quick cutting;
Increased stability;
Works in wet and dry settings.
CONS:
Occasional chipping with thicker material;
Wears out relatively soon.
---
My Thoughts on Durable Wet Tile Saw Blades
I know that it may be hard to select equipment without seeing and testing it first. It comes as a challenge for choosing such details as a 10-inch wet tile saw blade. Of course, you want to settle on a durable, effective, and time-proven option. Thus, I hope that these 10-inch tile saw blade reviews helped you in considering the helpful tested products.
You may tend to buy products from the oldest and best-known brands, but these are typically very expensive. If you are on a budget, choosing the right equipment becomes an even more complicated task. However, in this article, you can find a few affordable yet quality products, which are guaranteed to offer high performance and serve you for a long time.
Have you used any of the wet tiles saw blades mentioned in this article? If so, what was your experience? Would you advise other people to make a purchase? Please share your experience in the comment section below and help other house owners to make an informed choice.
Related Post: