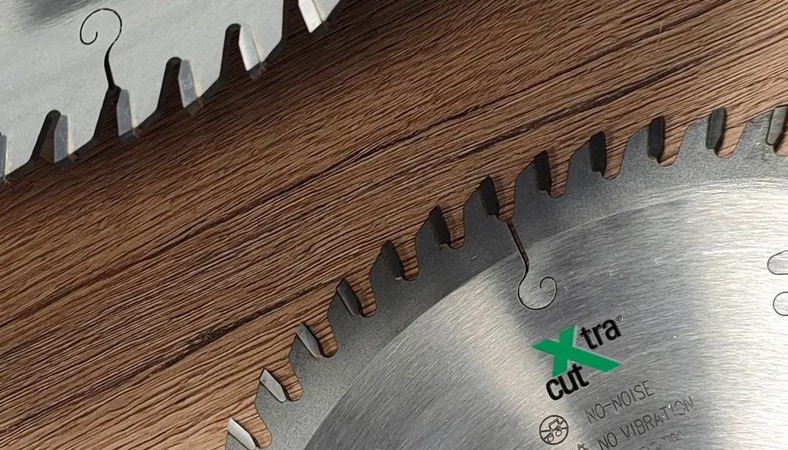 There are many kinds of miter blades on the market, and they're all meant to deliver quality and manage various tasks. However, it might be difficult to find the one that suits all your needs: Type of material you work on, durability, and accessibility in terms of price. In this guide, I'll talk about my experience and review the best miter saw blade options. Keep reading till the end to get a buyer's guide and FAQ section!
6 Best Miter Saw Blade – 2022 Ranking and Reviews
Depending on which kind of miter saw you have, the blade that comes with the tool might last you a decent amount of time. However, sooner or later, you will have to replace it, as all blades lose their sharpness if used often. It's also true that if you cut a specific material, universal blades might not give you the desired finish, and they deteriorate faster. That's where the miter saw blades come in: They are affordable for all price pockets and deliver excellent quality, allowing you to replace your blade less frequently and get an excellent finish.
1. Makita Micro-Polished Blade: Best Miter Saw Blade Overall
Makita and the kind of quality this brand delivers has become the top choice for lots of professionals and amateurs alike. This blade makes ultra-precision cuts because of the specialized ATAF tooth design that alternates top and face and due to how it's crafted to suit hand tension. With the Japanese ultra-thin kerf, I could make much smoother cuts that didn't drag the motor so much, which benefited both the blade and the machine.
For me, this is the best blade for a miter saw because the sharpness and quality of the cuts it produces are ahead of the competition. I found it incredibly long-lasting, and it retained its sharpness for a very long time. In terms of price, it delivers fantastic quality for a fraction of what other companies usually ask for. A regular blade of this quality and sharpness can cost anywhere between 80-120$, but you can buy this one for 20-40$.
---
Positives
Excellent precision;
Incredibly sharp;
Durable;
Suits all kinds of materials.
Negatives
A minor con is that the paint can rub off a little when you apply too much pressure.
---
2. Craftsman 10-in Miter Saw Blade: Great Value for Money
I like Craftsman tools in terms of value for money. The next tool comes in a combo pack of 2 items, with 24-tooth and 60-tooth blades. The 24T model works both as a ripping blade and a forming blade, and a 60T blade is designed to provide a smooth finish. This pack gives a lot of functionality for a low-end price of 30-50$.
The blade is made with induction-brazed carbide teeth that provide longevity and stay sharp for a long time. The cuts I made with this tool were accurate and precise. Another thing I like about it is the heat-treated steel plate that prevents warping because that's a common problem I often see in miter saw blade reviews. If you work for a long time or overextend your motor, the blade can't handle the heat and warps and becomes practically unusable. Though these blades do deteriorate over time, I think the value you get at 50% of the median market price is well worth it.
---
Positives
Excellent price;
Good functionality;
The remarkable quality of cut;
No heat warping.
Negatives
Not as durable as other blades.
---
3. Freud Diablo Saw Blade: Top Flawless Finish
Freud products come in excellent quality, but they are obviously at a higher end of the price range. For the usual price of 40-70$, they deliver the best 12-in miter saw blade on the list.
This blade is manufactured using high-density carbide with titanium for long life and a flawless finish. This is a fine-finish blade with a thin kerf that allows you to make the most precise cuts very quickly. The blade also has anti-vibration and overheating properties, so the blade doesn't warp even when you apply a lot of pressure.
According to my experience, Freud blades are built to last, and this one is no exception. It handled a lot of work and delivered on quality every time I used it. I was satisfied with this item as a finishing blade. The only con I noticed was that sometimes the red paint rubbed off onto the wood.
---
Positives
Excellent precision and finish;
Can handle a high workload;
Very durable;
Blades stay sharp for a long time.
Negatives
Higher price;
The paint might rub off on the wood.
---
4. Comoware Circular Miter Saw Blade: Universal Tool
While the specialized blades always deliver the most precise result, if you're looking for a workhorse universal blade that can handle hard and softwood, melamine, plywood, and laminate – this one is for you.
This is my top miter saw blade recommendation for general use. I found the large-teeth design very easy to use. A ⅝-in diamond arbor ensures that you can use it in both round and diamond hole blade machines.
Blades are made with high-quality carbide and feature pretty good durability; they served me efficiently. Blades also have anti-vibration and expansion slots that keep them cool. The tool is suitable for a quick job, but the finish could have been better.
---
Positives
Universal use;
Efficient, sharp teeth;
Flexible to be used on various machines;
Works on all kinds of materials.
Negatives
The finish could have been better.
---
5. Wen Saw Blade – Excellent Finish and Affordability
The Wen company is often in miter saw blade reviews because the brand has over 70 years of experience in producing excellent-quality tools. As for this 12-inch blade, for me, it was the best value for the money.
The acceptable price delivers you a fine-finish 80-tooth saw blade that can work excellently on all types of hard and softwood. The ultra-thin kerf makes the cuts especially clean and precise, even compared to other saws on this list.
In my experience, it managed to handle quite heavy pressure. It's made specifically for saws that go up to 6000 rotations per minute. The finish is nice and smooth, and it's compatible with most 12-inch miter saws. The only thing I wished was better in this blade is durability.
---
Positives
Ultra-thin kerf;
Excellent, fine finish;
Good price;
Top-notch value for money.
---
6. Dewalt Miter Saw Blade: High-End Option
Dewalt products are expensive, but they fully justify the price in terms of their performance. Every trustworthy jet miter saw review would tell you the author tried to find a suitable replacement for Dewalt product for a smaller price. The Dewalt's blade can cost you anywhere between 55-80$, so it's on the higher price end of my list.
For that price, you get premium materials used on the blades. The tool provides you with an ultra-fine finish that is above expectations. The blade has dampening slots that reduce vibration, and it makes your cutting really accurate.
This one is the most comfortable and safe-to-use blade for non-professionals among all the blades on the list. It was the best experience for me, and the laser-cut material gives you the opportunity to adjust even the ⅛-inch discrepancies. Dewalt-loyal people tend to stick to it for life, but I cannot claim that the durability and quality of this blade are 100% unique on this list. I wish it could have lasted longer for the price the manufacturer asks.
---
Positives
Excellent cutting precision;
Convenient hand-control;
Can make even the smallest adjustments;
Top-quality materials.
---
Best Miter Saw Blade Buyer's Guide
Now that we've gone over the list of my top picks, let's proceed to a guide and figure out what you need to know to choose the right saw blade. Stick to the end, where I'll answer some of the common questions people have about miter saw blades.
What is the best miter saw blade for you?
You need to identify a couple of things before you start looking for a suitable blade. Which materials are you going to use it on? There are blades made specifically for wood, plywoods, laminate, plastic, and metals. Let's look at the main points you should consider.
Blade size
Most blades come in 10-inch and 12-inch sizes, and it determines how deep you'll be able to cut. If you're going to cut thick pieces of wood, 12-inch might do a better job. This is also determined by the maximum size supported by your saw, so it's possible to use a smaller item but not a bigger one.
Blade material
It depends on what you want to cut with it. If you opt for the blade to cut hardwood, it's supposed to be harder than the blade used for chip wood. If you also plan to use it on plastics, metals, and laminate, switching between different materials might be too bothersome, so a universal blade can solve all your problems.
The number of teeth
The rule of thumb with teeth works this way: The smallest numbers work for ripping saws, the highest – for precision cuts. A typical ripping blade is usually 12-teeth, and most miter saw blades for precision cutting are 80. It's well worth purchasing a higher number of teeth to make excellent crosscuts on natural wood types. 40-50 teeth blades sit somewhere in the middle and are called combination blades, and you can use them for both types of cuts.
Thickness
It's usually measured in mm and is supposed to provide you with an understanding of how deep or refined cuts you can make. If a blade is very thick, it can't go deep, so you should opt for the thinner blades. Those can make deep cuts but don't feature too much chipping. The thickness of the blade comes hand in hand with the number of teeth in terms of how smooth the finish will be.
Cutting depth
Many things influence it, and I've already mentioned the thickness and blade material. The diameter of the blades determines how deep you can go, so the thickness of the material is also important. If your material isn't very thick, a 10-inch and even 8-inch blade might be sufficient.
Miter Saw Blade FAQ
Let's find answers to some of the common questions people ask about miter blades. Remember to keep in mind all the points we have discussed above when you're choosing a blade. The price is also important because you'll have to replace this blade sooner or later.
Are miter saw blades universal?
There are universal blades that can work on various materials like wood and plastics. However, lots of blades list the material that they are designed to cut. It's better not to deviate from that as the result you will get with the blade might not be as efficient, which will make it deteriorate quicker.
How often should I change my miter saw blade?
As long as it's still sharp and delivers satisfying results, it's okay to use your miter blade. If you do lots of work and put it through a lot of pressure, it is likely to deteriorate after a couple of projects, and you might need to replace it. Opt for more durable blades in this case.
Does the miter saw blade have to be the same brand as the miter saw?
This is not necessary. Lots of blades are sold with the specification that you can use them on any saw brand. Some brands note that the results you get with another brand might not be as good as advertised. But nobody prevents you from buying a different brand.
Best Miter Saw Blade for Smooth Finish
At the end of the day, you want to have a balance of price/value for your money. The best miter saw blade should be able to deliver an excellent finish and stay sharp for long enough. This is why my top pick is Makita: They offer fantastic quality, precision, and longevity for a reasonable price. I've used it a lot in my work, and I will continue to do so.
What about you? Which blades do you prefer, and what's important for you when choosing one? Let me know in the comments!