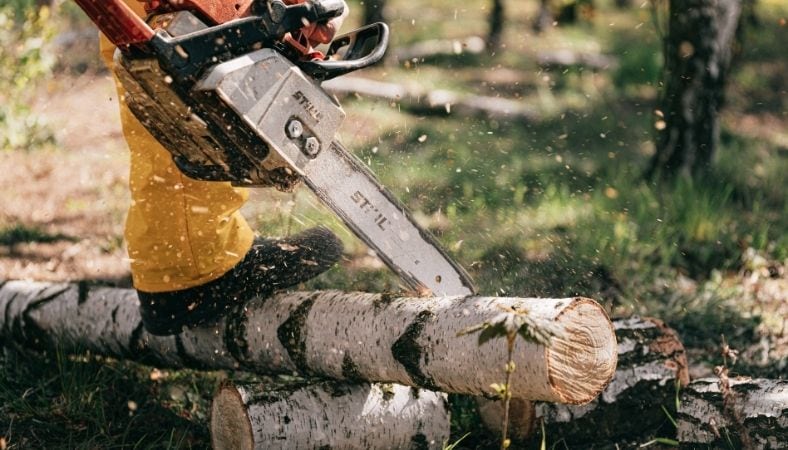 How do you choose the best professional chainsaw? There is a great choice of these tools; though it's quite standard, its construction may be very diverse. There are gas and electric models, the latter being corded or cordless. They differ in power and bar length, grip and weight, and lots of parameters – not counting replaceable chains! So, are you going to use it in your garden or out in the forest? For all-day work or for episodic jobs? Will it be far from the nearest socket? Will you just cut branches, fell trees, or make planks out of logs?
As versatile as the class is, there are specialized tools for any sort of work. While the best one I chose – DEWALT 20V MAX* XR – is good for most works that require a chainsaw at all, there may be better tools for some particular situations. For example, trimming branches in a small garden with a gas- or battery-powered industrial chainsaw is overkill, while a smaller corded electric one would do perfectly. So, here is a list that embraces various models, so you can choose your own best professional chainsaw on the market for any purpose.
Top 12 Best Professional Chainsaw
If you already know which type of saw you need, that's for the better. But if you haven't decided yet, I'd recommend you look around and start reading it after the reviews. When you know what the parameters are about, you will get more from them. And now, let's run the chain.
1. DEWALT 20V MAX* XR – Top Pick
DEWALT is one of the most famous American tool brands, and no wonder we start with its product. This chainsaw is quite compact, its bar being just 12" long. The manufacturer had to find the perfect balance between power and size to make a small (8.8 lbs.) yet strong tool, and it succeeded.
Though battery-powered saws are not among the most powerful in general, DEWALT maximizes its efficiency with a brushless motor and high battery capacity. In addition, you can purchase another battery or an extra charger which will be especially useful if you have other tools from the 20V MAX series (drills, grinders, other saws). If you already own any V20 MAX tool, purchasing this chainsaw is the default option, and you'll need serious reasons to ditch it for something else.
The vendor advertises this chainsaw as "for construction and outdoor cutting," so if you need one at home (otherwise, you'd already know what you need), consider this one first. It comes in a sufficient minimal pack: the saw, the battery, the charger, and the bar case. If you already have enough batteries and a charger already, you can opt for just a body. Some users say it's also compatible with a 14" bar, though I would recommend sticking to the original 12".
It's not designed for felling big trees or cutting their trunks into planks. Neither is it made for daytime-long work unless you are ready to carry a load of batteries. Finally, hardwoods like oak may also require a more powerful device.
---
Positives
Good overall quality;
Compatible with DEWALT batteries and chargers;
Efficient brushless motor;
Quiet;
Handles 10" trees well.
Negatives
Not designed for hardwood;
Takes oil.
---
2. BLACK+DECKER 20V Max Cordless Chainsaw – Runner Up
Here's another American brand that's been around for over a century. A similar product on its roster is even more compact than the one by DEWALT, with its 10" bar and overall weight under 8 lbs. Of course, it's also designed for home use primarily, but it's as well more capable than it seems. Despite its smaller bar, it can as well cut 10-11" trees, except for hardwood sorts.
This saw is optimized for usage by someone who doesn't have years of experience and a wish to spend hours tuning their tools. Its chain tensioning system feels even easier than that of DEWALT's (though this is subjective). There may be issues with adding oil, though with a funnel, it's easy, and you won't need it every hour, even during the hardest working sessions.
You don't need much physical strength to use this saw. While many professional chainsaws are designed for strong male users, ones like this model eliminate sexism in the class. My female neighbor handles this well when she needs to trim some branches in her garden.
Last but not least: it's also a part of the series, which makes this saw compatible with various versatile accessories across the line that also includes. You can also buy it in different kits, including batteries or leaf collection bins. The price is expectedly affordable though.
---
Positives
Lightweight and compact;
Powerful for its size;
Comes in various kits;
Compatible with series of accessories;
Good overall quality.
Negatives
Not made for hardwoods;
The original bar may be shorter than you need.
---
3. Oregon CS1500 – The Best Budget Pick
It's a bigger stronger saw by a respectable American vendor (even though nowadays, American toponyms in the name usually indicate there's nothing American about the product, it's not the case with Oregon Tool, est. 1947). While the previous ones can be just too short to fall trees at the very bottom, this one gets this job much better with its 18-inch bar and a corded system.
If you see a corded chainsaw for the first time, you may wonder how to keep from cutting the cord in the worst way possible. It's not the real risk, but instead, you can power a strong 15-amp motor better, which makes sense with this longer bar. Ditching the battery and the charger also makes this tool more affordable. The saw also has built-in tools for adjusting and sharpening the chain.
Last but not least: you can buy it with a large array of original accessories, from an extension cord to a log sawhorse and a replaceable PowerSharp chain for hardwoods, and also lubes and oils. Also, there are safety accessories by the vendor sold separately.
---
Positives
Long 18-inch bar;
Powerful motor;
Maintenance tools onboard;
Affordable price;
Extremely rich options.
Negatives
May be larger than you need;
Built-in sharpening is far from perfect.
---
4. Greenworks 40V 12-Inch Cordless Chainsaw – for Cord Cutters
Doesn't the name Greenworks say a lot? This pro chainsaw is also an eco-chainsaw. And it's among the lightest tools I review, being just 8 lbs. But, as you know, small doesn't mean useless: it's for works where accuracy and ease prevail overpower. The manufacturer says even 6 lbs., but this doesn't include the battery, which is necessary. Though it looks a bit toyish, it's a tool that gets the job done.
Despite its weight, this saw has a decent 12-inch bar and a capable battery. What's probably the best about this tool, if you want to use it a lot, is an onboard handguard that also reduces filings getting in your face. Oil is supplied automatically from the onboard reservoir. There is also a tension adjustment handle right on the body of the saw.
The saw comes with a battery and a charger. If you need it, you can buy extra batteries or use G-Max 2.0 or 4.0 Ah batteries that come with other Greenworks equipment. Even a 2.0 Ah battery can power the saw all day long, and there are various models by Greenworks (though not all of them) compatible with this saw.
---
Positives
Lightweight;
Capable battery;
Easy adjustments;
Good support.
Negatives
Not for felling big trees;
The chain needs to be tightened right.
---
5. Greenworks Pro 80V 16-Inch Brushless Cordless Chainsaw – More Power!
If the previous one made you think Greenworks is about home use, being eco rather than efficient, this tool might change your mind. It features a solid 16-inch bar saw and a powerful brushless motor powered by an 80V 2AH battery. Not as strong as gas ones, this saw still gets bigger jobs done and feels quite easy and quiet.
One of the small things that make big impressions is a semitransparent oil tank that lets you visually control the oil level. It also comes with a replacement chain (but you can use any compatible one instead) and metal spikes as a necessary safety measure for such a size. A wrap-around handle also contributes to the safety level. Finally, there is an easy mechanical break for the chain.
The weight of the saw is just 12.8 lbs., which takes some strength to handle, but makes it still operable. Felling larger trees from different sides is possible with this one. You won't have to leave the batteries for charging overnight: the entire process takes just about half an hour. For longer works, though, you will need extra batteries, and these are quite expensive. So, this saw is great if there is a charger nearby: great for a big garden but not for long forest sessions.
---
Positives
Efficient for bigger trees;
Eco-friendly;
Good safety measures;
Automatic oiler;
Easily adjustable;
Compatible with Greenworks accessories.
Negatives
Sometimes the oil leaks;
The batteries are rather expensive.
---
6. BLACK+DECKER 40V MAX* 12 in – Most Modular One
And again, a compact one by BLACK+DECKER that is designed professionally, like a tool for adults should be. It features a 12-inch bar by Oregon Tool, a rather powerful motor (the characteristics are not on the box, but it does its job well), and an automatic oiling system.
The set of features is quite standard for the class. There is an automatic tensioning tool for the chain, a replaceable battery with a standalone charger, optionally a scabbard, and a leaf collection bin. If you opt for buying just the saw, think about your potential job and whether you may ever need an extra battery or any other accessory.
The safety options include a wrap-around handle that's more comfortable, a front hand protection shield, a lock button, and an optional scabbard. You still need to learn the safety rules, but it's hard to do yourself any harm with it. Though it goes smooth in maple, birch, or fruit trees, it's not meant for hardwood (unless you install a durable full chisel chain, but, frankly speaking, I didn't try).
If you like BLACK+DECKER (or you just have tools by the vendor with compatible accessories already), but the 20V Max seems too small, this one is quite an option. But you need to take some extra oil with you as you go out for a job, as this saw requires a lot of it.
---
Positives
Compact and lightweight;
High build quality;
Safety features;
Compatibility with accessories by this vendor;
Rather powerful;
Comes in various sets.
Negatives
Extra batteries are expensive;
Consumes oil.
---
7. CRAFTSMAN S165 – The Toughest
Craftsman is, indeed, another brand owned by Stanley Black & Decker, so in terms of quality, these two share the same credibility. This one, though, is different from the battery-powered models I reviewed above, as it's wild, raw, and gas-powered! Full-crank, 2-cycle!
This saw feels strangely smooth, not as raw and shaky as one might expect from a gas model. I noticed little difference after the 16" battery-powered one. The wood, though, must have noticed, as the saw cuts stronger and faster than its electric counterparts. That's probably due to the anti-vibration system that does the job well.
Of course, handling it is a bit harder because the gas motor needs more maintenance. But it's greater when you need to do a long hard job and fell and de-limb larger trees. And if you need to cut hardwoods, electric ones are out of the question, unlike this one. It's durable and supports replaceable chains of any hardness.
---
Positives
Real powerful;
Easy to maintain;
Accessories supported;
Low vibration;
Good build quality;
Fuel-efficient.
Negatives
May be hard to start;
For a small garden, it's overkill.
---
8. WEN 40417 40V Max – Balance Is Everything
This saw by WEN is not as perfect a solution for home/garden use as our compact picks like our premium choice, first of all, because of its size. 16" bars are for harder work and for bigger trunks, so it's the option for the case you really need it bigger. Otherwise, it's a good tool for non-power works. At 12 lbs., it's heavier than any 12-inch option but still manageable even if you're far from heavyweight.
As for the rest, this saw has everything one might require from a battery-powered chainsaw. In the basic version, it comes with one battery and a charger. The motor is brushless, which in theory makes the saw even quieter (in real life, though, it's noisier than expected). It's powerful enough for most works you might need. Another advantage that you might never need is a capable 4Ah battery.
The keyword with such models, though, is "ease." Easy to install the chain and the bar, easy to add oil with a funnel, easy to adjust the tension, and easy to block if something goes wrong during the work. And though the manufacturer is too obviously Chinese, and the design is quite generic, this one gets the job done.
---
Positives
Easy to assemble and use;
No need to relearn;
Decent motor and overall quality;
Not heavy for its size;
Affordable price.
Negatives
Minimal options;
Quite noisy;
Made in China (though it's not much of a con).
---
9. Remington 41AY4214983 RM4214CS 42cc – Do You Like the Smell of Gas?
It's not the Remington famous for guns, ammo, or typewriters, but for the power tools industry, it's "the Remington." Established in 1921, it rose to fame in the 1950s and outlived the more famous Remington Arms. But, look, it's quite a powerful destruction machine nevertheless. Like the one by Craftsman, it's mighty with the 42cc Full Crank 2-Cycle motor.
As for the size, it comes with various bars, from 14" to 18". I only tested the shortest one, and it wasn't short of power but was much more manageable. You can either buy one with a longer bar or find ways to deal with the 14-inch one, it depends on your needs.
The smell of gasoline and the necessity to maintain the motor are still here. But if you're out for a long working day in the forest, with this beast, you will leave a road full of low stumps behind you. Its 3-point anti-vibration system will keep it obedient, despite its rebellious nature. But keep the motor from pollution, as such cases have been reported, and that led to no good.
---
Positives
Comes with various bars;
Quite maneuverable;
Gas power;
Impressive design;
A strong name.
Negatives
It May be hard to start;
Amy gets polluted if assembled wrong.
---
10. CRAFTSMAN Electric Chainsaw, 16-Inch, 12-Amp – Lightweight Yet Strong
If you need a mighty tool, Craftsman is the choice. This time I chose an electric one, not battery-powered but corded. With a long bar, a powerful motor, and yet dependent on the socket, it's the perfect choice for forest dwellers who don't have to go far to find a job for a longer saw. Or you may deliver thick trunks home and then hit them with it.
Without a battery, it's just 9 lbs. with the default chain, which is not much for its length. Yet it's quite easy to control, I never felt it going loose like I've been warned. The kickback is reduced (though other electric models felt almost as good). As it should, it has a handy tension tool, automatic oiling, a good handle, and a shield. All of these features are easy to use if you have ever used literally any chainsaw.
Not only did ditching the battery reduces its weight, but the price as well. It's under $80, and even if you have to buy a pair of long extension cords to use it properly, it still makes sense. Unless you do need a truly mobile solution. It's also rather slow, despite its force, so if you need the job to be done fast, look elsewhere.
---
Positives
Good build quality;
Manageable and maneuverable;
Easy maintenance and control;
A powerful motor;
Very affordable.
Negatives
You'll need an extension cord or two;
Rather slow.
---
11. Greenworks G-MAX 40V 16-Inch Cordless – A Part of the Ecosystem
Here comes Greenworks again. It's the 16-inch version of the saw I reviewed earlier, and, as we see, this manufacturer makes large chainsaws great as well. This one comes with a battery and a charger, though you can also buy it with a power bank battery (able to charge external devices) or body only. It depends on whether you need them or on whether you have other Greenworks devices to use these accessories with.
It has everything you've read about G-MAX 40V 12-Inch Cordless, the main difference being the size. The bar is 16" long, and the weight of the battery is 9 lbs. The manufacturer says it has reduced vibration and thus is easier to control; partly it is, but there is nothing outstanding with it.
You should also be warned that there might be issues with the default chain that may slip. So don't neglect safety measures, and if this happens, you can try buying a chain by another vendor. And tighten it more often; otherwise, it's a great tool.
---
Positives
Good overall;
Eco-friendly;
Battery compatible with other Greenworks tools;
Automatic oiling;
Rather lightweight;
The price is reasonable.
Negatives
Constant tension is required for the chain;
The original chain doesn't stand the competition.
---
12. Husqvarna 445 18″ Gas Chainsaw – The Orange Beast
And here comes the final boss. This heavy-duty chainsaw combines the longest bar of all the models above (18", compatible with 20") and the most powerful gas engine. Husqvarna is a famous Swedish manufacturer of various tools and equipment, based in the town of the same name.
It's a titan weapon, its weight being solid 14 lbs., and though I never felt weak, this one was the toughest to handle. On the other hand, feeling really old trees with it was way easier than ever with a battery-powered one of the same length. The motor shows 2.8 HP even though anti-vibration protection. The manufacturer took care to avoid issues that pursued the model by Remington, adding an air cleaning system to keep the motor from pollution.
And it's the most expensive on the entire list, even for the best commercial chainsaw (what did you expect?) The price is well above $350, that is, almost twice the price of Craftsman S165! Yet it's the easiest to use in its class, and the overall quality and performance are worth it.
---
Positives
The power beast;
Anti-vibration works fine;
Motor protection;
Maneuverable;
Fuel-saving design;
Supports longer bars.
Negatives
Its force may be excessive;
It's the most expensive on the list.
---
Buyer's Guide and FAQ
No matter if you need the best professional chainsaw for a small garden or for forest work, just reading the reviews is not enough. There must be some understanding of what you need the tool for. So, here is what else to consider.
What else do you need before using the chainsaw?
As you take a chainsaw with you, think about what else you may need. Maybe this section will help you to choose the right kit if the model you select is available with various options.
Oil (for any saw). Some models consume more of it, some less. But running out of it in the middle of the working day may lead to damage or at least to a full stop.
Gas (for gas models). The more of it you take, the better. It's not necessarily the one you fuel up your car with. Check the requirements of your saw before making your choice.
Extra batteries (for battery-powered models). To know how many of them you need, you better conduct a field test before buying more.
Safety equipment. It can include safety helmets, glasses, trousers, jackets, gloves – whatever you consider necessary. Built-in shields and spikes are good but never enough. And if you need to comply with the OSHA standards, you better not try to save.
Read the forums on your particular models. The experience of one man will never replace that of many people.
How to choose a chainsaw properly
Which parameters of the saw itself should you consider when choosing it? To not reinvent the wheel, let's name the most obvious.
Engine Size. Though I cannot directly compare electric and gas ones, you can choose within the class: the more powerful, the better for harder jobs, but it can be an overkill if your trees and planks aren't that thick.
Cutting Bar Size. This is simple: the thicker the trunks, the longer bar you need. And don't forget you can do that from different sides.
Ease of Starting. Electric ones are better for a novice, but if you're in them for a long, you may opt for gas ones: harder to start, but still comes with experience.
Weight. Choose the most comfortable one for your hands.
Chain Oiling. Most saws have it automated, but oil consumption may differ, and the chance of leak may vary too.
Which saw to choose for a professional? Petrol or Electric?
In general, gas saws are considered more powerful. In addition, you can take extra gas with you, so filling it up is easier. Charging a battery takes more time, and they are costly. So, when you're going out into the forest, a gas option is preferable. For urban use, when there is often less work overall and the sockets are near, an electric chain saw is a better choice. The choice between a corded and a cordless model depends on where and how much you will use it.
FAQ
After a row of professional chainsaw reviews, let's speak about the chains 'cause that's where the chainsaw meets the wood.
What chainsaw chains do professionals use?
In short, a pro chooses the tool to get the job done. Of course, professional chains are made of the most durable materials — it goes without saying. They should also fit the chainsaws. The difference is between, for example, full chisel chains (which provide better speed) and skip chisel chains (which are better for big jobs like tree felling). As for profiles, there are low-profile chains (for shallow cuts), narrow kerf chains (for narrow and more precise cutting), ripping chains (for cutting logs into planks), and standard chains.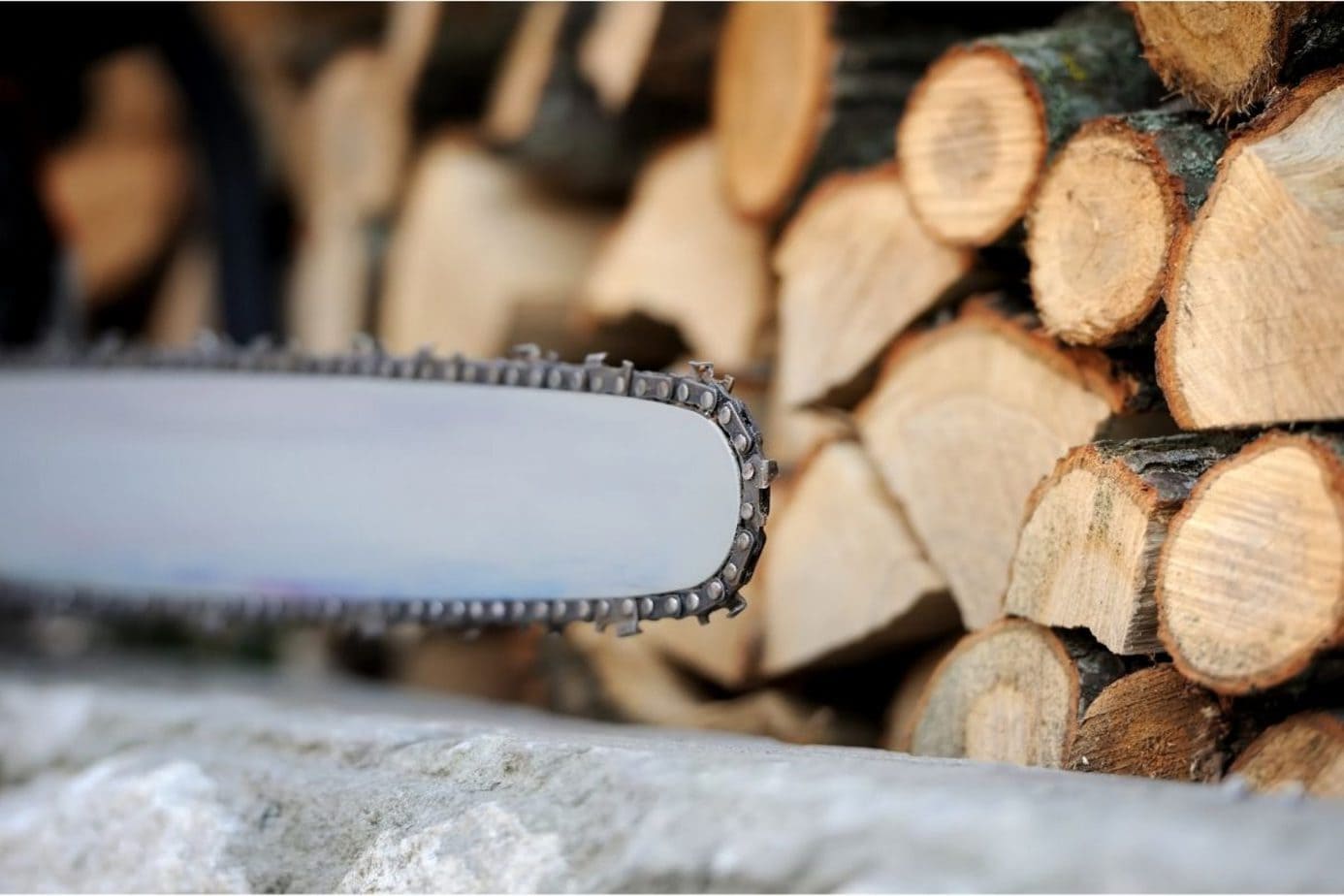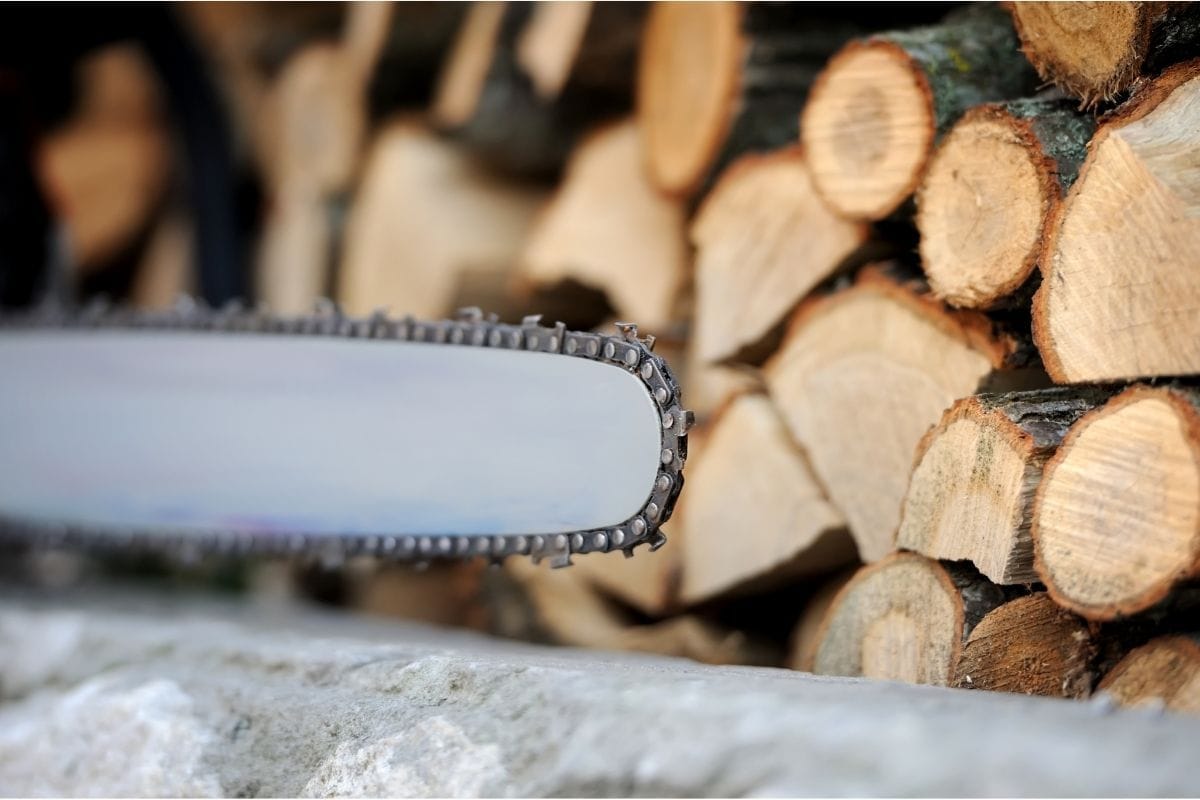 What is the fastest-cutting chainsaw chain?
If you need your work done fast, your choice is a full chisel chain. These are used for cutting hardwood. Again, there are various profiles, so choose the matching one for your job. As for the pitch and the gauge, they should just match the parameters of your chainsaw.
What is the longest-lasting chainsaw chain?
If you need a more durable chain, you better opt for carbide-tipped chains. Between solid and laminated bars, opt for solid ones with hard noses.
The Last Link in the Chain
What are you going to cut with the tool? If you have a lot of work, frequent, long, with hardwoods or thick trunks, you need the most powerful and the most durable chainsaw, like a gas one by Husqvarna or Craftsman. For smaller jobs, an electric one will do, and the choice between corded and battery-operated ones depends on how far from the nearest socket you go. For most needs around your home and yard, though, you don't have to go for the best pro chainsaw; there is a compromise between price, comfort, and performance, and the one by DEWALT does the trick. So, look around and choose your tool!