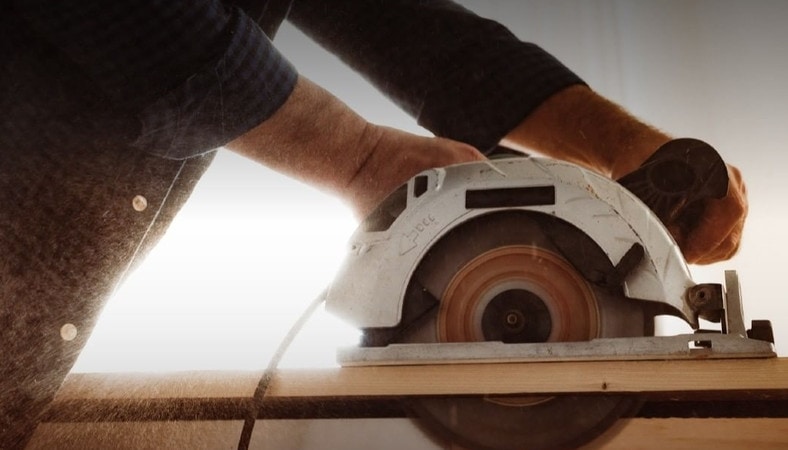 Circular blades come in all sizes, shapes, and prices, so choosing the right one for you can be difficult. Here I'll examine the best circular saw blade models in terms of quality and money. My favorite option is Freud Diablo, but I'll cover other great options of excellent value and explain what to look for when choosing a suitable blade. Now let's get straight to the list of the best blades and find out a few points that can do wonders to the quality of your work.
Product
Top Pick
Good Value
Premium Choice
Title
Freud D0740A Diablo 7-1/4 40 Tooth ATB Finishing Saw Blade with 5/8-Inch Arbor, Diamond Knockout, and PermaShield Coating
Freud D0760A Diablo 7-1/4" x 60-Tooth Ultra Fine Finishing Circular Saw Blade with 5/8" Arbor and Diamond Knockout Single Blade
GoYonder 7 1/4 Inch Circular Saw Blade 60 Tooth TCT Carbide 7.25 Inch Saw Blades with 5/8 Inch Arbor for Cutting Wood
Pros
High-precision in making straight cuts
Perfect for plywood, hardwood, melamine, laminate, and lumber
Good performance and moderate durability
Top Pick
Product
Title
Freud D0740A Diablo 7-1/4 40 Tooth ATB Finishing Saw Blade with 5/8-Inch Arbor, Diamond Knockout, and PermaShield Coating
Pros
High-precision in making straight cuts
Good Value
Product
Title
Freud D0760A Diablo 7-1/4" x 60-Tooth Ultra Fine Finishing Circular Saw Blade with 5/8" Arbor and Diamond Knockout Single Blade
Pros
Perfect for plywood, hardwood, melamine, laminate, and lumber
Premium Choice
Product
Title
GoYonder 7 1/4 Inch Circular Saw Blade 60 Tooth TCT Carbide 7.25 Inch Saw Blades with 5/8 Inch Arbor for Cutting Wood
Pros
Good performance and moderate durability
Best Circular Saw Blade Options in 2023
Standard blades that come with circular saws are all-purpose and work on all types of materials. However, they don't last long and lose precision and quality of finish. If you are on the prowl for some specialized blade, it can process different materials such as wood, plastic, metal, etc. Here's my top-5 blades list.
1. Freud Diablo 40-Tooth – Best Circular Saw Blade Overall
This is my top pick out of all 7 1/4 in circular saw blades. This model is designed to work on the engineered wood due to its diamond knockout arbor that makes smooth, razor-sharp cuts in the wood. A peculiarity of this blade is laser-cut stabilizer vents that reduce noise and vibration.
I love this blade because of its longevity: The tips can handle even the extreme impact and still keep their precision. The arbor also prevents it from wearing out too quickly, and the wear of blade edges doesn't happen too soon. I use it on my Bosch circular saw and get fantastic results. The price range varies somewhere between 15 and 25$, which makes it the best value for money for me, combined with the limited lifetime warranty.
The only minus I can think of is how the tool works on plywood. This blade is a 40-tooth option, so the finish isn't very smooth when it cuts veneered plywood. I usually prefer to use a 60-tooth blade on plywood.
---
Positives
Excellent value for money;
Remarkable durability;
High-precision in making straight cuts;
Smooth, clean finish.
Negatives
A 40-tooth model isn't the best fit for plywood.
---
2. Freud Diablo 60-Tooth – Ultra-Fine Circular Saw Blade
Here is another excellent crosscut circular saw blade from Freud. It is designed for various application purposes: Processing hardwood, lumber, laminate, and melamine. I've successfully used it on softwood too but prefer plywood and walnut.
This blade is made of high-density carbide that is aimed at giving excellent performance throughout each working session. The blade is very durable and makes fast and clean cuts. High precision and quality of finish are what Freud specializes in. For their moderate price, blades offer high quality, precision, and finish.
This model is also made to last, with a special surface coating that protects it from heat, gumming, and corrosion. The cut is chip-free, so I need to do little-to-no sanding afterward.
All blades deliver the maximum result when they're designed for a specific purpose, and I find this option perfect for veneered plywood, oak, and pine.
The only negative point I can think of is that it comes with a thin kerf, while I believe a normal one provides a better result.
---
Positives
Perfect for plywood, hardwood, melamine, laminate, and lumber;
Excellent value for money;
Made to last, minimum wear after use;
High-precision cuts and minimal chipping.
---
3. GoYonder 60-Tooth: Affordable Circular Saw Blade
When it comes to which circular saw blade can deliver the most for the cheapest price, this is my go-to option. I've been using GoYonder blades for a while, and I am pleased with their performance. I have seen GoYonder blades sold from 9 to 15$, which is very affordable, but they don't sacrifice quality. This 7 ¼ inch blade features a 5/8″ arbor that fits the majority of popular saws.
The blade is made from alloy steel and is designed for engineered wood, softwood, plywood, decking, and wood composites. The hardened blade and tungsten carbide teeth provide excellent performance during every application. The model also boasts an anti-stick coating that prevents gumming and reduces friction. This blade provides you with both high quality and precision. I recommend this tool to anyone as a starting point due to its affordability.
In terms of durability, this blade lasts for a decent time, especially when compared with other blades in this price range. As for performance, it cuts material like butter, providing very fine cuts. There is little-to-no chipping after the initial use, though it starts to deteriorate with time; that's to be expected. This blade is also not that effective at handling high pressure, so it might not be the best option for professional carpentry.
---
Positives
Excellent price;
High quality and precision of cuts;
Good performance and moderate durability;
Used for various purposes, from softwood and plywood to wood composites.
Negatives
Loses its sharpness with time; Not so effective at working with pressure.
---
4. Bosch 60-Tooth Circular Saw Blade – Extra-Fine Finish
This is a more expensive blade on this circular saw blade review list. You can find it for 30 — 50$, which is the price range craftsmen usually associate with Bosch and the high quality of their products.
This 60-tooth edge circular saw offers an extra-fine finish and noteworthy cutting quality. Made with a premium Bosch C3 carbide, the blades stay sharp for a very long time. The blade is specifically designed for tough construction jobs that can handle a lot of pressure. It also features reduced kerf and a surface coating for faster cutting. There is no burning and melting — the blade has a high tolerance to it. Faster cuts also mean you can save battery life if you use a cordless saw.
I love Bosch tools because they grant exceptional quality for the price. This blade is perfect for refined work and is compatible not only with the Bosch devices but with other brands too. The 10-inch size contributes to narrower and more specialized cuts, which also justifies the price for me.
It's specialized in cutting engineered wood, but I've found it pretty universal for various materials. It's just as effective on the hardwood. Though the price is higher than its counterparts, I don't consider it a significant drawback since you pay for Bosch's name, quality, and durability. No doubt this company offers lifetime tools. The only con I can find is that at such a price, the tool doesn't provide exceptional cutting performance and longevity.
---
Positives
Made to handle tough jobs;
High tolerance to burning and melting;
Fast cuts;
Universal use.
---
5. Dewalt 60-Tooth Circular Saw Blade – Best for Precision
Dewalt products are a go-to option for professionals and home enthusiasts alike for a reason. Their products' top-notch quality has made this brand a name on the market. This blade is no exception. I enjoyed using it on all types of wood for framing, cross-cutting, and fine finish applications.
This blade is outstanding in terms of user convenience due to the specifically designed body slots that reduce vibrations and match the thin kerf structure. As for longevity, this model is equipped with high-density tungsten carbide teeth that can withhold professional-grade, tough carpentry work. I used it even on nail-embedded wood, which was convenient due to a specially reinforced shoulder. It saves you time and money, providing perfect cuts.
The blades are covered with an anti-stick coating that reduces heating and gumming. I assume that the model is very universal. I used it on melamine, plywood, and other soft and hardwood types and was very satisfied with its precision. It might be the best blade on this list for its remarkable precision, as it leaves almost no marks. While this blade is durable, it's not as long-lasting as other options on the list.
---
Positives
Quiet and super-precise cuts;
Various applications;
Convenient user experience;
Great for professional carpentry work.
Negatives
Durability could be higher.
---
Circular Saw Blade Buyer's Guide
Now that we've examined my reviews of top saw blades, let's talk about the features to keep in mind when choosing a suitable blade. I've already talked about the number of teeth, coating, and types of material they can work on. Here is a more complete guide.
Types of circular saw blades
Depending on the job they're supposed to do, there are different types of circular saw blades. They're used to cut the wood in various directions against and on the grain, while a specialized blade can even cut metals. Here are the main saw blade types:
Ripping saw blades: this model cuts the wood in the same direction as the wood grains. The teeth are usually larger, and there are fewer of them due to the decreased resistance when you cut the wood along the grain. As a result, you get a rougher finish;
Crosscut blades: they cut the wood perpendicular to the grain direction and produce a very smooth and precise finish. This model usually has more teeth, and all the blades are kerfed;
Combination: this blade can be used for crosscutting and cutting along the grain. If you need to perform both types of cuts in your work, switching between the blades can be bothersome and time-consuming. A combination blade allows you to complete the two tasks with one blade. It comes with more and fewer teeth. If you're looking for a smoother finish, opt for a higher tooth number;
Specialty: these blades are designed for professionals who work with specific materials and tasks. They provide the best possible result in a specific application such as cutting metals, veneered lumber, etc.
The type of blade you need depends on what you're going to use it for. Crosscut blades are excellent for precision work, and all of the tools I've reviewed in this guide are cross-cut.
What to consider when choosing a saw blade
When it comes to how to choose circular saw blades, you should keep in mind a couple of points. This way, you ensure you will get a perfect fit for your saw and manage your tasks with optimal precision and ease. You should consider:
Blade size. The majority of the current offers come in the 7 ¼-inch size, which is considered standard. When you pick one, ensure it fits your saw type;
Carbide grade. Tungsten grades determine the grain size of carbide and which materials it can handle. It's important if you want to use your blade to cut metals;
Tooth configuration. More teeth give you a smoother, more precise finish of the cut. It minimizes ripping and makes cuts more polished.
FAQ About How to Buy a Saw Blade
Now let's look at some of the most common questions people have when buying blades. This will save you lots of time when you choose the most optimal pick for you.
Are more teeth on a circular saw blade better?
More teeth are better in terms of how fine and smooth your cuts are. If you want a faster but rougher cut, you can go with fewer teeth, but if you need to do precise work, you should choose more teeth. It also means less sanding for you.
What is the difference between a circular saw blade and a miter saw blade?
A miter saw is stationary and better for longer cuts down the board. A circular saw is designed to be hand-held and is mostly used to make rip cuts lengthwise or cross-cuts widthwise. It's also less expensive and portable, though a miter saw offers more precision because it's not handheld.
Are circular saw blades interchangeable between brands?
Yes, you can use a circular saw blade from a different brand on your saw. However, you have to always check the diameter of the blade. If it is compatible, there should be no problem.
Opt For the Most Suitable Circular Saw Blade
An ideal blade has an excellent cutting quality, is durable, and offers a good value for money. That's why my top choice is a 40-tooth blade by Freud. It combines precise, smooth cut, sharp blades with remarkable durability, and a reasonable price. My experience with this model was successful, and I recommend this blade and the 60-tooth version to others because of their quality.
Which product is the best from your point of view? Let me know in the comments!