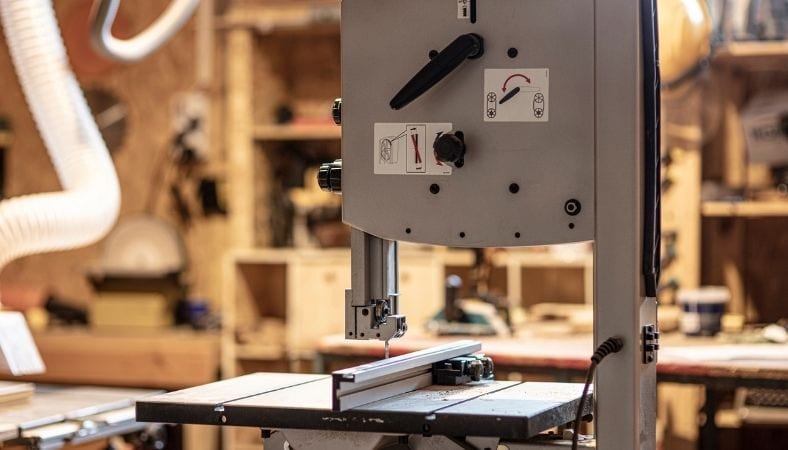 Resawing is a complex woodworking process that does not mean sawing wood again. This term is applied to the technology of sawing materials along the grain, that is, along their widest part, to create, for example, veneers. It requires exceptional precision from you and the availability of suitable tools. Many people think that table saws are ideal for it. Of course, you can use these devices. However, experienced woodworkers know that band saws are the better option.
In my opinion, the best bandsaw for resawing is JET JWBS-14SFX. It is a full-size high-speed machine with excellent rip capacity designed for heavy-duty jobs. If you are looking for the most reliable resawing and rip-cutting device, this model will not disappoint you. The only drawback is its rather high price, which is why it might not be affordable for amateur woodworkers.
Of course, it is not the only quality tool that can suit you for such tasks. In my article, I have collected ten great resaw bandsaw models, among which you will definitely find the one that is perfect for your needs.
Pros
Suitable for one-handed work
The working surface can be tilted
Runner-Up
Pros
Suitable for one-handed work
Premium Pick
Pros
The working surface can be tilted
Best Bandsaw for Resawing: Top-10 Modern Options
I thoroughly looked at many devices available in stores and chose ten of the most effective. Read my resaw bandsaw reviews to find what fits your needs and budget.
1. JET JWBS-14SFX — Best Bandsaw for Resawing Overall
I consider resawing a highly professional procedure; not all woodworkers do it. Therefore, at the top of my list, I put JET JWBS-14SFX, a tool that is required for complex and large-scale tasks. It is a relatively new model in the JET catalog and quite compact compared to other products (if that term applies to machines at all). This bandsaw resaw capacity is 13 inches in height. All other company items are much larger and are needed more for large-scale industries than for private workshops.
The fact that this device is perfect for resawing doesn't mean you can't do other jobs with it. I find this model truly versatile for sawing, rip cutting, and cross-cutting. It is powered by an outlet and can reach speeds up to 3000 FPM. Please note that it does not come with a blade, so you will need to purchase one to get started. As other users have mentioned, the device features heavy-duty construction, is equipped with a smooth aluminum fence, sits securely on the floor, and provides almost complete vibration absorption.
As I've already written, in my opinion, the only drawback that this device has is its rather high cost. It is a truly high-quality professional machine. Also, at over 270 pounds, don't count on moving it often.
---
Positives
Large capacity;
Powerful;
High speed;
Relatively compact;
Robust construction.
---
2. Milwaukee 2429-21XC — Best Resaw Bandsaw for Compactness
This model is the exact opposite of the first item on my list regarding size and weight. The tool is one of the most compact and lightweight. With 6.75 pounds and its "toy" dimensions, you can easily maneuver it with one hand. That's what the device was designed for, as it only has one grip, not two like its larger counterparts.
To learn how to make perfect cross-cuts with hand-held devices, you need to have some experience. It's not very difficult, but it's better to practice with clippings. Since this saw is really compact, don't expect it to be able to cut thick logs. Its maximum cutting capacity is 1 ⅝x1 ⅝ inches. With the right blades, you can handle not only wood and plastic but even steel bars. It runs on a 12V battery which is included in the package.
The compact size of this model does not leave any of the users indifferent. You can easily take it to a construction site, and its low weight makes it possible to perform overhead work. Such small devices cannot offer high speeds. The motor of this tool is capable of 280 FPM. Depending on the materials you work with, you can adjust the speed.
---
Positives
Extra compact;
The most lightweight;
Suitable for one-handed work;
Safe to use;
Variable speed trigger.
---
3. POWERTEC BS900 — Best Band Saws for Resawing for Money
The so-called benchtop models are somewhere between stationary machines and compact products in terms of performance. It is exactly what the POWERTEC BS900 is. Unlike the first model on my list, it should be placed on a high work surface. Fortunately, the weight (42 pounds) allows you to lift it to the desired height.
Its maximum capacity is 9 inches, which is sufficient for most tasks. It is corded and equipped with a 2.5A motor that can reach speeds of around 1750 RPM. Unfortunately, this model does not provide speed control, which can be a disadvantage when working with various materials. But you can tilt the work surface at any angle up to 45 degrees to make bevel cuts. You can also connect the vacuum cleaner to the built-in dust port to collect debris. Do not neglect this opportunity so as not to endanger your health due to regular dust exposure.
This tool has been specifically designed to fit both DIYers and pros with its size and features. However, as many users note, it is its main disadvantage. For the former, it might be too cumbersome; for the second — insufficiently productive. I would say it should be the choice of avid enthusiasts who plan to use it from time to time.
---
Positives
Benchtop design;
The working surface can be tilted;
Easy replacement of blades;
There is a dust port;
Budget-friendly.
Negatives
Not for heavy workloads;
The speed is not adjustable.
---
4. Anbull Deep Cut 10A — Best Resaw Bandsaw With Base
I consider Anbull Deep Cut 10A one of the most versatile models. It comes with a stable base in the kit, due to which you can use the saw as a portable hand-held tool and then attach it to the base and continue working with it as a stationary device. This versatility appeals to many customers looking for a product for home use. The tool mount can be adjusted depending on the level of inclination you need (up to 45 degrees).
Being primarily a compact tool, it cannot offer a cutting capacity equal to more powerful machines. However, it can cut pipes or timber up to 5 inches thick, which is considered the highest among portable models. I would say that it works pretty quietly, quieter than many similar devices. However, I still recommend wearing hearing protection when using it.
Compared to the company's previous products, this item boasts improved housing. I like the rubber bumpers, which reliably protect the device from drops and bumps, and the steel shroud also significantly increases the tool life. A 10A motor can accelerate the blade up to 350 FPM, and adjustable speed allows you to work with different materials.
---
Positives
Versatile;
The base is included;
Maximum capacity among portable tools;
Variable speed control;
Reliable housing.
Negatives
Cutting capacity decreases when using a base.
---
5. Makita XBP02Z — Best Battery-Powered Resaw Bandsaw
Makita is traditionally considered one of the most reliable manufacturers of construction equipment. The XBP02Z makes it onto my list for a reason, as it is exactly what you would expect from this brand. It is high-quality, efficient, and durable. In my opinion, it is an excellent option for performing work of light to medium complexity. The available power might not be enough for professionals, though.
The tool is powered by two 18V batteries manufactured with the Star Protection Technology; however, they are not supplied with this model. So you need to have one of Makita's cordless devices to use this saw. Such a bare tool option is good because it allows you to save a little. If you compare the performance of this device with other analogs, you will see that it is equipped with a really powerful motor that can reach speeds up to 530 FPM (the speed can be adjusted). It is a very impressive result for compact products. Despite this, its weight remains relatively small (just over 14 pounds).
Compared to the old Makita models, this one is safer and more durable since it has an aluminum blade guard instead of a plastic one. Additional security is provided by the double trigger, which requires users to take two actions to start the saw.
---
Positives
Ideal for DIY projects;
Powerful motor;
Lock-off feature:
Durable housing.
Negatives
Not suitable for heavy-duty tasks;
A bit pricey.
---
6. Grizzly Industrial G0803Z — Resaw Bandsaw With Built-In Dust Blower
No products found.
It is the most compact model in the Grizzly Industrial range. All the rest are full-size stationary machines. With its relatively small size and weight (42 pounds), it maintains excellent performance. It's so good that it even won an award from Wood Magazine a couple of years ago.
I like it because it has many built-in features that are sometimes lacking in more expensive models. For example, you do not need to connect a dust blower or set up additional lighting. These tools are mounted on movable antennas that you can point in any direction. Also, among the pluses, I note a customizable laser guide, ease of changing the blade guard position, a convenient carrying handle, a sturdy metal frame, and doors. Its cutting capacity is 8 ⅞ inches, and the maximum no-load speed is 2460 FPM.
However, many other buyers have noticed several shortcomings, like me. The fact is that this tool is relatively inexpensive, which leads to the inconvenient process of adjusting the upper guide bearings, flimsy miter gauge, and a fairly large number of plastic parts. These are not some stuff that interferes with quality work but something that the manufacturer could improve. Other than that, it's an efficient tool for everyday tasks.
---
Positives
Offers remarkable speed;
Built-in dust blower, LED light, and laser guide;
Acceptable price;
Adjustable work table and blade guide.
---
7. RIKON 10-326 — Resaw Bandsaw With Increased Fence
No products found.
As I've said, full-size floor-standing machines are the perfect resawing tools. RIKON 10-326 is one of those models with an ideal price-quality ratio. The first thing I liked was how easy it was to assemble it out of the box and get started. Keep in mind that it weighs a lot (280 pounds), so you will need assistance with lifting it upright after assembly.
RIKON is known for its reliable bandsaws. In this model, it has introduced several patented technologies that make the instrument stand out from the rest. You will be able to replace spring-loaded blades without any hassle as no additional screwdrivers are required. Its rip fence is extra high for your added security and quickly adjusts with a simple twist of the knobs. Besides, with the help of a unique lever, you can change the table tilt in seconds. All of this makes the device incredibly convenient for performing various tasks.
The presence of such advanced features is reflected in the cost. However, I think the usability is worth the money. Even though I consider this device professional, I was a little surprised that there are only two-speed settings: 1445 and 2950 FPM. But the cutting capacity is excellent, which is 13 inches.
---
Positives
Quick assembly;
Innovative technologies;
Dust port;
Excellent cutting capacity;
Good value for money.
---
8. Ryobi BS904G — Compact Benchtop Resaw Bandsaw
No products found.
I like Ryobi products for their excellent ergonomics and ease of use. The BS904G is just what you need if you don't want fancy features and professional-level settings. When buying devices from this company, you can be sure of their durability and reliability. In my opinion, this tool is more suitable for amateurs and small repair and construction work at home than in a professional workshop.
However, you are likely to be pleasantly surprised by the efficient performance of this fairly compact (37.3 pounds) saw. Its 2.5A motor can accelerate a blade up to 3000 FPM, just like full-sized devices. It ensures perfectly even cuts on any materials without chips and burrs. The frame and table are made of heavy-duty steel, which absorbs vibrations well and guarantees long-term use. However, its cutting capacity is 3.6 inches. It is very little for a benchtop device, given that some hand-held models offer more opportunities.
In general, it is a good analog of large machines for resawing, which is suitable for amateurs. If you plan to cut hardwood with it, you will most likely feel that the motor is under a heavy load. So it is better to use a tool for processing softer materials.
---
Positives
Small compared with analogs;
Great speed;
Gives perfect cuts;
Absorbs vibrations well.
Negatives
Not for heavy-duty work;
Small cutting capacity.
---
9. Grizzly Industrial G0513X2 — Best Resaw Bandsaw for Pros
This model fully meets the requirements of professionals. It's big, stable, powerful, and productive. Because of these features, it is also expensive. If you perform wood cutting, resawing, metal cutting, and so on literally every day and in large volumes, then it will definitely come in handy. In other cases, it simply will not pay off. Besides, you need to have enough space in the workshop to place it. It is quite large and weighs as much as 418 pounds.
It has an excellent cutting capacity, which is 12 inches high by 16.5 inches wide. A 2HP motor can accelerate the blade up to 3500 FPM. It is the maximum result among all the models I've tested. Here lies a small minus of the tool: the manufacturer equipped it with only two-speed settings, 1700 and 3500 FPM. Too bad there are no other options. Given such power, it would be nice if this saw had a foot brake.
The manufacturer supplied this model with a cast-iron fence and table, extruded-aluminum rail, and heavy computer-balanced wheels. The whole structure stands very well on the floor and is perfectly balanced for the heaviest loads. A magnifying window and blade tension indicator ensure perfect results on all materials.
---
Positives
Ideal for professionals;
Allow performing different types of work;
Maximum possible speed;
Stable and reliable design.
---
10. Powermatic PM1500 — Resaw Bandsaw for Heavy-Duty Tasks
Powermatic PM1500, although the last model on my list, is by no means the last in terms of performance. Like the previous item, I recommend it exclusively to professionals and experienced woodworkers because amateurs simply do not need its features, power, and cost.
It is one of the most expensive tools I have ever tested. However, for this money, you get the high quality of all elements and an increased level of security. I want to highlight the convenient tool-less adjustments, a ball bearing guide, wide dust ports, a high fence plate, and iron (not plastic) wheels. It also has something that powerful professional devices lack — a foot brake. It is just a necessary feature in case something goes wrong. To give you an idea, it takes more than 30 seconds for the blade to come to a complete stop after a normal shutdown. During this time, anything can happen. Besides, there is a blade tension release lever, which can also be useful in emergencies.
The device is equipped with a 3HP motor that can give the blade speed up to 3100 FPM. Its maximum resaw capacity is 14 inches. Almost all parts and elements are made of metal, so they wear out slower, which increases the product's service life.
---
Positives
Powerful motor;
Durable;
Foot brake;
Blade tension release handle;
Designed for tough jobs.
---
Resaw Bandsaw Buyer's Guide
I tried to include models for both DIYers and professionals in my list. I consider these ten options to be the best on the market at the moment. To make it easier for you to decide on the right device, read my guide on choosing a tool and how to resaw wood.
How to choose a bandsaw for resawing
First, decide which kind of tasks you will use a saw for. This way, you will understand what exactly to look for in a particular product. When buying a tool, there are many factors that you need to pay attention to:
Power. The required motor power depends on the materials you work with. The more durable the wood, the more powerful the tool should be;
Cutting capacity, which indicates the distance between a column and a blade and affects how thick a piece you can cut;
Frame style. Frames can be steel (suitable for light work) and cast-iron (can withstand heavy loads);
Blade guides come with bearings (more common) and ceramic (durable);
Blades. The choice of a particular type depends on the tasks to be performed. You can get specific blades or a versatile "regular tooth" type;
Size. The size of a tool depends on the features of your work. If you travel a lot from place to place, get portable models. For a workshop, benchtop or floor devices are suitable;
Fence. Choose high fences made from durable materials that can be repositioned as needed;
Prices can vary from several hundred to several thousand dollars. Do not overpay for unnecessary features but do not cheapen by choosing a little-known brand;
Warranty. The standard limited warranty is issued for a year. However, for professional models, manufacturers offer three- and five-year warranties.
It is not superfluous to pay attention to additional features like a LED light, laser guide, wide dust port, and replaceable blades in the kit.
Step-by-step guide on how to resaw with a portable band saw
Here is my quick bandsaw resawing guide for those just learning the basics of woodworking:
Set up your saw: adjust the blade tension, guides, guidepost height, and fence. Make sure your device is in good condition, all parts work as they should, and the blade has not become dull yet.
Align the blade and work surface and check the accuracy of the angle. For perfectly straight cuts, it should be 90 degrees.
Use a marking gauge to draw a perfectly straight cut line, or do it with a ruler and chalk. If your instrument has a laser guide, you can skip this step.
Put the material close to the fence, start the tool, and start cutting along the marked line, smoothly feeding the piece forward (do not do it with bare hands; use push locks or push sticks).
Repeat resawing with the remaining material.
If you plan on making veneers, it's best to use two fences (on either side of a board). It will ensure the stability of a material and the perfect evenness of a cut. Also, always follow safety guidelines when working with power tools.
Resaw Bandsaw FAQ
If you still have questions after reading my reviews and guide, look for more information in this block.
What is a resaw capacity?
It is the distance between a column and a blade, as well as a table and a top. It shows how thick a piece of wood you can put in there. For portable tools, it is small; for stationary devices, it is much bigger.
What size bandsaw do I need for resawing?
It depends on the materials you work with. The minimum cutting capacity is about 2 inches for compact models, and the maximum is about 14 inches for professional stationary devices.
What should be the width of a blade?
For resawing and cross-cutting, it is best to use the widest blades you can find. The wider they are, the smoother your cuts will be. Thin blades are not as strong and tend to bend. Choose variable-tooth or 3 TPI blades.
Can all bandsaws resaw?
Yes, in general, you will be able to do it with any bandsaw. The accuracy and quality of the result directly depend on the quality of your device. However, you can cut wood along the grain with any model.
Get the Most Out of the Best Bandsaw for Resawing
Investing in quality workshop tools is always a great idea. The main thing is to consider all available options and your own needs to spend money wisely. I recommend starting by analyzing the scope of work and everyday tasks. If you use a device often, you can buy a more expensive model because it will pay off. Hobbyists and DIYers are better off getting something cheaper and more compact.
If you have any questions, let me know in the comments! Also, share your resawing experience. Which model do you find the most convenient and reliable?