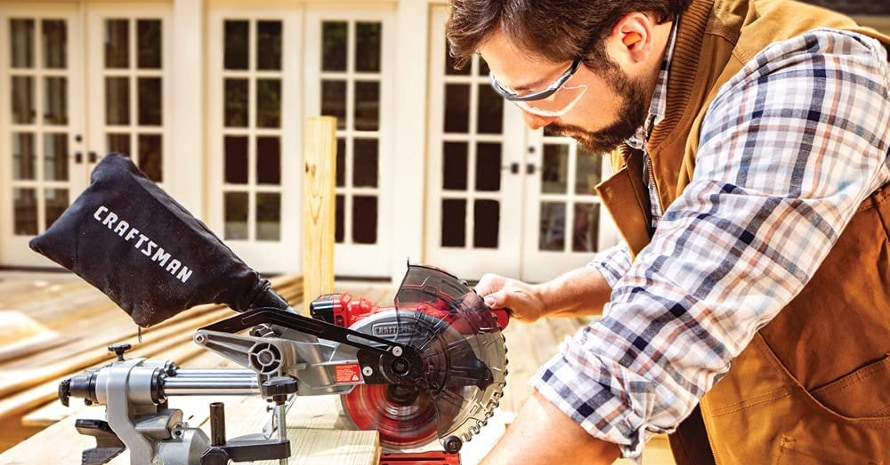 The time has come, and the large powerful woodworking tools like workbench miter saws are available as cordless cutters. You can take them anywhere you need without an additional power supply and make high-quality cuts without wasting your time. In this long guide, I do my best to help you choose the best cordless miter saw based on my knowledge about the instrument. I provide all the facts you need to know about this tool type to get the best result for your money.
Pros
Makes up to 4,400 RPM with a 10'' blade
Lightweight and portable design (30lbs.)
Comes with a 12-inch 60-T carbide-tipped blade
Top Pick
Pros
Makes up to 4,400 RPM with a 10'' blade
Runner-Up
Pros
Lightweight and portable design (30lbs.)
Premium Pick
Pros
Comes with a 12-inch 60-T carbide-tipped blade
A miter saw lets you make cuts at a variety of angles due to the blade that is mounted on a flexible swing arm. Having a miter saw, you can make door frames, window casings, crown molding, and all other sorts of constructions that require angled cuts.
But hey, is there any difference from what a circular saw does? Well, it's immense when it comes to the level of control, cutting depth, and the number of possible angles. I'd say that both instruments are essential for a professional woodworker and will definitely make a DIYer's life a lot easier, especially if you opt for cordless versions.
7 Best Cordless Miter Saws Reviewed
You asked for it, and I did it. Here are the most detailed cordless miter saw reviews you could find around. I understand how overwhelming it could be to read all of them and compare them, so I tried to be as straightforward as possible. All the tools were tested in my own workshop.
1. Makita XSL06PT – Best Battery-Operated Miter Saw Overall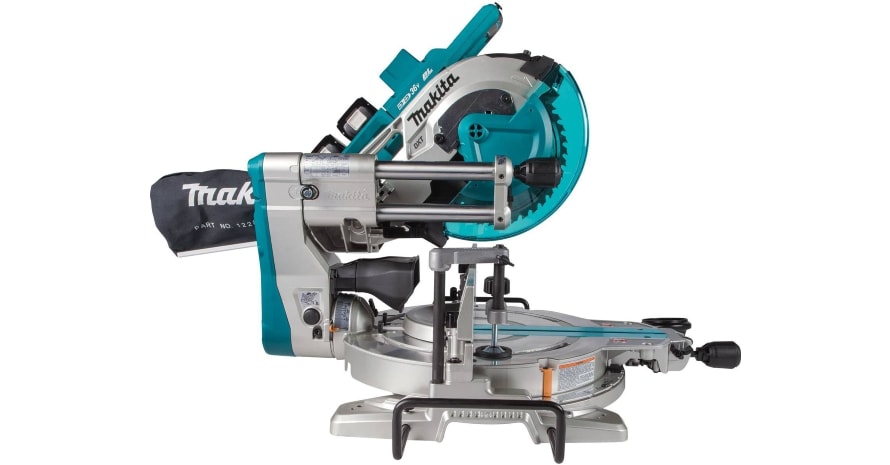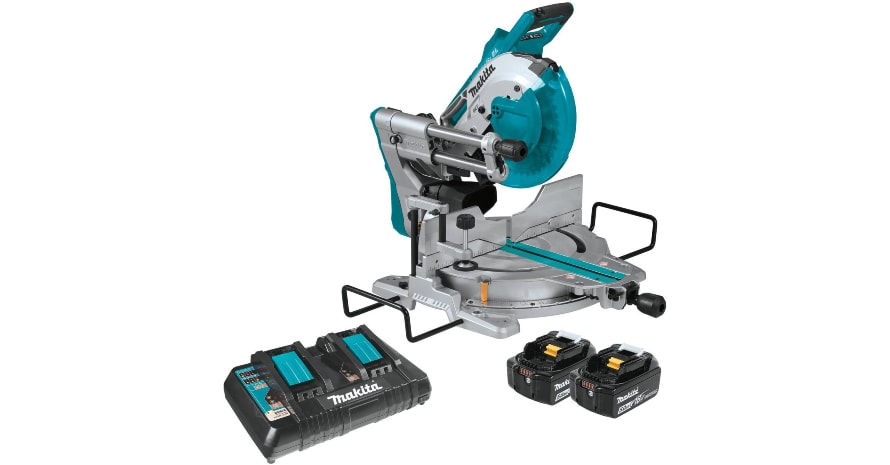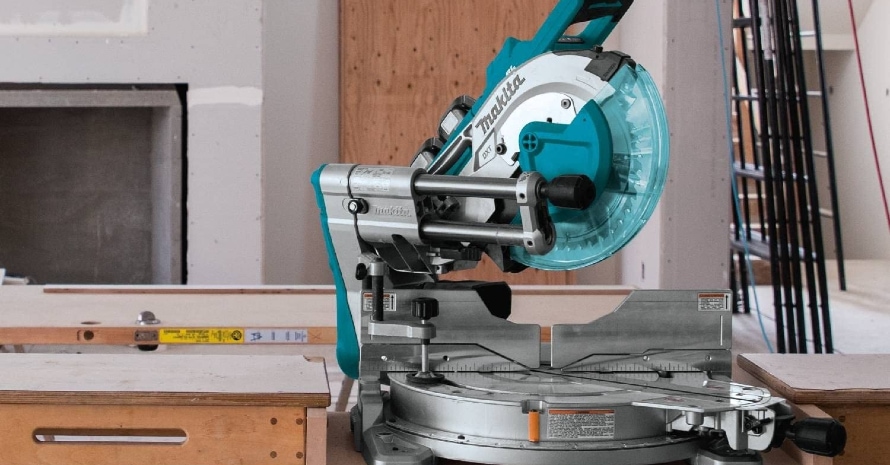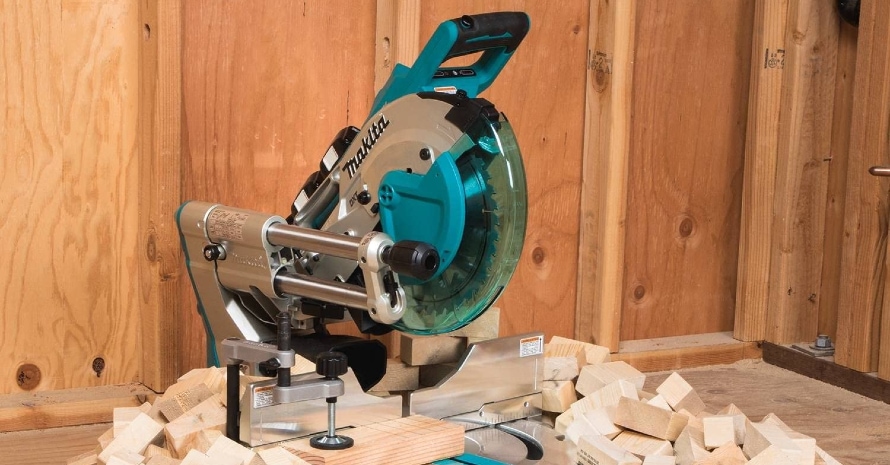 Makita is a major Japanese power tool brand and one of the largest manufacturers in the world, with factories in 7 countries on 5 continents. The company stands behind the world's first rechargeable battery-powered drill launched in 1969. I've had multiple tools by the brand over the years, and none of them disappointed me either with performance or durability.
The XSL06PT miter saw is equipped with a super-powerful 90-watt motor that spins the 10" blade up to 4,400 RPM. Due to this, you can make very smooth cuts without losing cutting speed. It's also powered with the Automatic Speed Change technology that quickly adjusts torque and RPM to achieve the best performance of the motor and battery under different loads.
This top tool is powered by 2 lithium-ion battery packs (included in the kit), which fairly provide up to 300-340 cuts in 2×4 SPF lumber and around 150-200 cuts in 2×12 SPF lumber. Such a great result is due to the brand's BL Brushless Motor. This makes the tool good enough even for batching on remote job sites. I charge mine once a week, but I cut quite a lot. You can also use Makita's larger capacity batteries with the same connector to extend the tools cut count if needed.
As for the cutting features, this tool can miter from 0° to 60° (left and right) and bevel from 0° to 48° (left and right). There are also positive stops at 0°, 15°, 22.5°, 31.6°, 45°, and 60° in both directions for quick switching between standard presets. The rails are designed for reduced footprint, which lets you put the tool flush against the wall, which is very helpful in those narrow spaces. The cross-cutting capacity is 4×12 crosscuts at 90 degrees, while vertical cutting capacity is 5-1/4" and crown molding cutting capacity is 6-5/8" nested. For extra comfort and reduced dust in the air, the kit includes dual dust collection ports and a dust bag. The warranty is 3 years.

---
PROS:
Makes up to 4,400 RPM with a 10'' blade
Two batteries and a charger included
Reduced rail footprint for extra portability
Highly accessible controls
Makes cuts from 130 to 340, depending on lumber SPF
---
2. DEWALT DCS361B – Best 20V Portable Miter Saw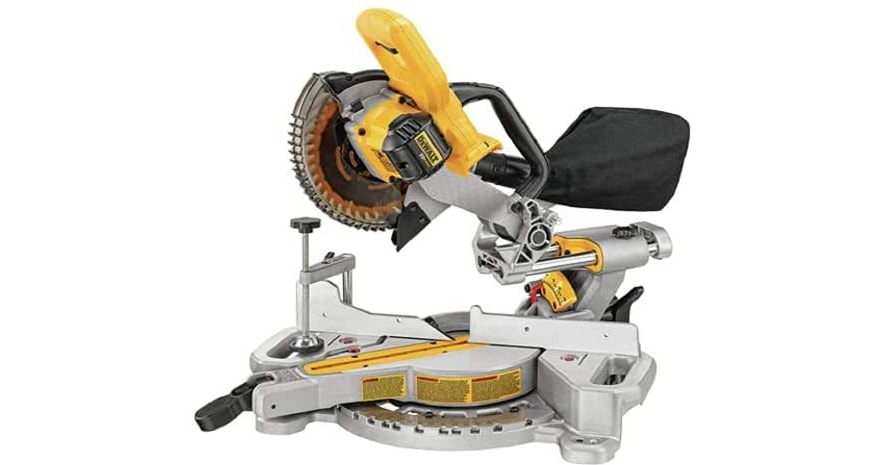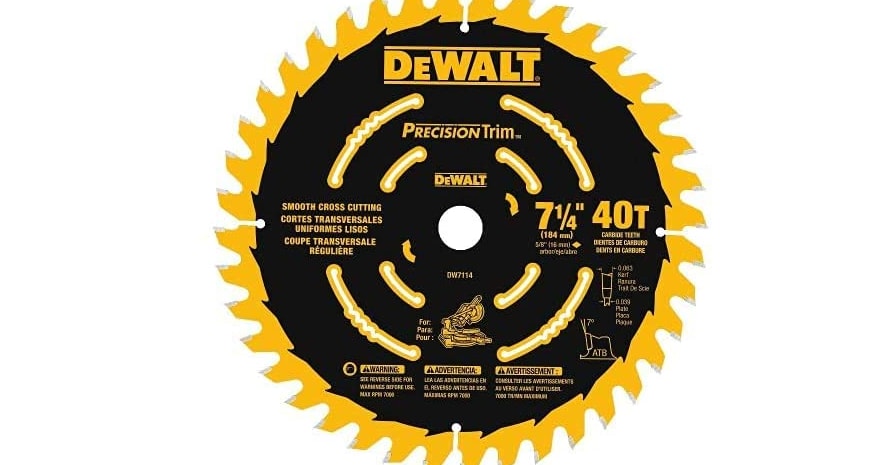 DEWALT is a nearly century-old US-based power tool manufacturer that has achieved the reputation of one of the most reliable power tool brands in the world. DEWALT's tools are really worth every dollar, which is proved by their presence on nearly any job site across the US.
The DCS361B miter saw is equipped with 7-1/4″ blades and comes with a superior Precision Trim 40T carbide-tipped blade by the brand. The cutting capacity of the tool is 3⅝" crown (nested) and 3½" base vertically. The miter detent plate includes 11 positive stops, so it's very easy to switch between all the standard angles. Its cross-cutting capacity is up to 8 inches at angles between 45° and 90°. It's very easy to adjust the angles due to the oversized scales.
Although the tool is so compact and weighs only 30 pounds, I can call it a professional device because it spins the blade up to 4,000 RPM and makes up to 140 cuts on a single standard 4 Ah battery. The tool is compatible with the entire line of universal DEWALT batteries, so feel free to use larger ones from your other tools. I highly recommend it if you don't need to batch large pieces of lumber.
Due to the high cutting speed and compact design, you can use it for any typical jobs or DIY projects in your backyard. All the controls are pretty convenient, but changing the blade is a bit more difficult than on competitors' tools.

---
PROS:
Lightweight and portable design (30lbs.)
11 positive miter stops
High-precision tool
Oversized miter scale
Spins the blade up to 4,000 RPM
CONS:
Changing the blade takes a while
It's probably too small for most pros
---
3. Makita XSL08Z – Great Value Cordless Compound Miter Saw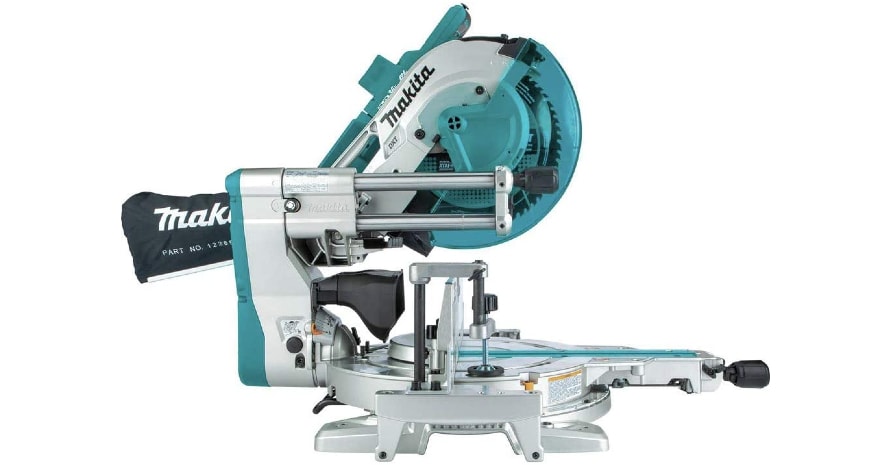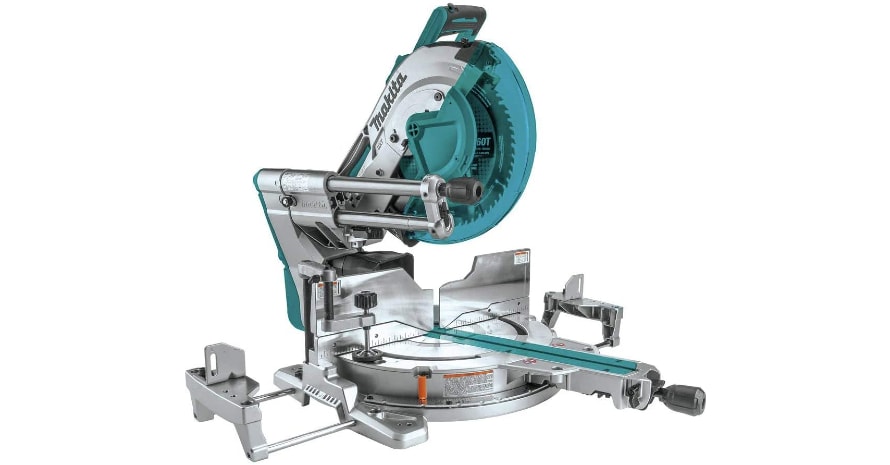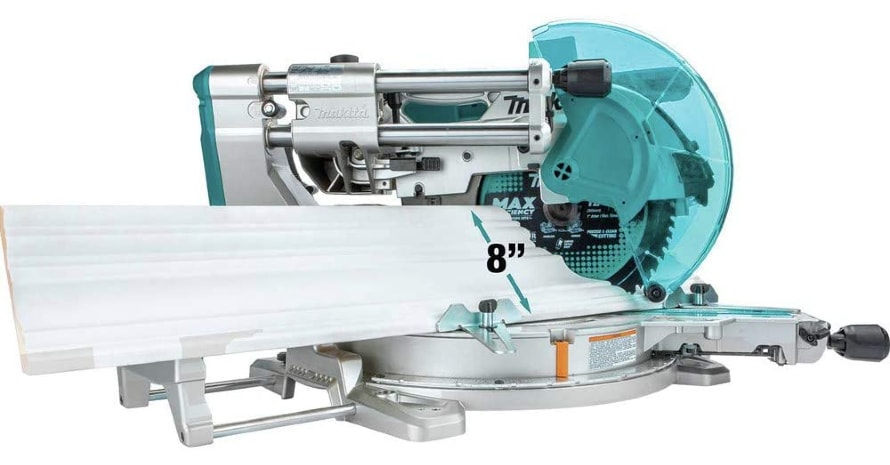 You already know enough about the brand from the description of the top product, so let's get straight to the tool's features and its differences from the XSL06PT. The first thing you notice is, of course, the large 12" blade that boosts vertical, miter, and bevel cutting capacity. It cuts up to an 8" crown (nested), 6-¾'' base (vertical), and 15" crosscut at 90°. Due to the slightly larger motor, the tool can make up to 4,400 RPM as well as the 10-inch model. However, the number of cuts per charge in 2×12 SPF lumber with two 5.0Ah batteries (which are not included) is up to 160-175. I can't call it a real difference, though. You can get larger batteries if needed.
The tool is built to last and tackles all tasks spotlessly without dropping RPM at any load. All is due to the automatically adjusted rotation speed that sets the highest optimal RPM based on the material resistance.
The comfort features include easily accessible controls, Makita wireless transmitter compatibility, and automatic wireless power-on/off if you have a wireless Makita dust extractor. Unfortunately, the battery and charger aren't included in this very kit, but you can get the same model with batteries when it's available.

---
PROS:
Comes with a 12-inch 60-T carbide-tipped blade
Brushless motor for cooler and longer work. Makes up to 4,400 RPM
Wireless Bluetooth auto-start technology
3-year warranty
Dual-bevel action with convenient controls
CONS:
Batteries are not included
---
4. Milwaukee 2734-20 – Universal 10-inch Dual-Bevel Sliding Miter Saw for Professionals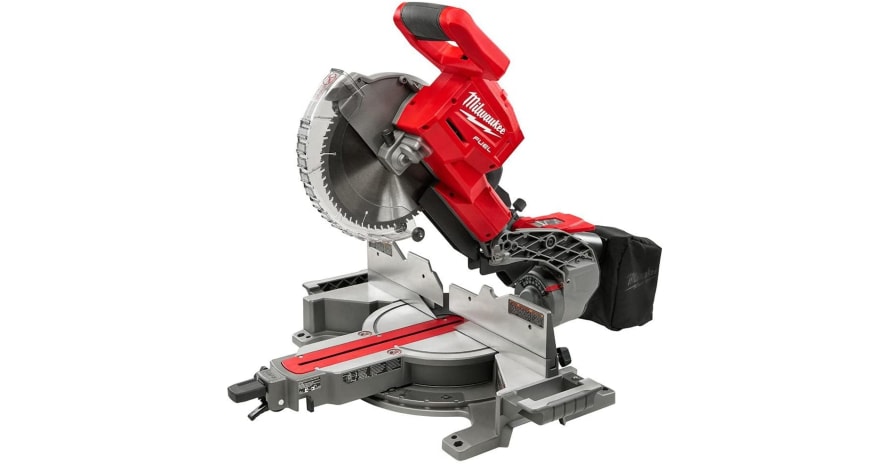 Milwaukee isn't the largest player on the market, but it's a brand with a great history of more than 90 years of high-quality power tool productions. Some of their most remarkable tools include the world's first hammer drill that could work as a normal drill and an iconic 1951 Sawzall reciprocating saw. The quality has doubled since then.
The M18 Fuel 10-inch miter saw by the brand is a real finding for those who seek a relatively compact 10-inch cutter with dual-bevel and sliding capabilities. It weighs only 45 pounds! The device has a 5-3/4" vertical cutting capacity, 2×12 horizontal capacity, 5-1/4" vertical capacity crown (nested). The miter cut angle goes 50°/60° and 48° for both left and right bevel cuts.
A single standard M18 Redlithium High Demand 9.0 Ah Battery (included with a charger) lets the tool make up to 350-410 cuts, depending on the load. During my tests, it made 395 cuts in 3-1/2″ baseboard trim, 300 cuts through 2×4", and 140 in 2×12 lumber. It's like a ton of cuts for a 10-inch cordless tool. And, of course, you can use any other M18 battery from your Milwaukee tool collection with this saw.
The tool features convenient controls and a unique bottom-mounted rail design, which makes the base of the tool heavier and protects the rails from damage when you toss the tool around at the job site. There's no need to worry that the bottom rails collect the dust as dust extraction works really well. Do you want one more great fact about the tool? The warranty is 5 years!

---
PROS:
Powerful 9 Ah battery lets it make up to 400 cuts at 4,000 RPM
Shadow cut line indicator
Lightweight 10" tool (just 45 lbs.)
Warranty 5 years
M18 battery platform compatibility
CONS:
A bit limited on cutting capacities, but tackles all the standard tasks
---
5. CRAFTSMAN CMCS714M1– Pro-Grade 7 1/4 Sliding Compound Miter Saw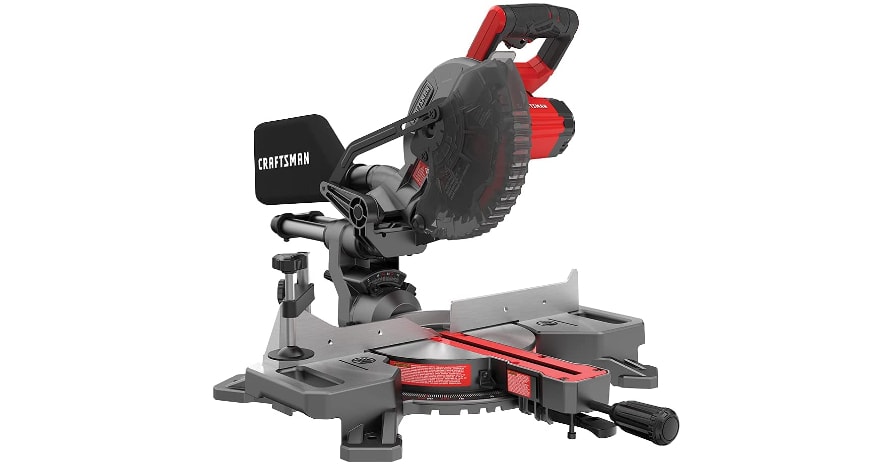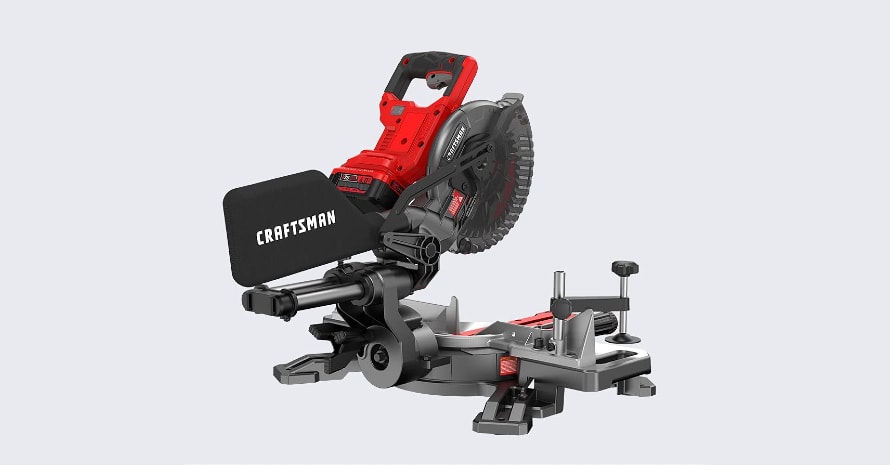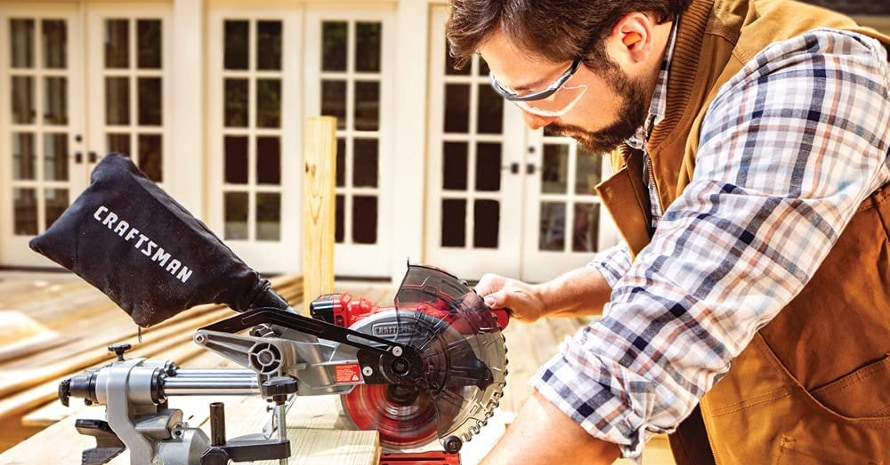 CRAFTSMAN is a Sears tool manufacturer with over 90 years of experience in the field. The brand has the highest Harris Interactive poll grades for "Brand Expectations" and "Trust" and provides tools officially for NASCAR. I discovered the brand when I came across the Reader's Choice Awards for power tools in Popular Mechanics. The brand won that contest in 2009.
The CMCS714M1 is a powerful and affordable single-bevel miter saw equipped with a decent brushless motor that makes up to 3,800 RPM. Surprisingly, a single 4Ah battery (included with a charger) can make almost 600 cuts in 3-1/4-inch MDF baseboard, and a LED cutline is very helpful in terms of accuracy. The saw can make 8-inch cross-cut at 90°, 5-1/2-inch cross-cut at 45°, 3-5/8-inch nested crowns, and 3-1/2-inch baseboards vertically. That's a good result for a small blade like this. I'd rather call it a DIYer's choice due to the peak RPM, but the tool does a great job of maintaining peak RPM even on hardwood and provides enough tension per inch for super-clean cuts, so a pro can apply it as well.
The model has a standard design with upper-mounted rails and an ambidextrous handle. The oversized miter and bevel scales with positive stops make it easy to pick the right angle quickly, while the dust extractor keeps the workspace neat and clean. Finally, the tool is one of the lightest in the category (21.8 lbs.) so that you can carry it in one hand almost without feeling the weight. It's a great little helper, and the cost is just right. All the advantages are covered by a 3-year warranty.

---
PROS:
One of the lightest tools – 21.8 lbs.
3-year warranty
Makes almost up to 600 cuts per charge
Affordable tool for DIY and pro-level jobs
LED cutline for extra precision
CONS:
RPM could have been a bit higher, but that's not a notable problem
---
6. RYOBI ONE+ – Optimal 7 ¼ Cordless Sliding Miter Saw for DIY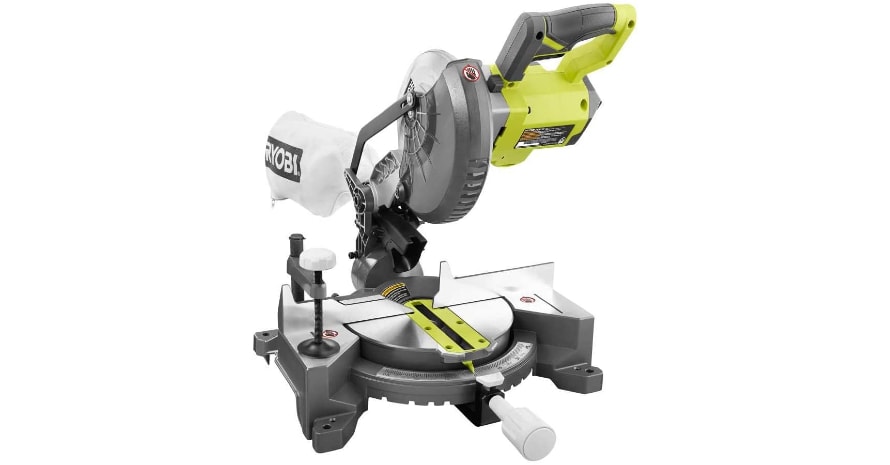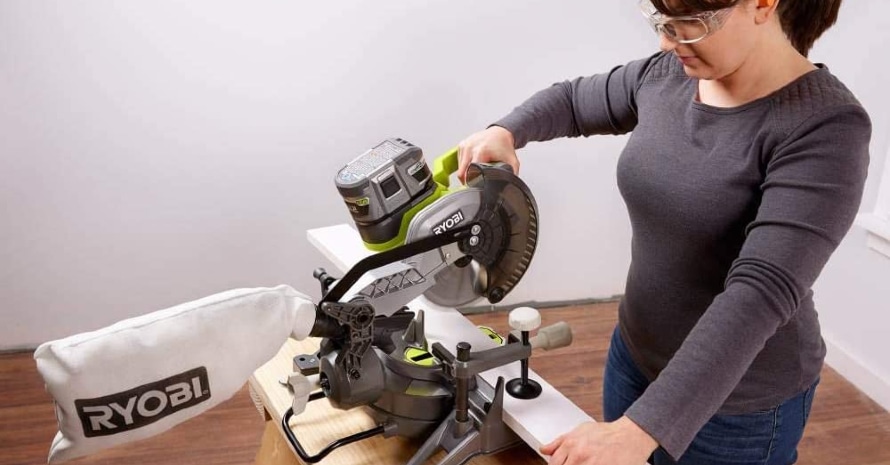 RYOBI was founded in Japan over 70 years ago, and now it owns multiple huge factories worldwide, including one in the US. I don't know about any remarkable achievements of the brand, but it definitely provides exceptional quality and functionality of the tools, so I can recommend them.
The ONE+ 7-¼" compound miter saw makes a good alternative to the Craftsman's CMCS714M1, but it offers only the capabilities of a compound miter saw, which means fewer possible cutting angles. Still, it's highly affordable and makes spotless cuts. The cutting capacity is 2x 4 inches and 4-1/4 inches for cross-cut. The miter angle is from 0° to 45° and includes 0°, 15°, 22.5°, 31.6°, and 45° left and right stops for quicker switching between the standard angles. The miter scale size is just fine, while the laser helps to achieve higher accuracy.
The largest benefit of the tool is its compactness. It weighs below 22 pounds and requires less space than most alternatives with the same blade size. You can just grab the handle on the side and take it anywhere like a bag of groceries.
While this saw is more than enough for DIY most projects, it lacks professional features, such as bevel cuts. I would also love to see a more efficient dust collection system with a larger bag. I don't recommend it for professional use, but any DIYer with average demands will be happy with what the tool can do for the money.

---
PROS:
Compact 21.4 lbs. design with a handle for easy carrying
3-year manufacturer warranty
Affordable and lasting DIY solution
Positive stops for left and right miter angles
Laser aim for extra accuracy
CONS:
Battery and charger are sold separately
No bevel cuts
---
7. Einhell Power X-Change – Battery-Powered Chop Saw for DIY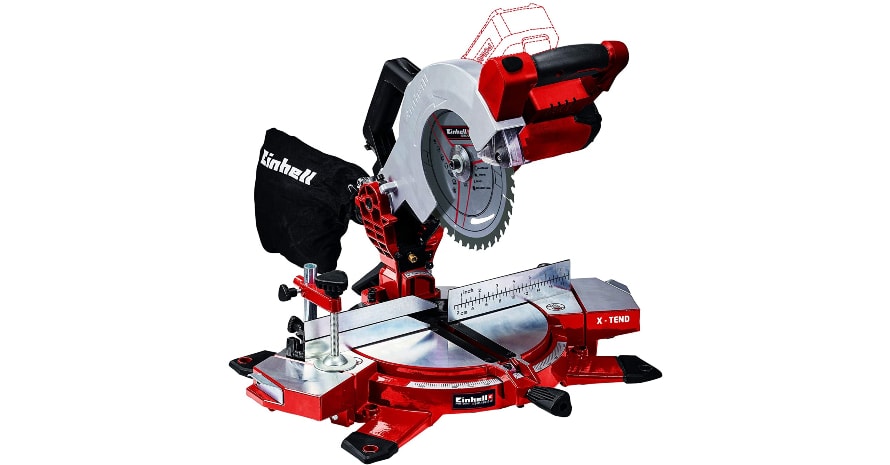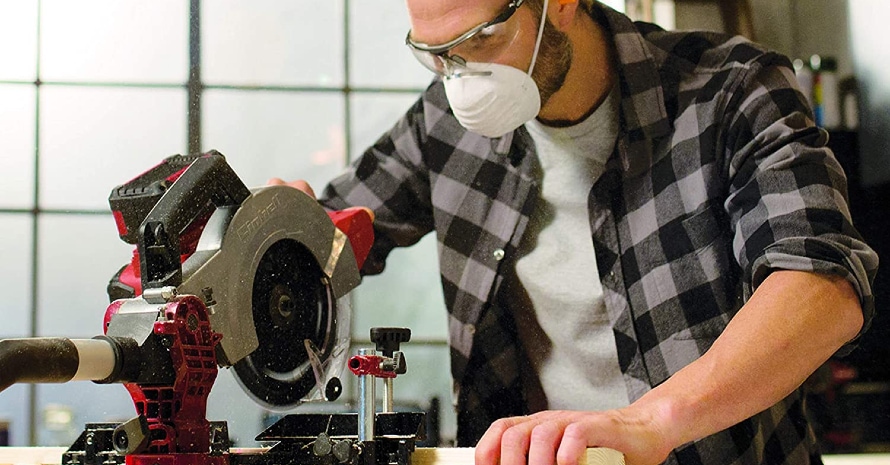 Einhell is a trusted German brand with a long history of developing some of the best cordless power tools on the market. Though the brand isn't well-known in the US, it's still worth considering its tools for their exceptional quality.
The X-Change single-bevel miter saw offers everything a DIYer needs, including both miter and bevel cutting capacities for all the standard cuts. The tool weighs just 23 pounds with the battery on and lets you expand the stainless steel plate with retractable support plates, which is something you won't find in most other tools in the category. I also enjoyed the dust extraction system quality. It really leaves the place much cleaner.
It's also not the smallest DIY cutter as it features an 8.5-inch blade. The cutting capacities include 4.7×2.3" at 90°x 90°, 3.2×2.3" at 90°x 45°, 4.7"x1.3" at 45°x 90°, and 3.2"x1.3" at 45° x 45°. These capacities are pretty decent for such a small buddy. The bright LED lighting with a laser and positive stops at both miter and bevel scales will boost your accuracy. A single battery (not included) makes up to 450 cuts in a 3-1/4-inch MDF baseboard, but you can use batteries of any capacity by the brand for better results.

---
PROS:
Affordable miter and angle cutter
Retractable workpiece supports for better hold
LED light with a laser aim
Comes with an 8.5-inch blade
Super-compact design with excellent cutting capacities
CONS:
Battery and charger not included
---
Buyer's Guide on Battery-Powered Miter Saws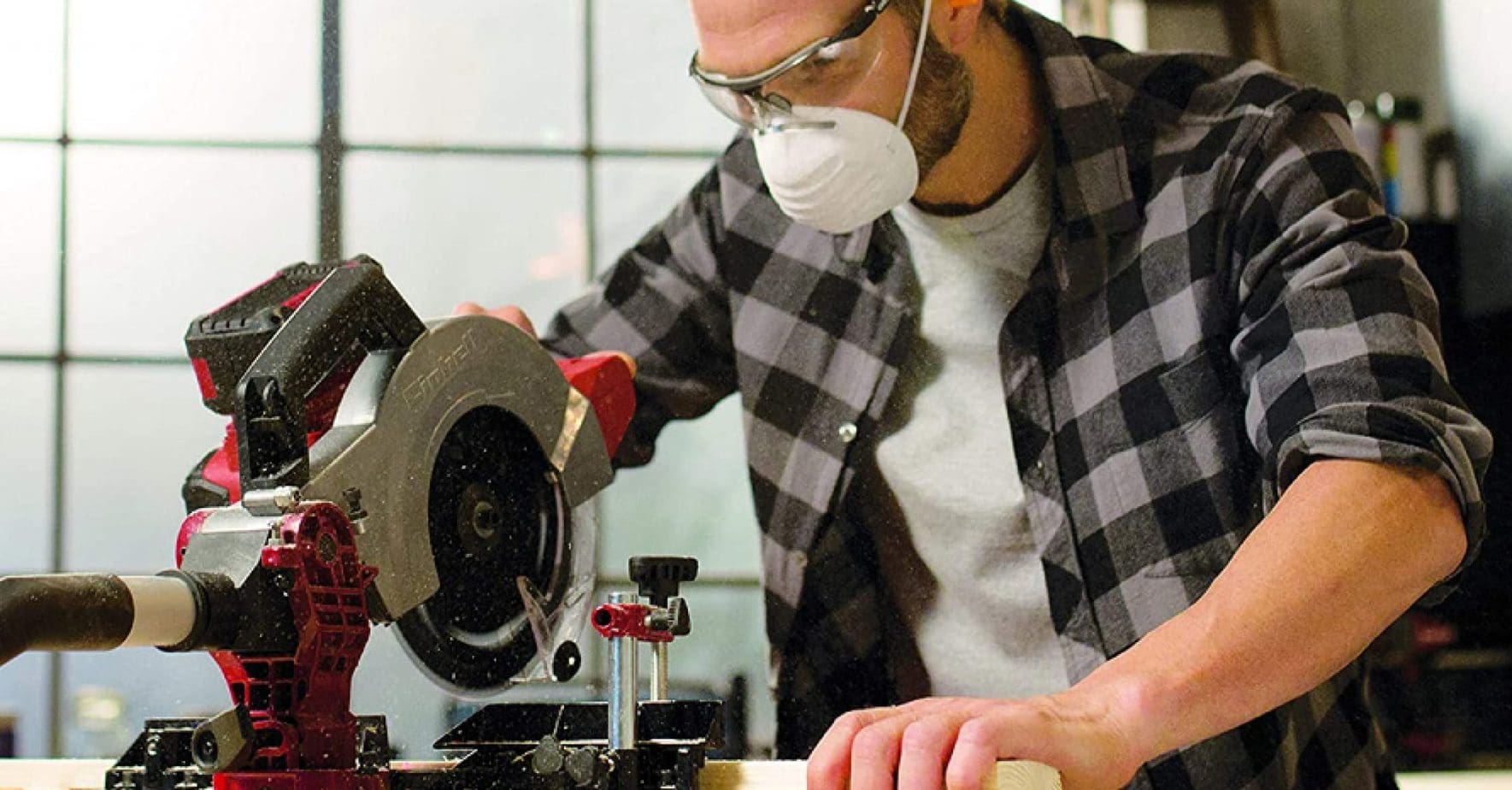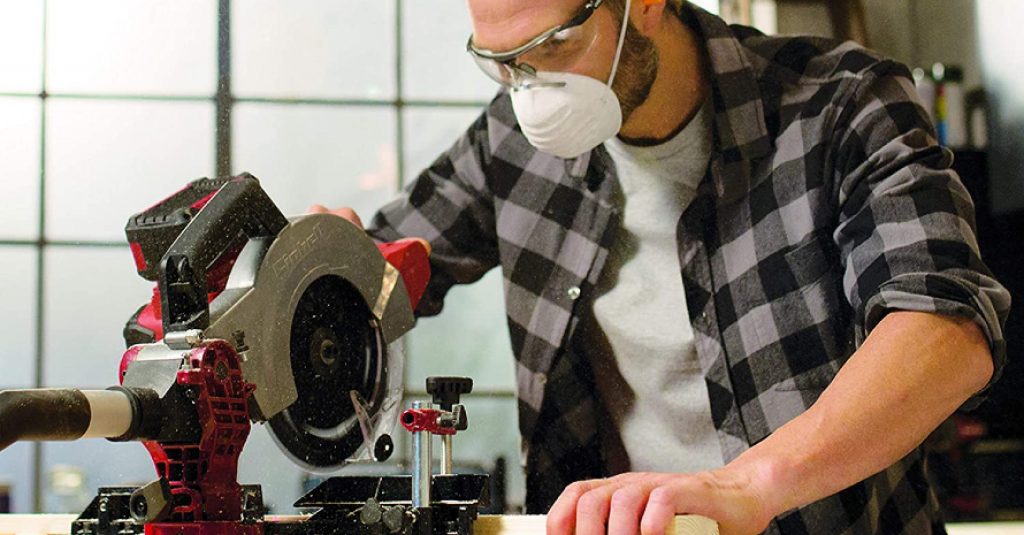 As promised, here is a straightforward knowledge base that you need to understand how miter saws actually work and which aspects require your attention. I recommend you study this section to make a well-considered choice on the list above or elsewhere. And don't forget to learn about miter saw capabilities before choosing it instead of other cutter types.
What to look for when buying?
Every miter saw comes with a set of features that can either be the same as other brands offer but differ in quality, or be unique and provide you with a new dimension to work in.
Type
Miter saws fall into 3 main categories:
Stationary compound (aka non-sliding) – these are designed to cut both left and right but can make bevel cuts only in one direction.
Sliding compound (aka single bevel) – these saws have rails, which enable forward and backward movement and greatly expand the crosscut capacity. In simple words, this type can cut wider boards than a non-sliding miter saw, which makes it more versatile.
Sliding dual compound (aka double or dual bevel) – this one can make cuts on both sides without the need to move the workpiece, but the double bevel is heavier.
Battery
Generally, batteries with more Ah (Ampere hour) let you make more cuts. However, this also depends on the motor running voltage, blade size, and RPM (revolutions per minute). Surprisingly, some saws can make a significantly different number of cuts despite having the same Ah and motor voltage. All due to different battery power controller technologies and subtle power efficiency features. The best advice I can give you here is to check out the number of cuts every saw provides through real user reviews. I provide my results for each saw in the reviews above as well.
Motor
Long story short, you need 18V and more for effective cordless work. The blade spinning speed should be from 2,500 to 3,500 for home use and 4,000 or more for full-load professional woodworking.
Measuring components
Precise measurements are a must in woodworking, so make sure you find these elements on your saw:
Dual-bevel scales – helps you adjust bevel;
Miter scale – helps you adjust the miter angle of the blade;
Bevel stops – make it easier to set standard bevels.
Build quality and design
Brands like Dewalt, Craftsman, Makita, Ryobi, and Milwaukee are the quality standard setters for the industry, and their tools are usually made of the best metals and plastic, which also makes them more expensive. Many other brands might provide the same built and design quality, but you shouldn't expect a 30%-50% cheaper device to live as long as the analogs by famous brands.
Safety
Here are the safety features to look for. The more of them you have, the better:
Blade guard – this feature is installed on every modern miter saw and protects you from the deadly spinning blade. This is great, especially when you make tricky bevel cuts and might accidentally go into the blade area. Never remove this part when the saw is plugged in.
Blade brake – this feature stops the blade as soon as you release the trigger. If there's no such feature, it will take a while for the blade to stop spinning.
Dust collector – although many woodworkers consider this feature only as an after-work cleanup simplifier, it's also a nice safety addition to have. If you use the saw frequently, you want to inhale less airborne dust, and a dust collector can help you with that.
Weighted base – portable miter saws must have a weighted base to prevent easy rocking and fast falling.
Simplicity of controls – of course, it's not a problem to get used to various control layouts, but if you pick between similar machines with different controls, take the one that seems simpler.
Laser aim – a laser can boost your accuracy and help you keep your hands far enough from the cutting line.
Price
Pricing depends on the type, size, extras, and brand. Typically, the type is the main price driver.
Classic no-sliding corded miter saws are the cheapest and vary from $180 to $380 depending on the kit. Single-bevel models vary from $250 to $600, depending on the size and kit, and dual-bevel models start at $300 and usually don't get higher than $1,000 for full-fledged kits by top brands with batteries and chargers included.
FAQ About Best Cordless Miter Saw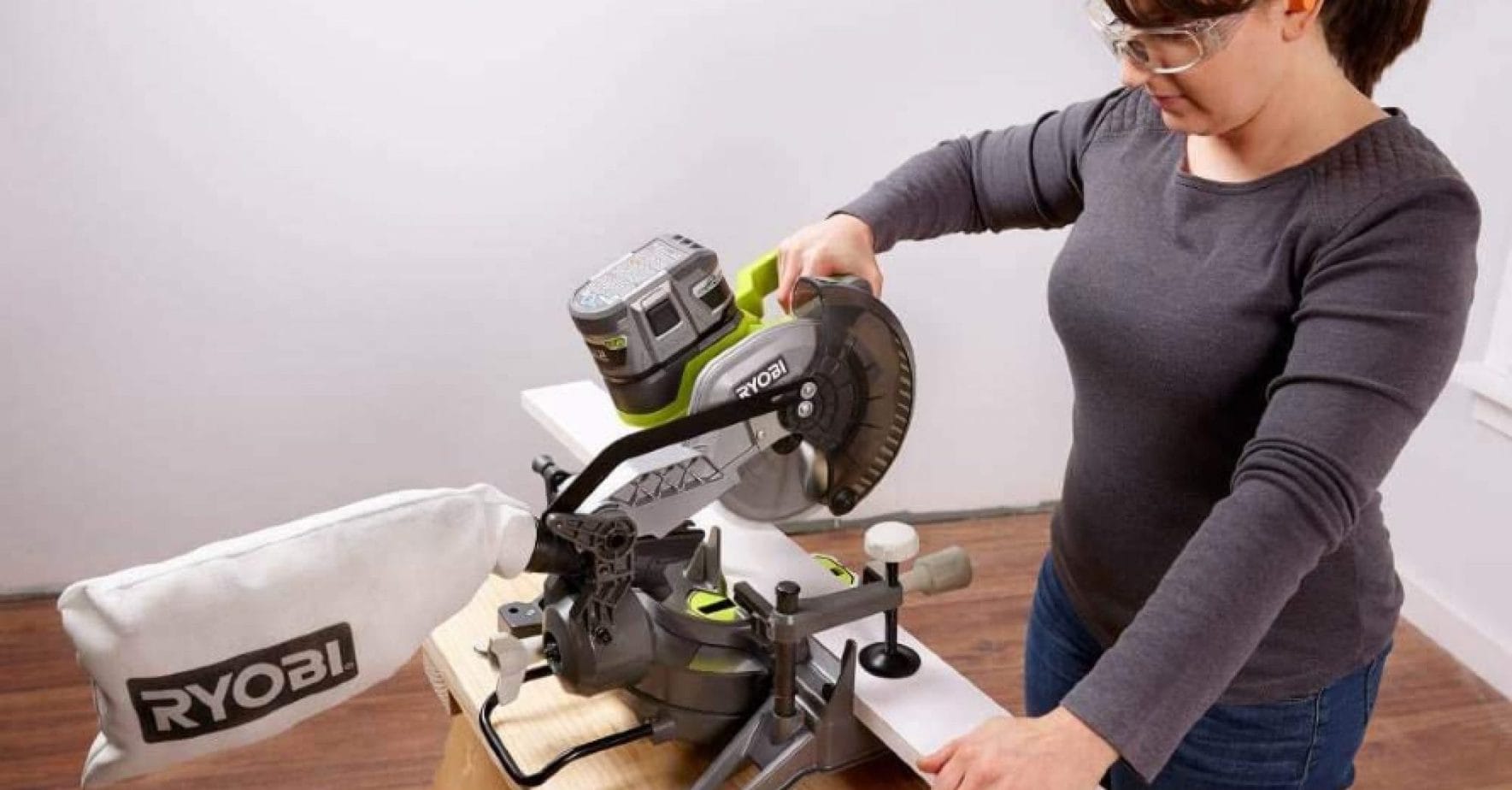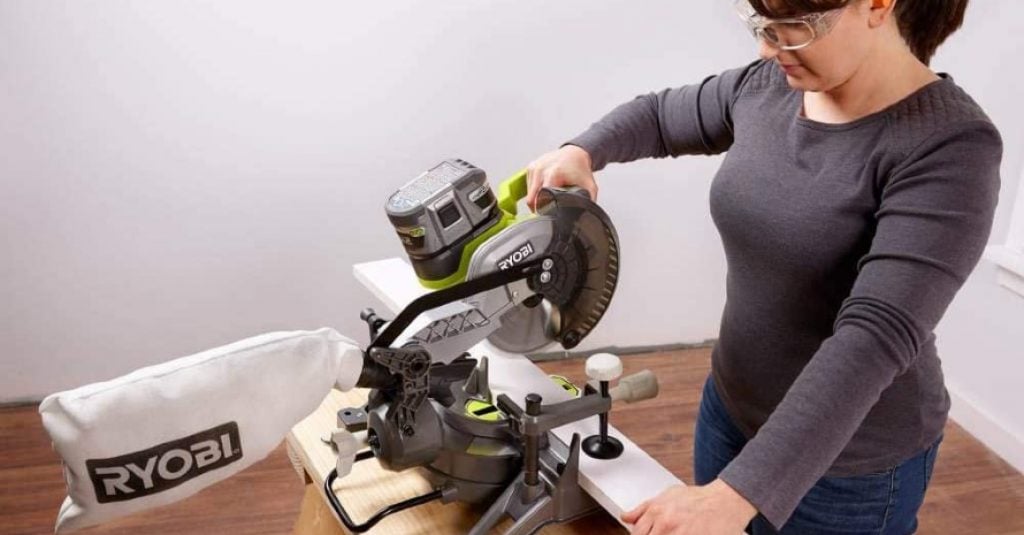 I bet some new questions popped up in your head after reading the previous section. Here are the brief answers to the most probable of them. Can't find the answer? I'm always available via the comments section!
What are cordless miter saws good for?
Cordless miter saws have the same area of application as the conventional corded models. However, you can't bring a corded model with a heavy generator around job sites all the time to make a few decent cuts and relocate the whole setup.
Cordless models make that much easier and don't tie you to the outlet. However, there are downsides too. Even the best Li-ion battery has a limited uptime which is too short for processing large batches of material (by large, I mean over 300 cuts per run).
But wait, could you imagine a project during which you would make over 300 cuts on thick lumber during the day? Well, that's hard even for me. Cordless tools are as good as corded models but they can be taken anywhere. Add lower maintenance, longer lifespan, and lighter constructions to the list!
Should I buy a cordless miter saw?
My answer is a big YES unless you have to process large batches of wood or another material on a day-to-day basis. Cordless miter saws take some time to recharge and cost a bit more, so it's a good way to get a tool that will cover all your in-garage and outdoor cutting needs. If money is not the problem, you can also get a pro-grade cordless tool and achieve even more comfort on the spot even if there's direct access to outlets. You should also remember that cordless models with brushless motors offer a longer average lifespan and lower maintenance. Not many corded miter saws can provide you the same.
What is the best miter saw for home use?
Even if your DIY woodworking projects are limited to the area of your yard, it will be quite difficult to work with a corded miter saw. Don't forget that it's a heavy type of tool, and cable management only adds cumbersomeness to the construction.
Modern Li-Ion batteries can hold the charge long enough to let you cut batches of lumber for decking, roofs, sheds, and other structures of almost any size, so there's no need to hold yourself in the past just to save up a few bucks. By the way, not all cordless miter saws today are more expensive than corded ones, so you really have to think about it.
Which is better: 10-inch or-12 inch miter saw?
Both 10 and 12 inches are the most common miter saw blade sizes on the market, but it's still important to see the difference in those 2 inches. If you already have a 12-inch miter saw, then putting on a smaller 10-inch blade will give you a notable spinning speed boost as 10-inch blades are simply lighter. 10-inch blades are also cheaper in production. If we compare 10 and 12-inch saws, then we can notice that larger models require more power, which will definitely affect your bill. Here are some other important points to consider:
10-inch blades are smaller, which lets them exert more pressure on the workpiece;
12-inch blades have a greater cutting width at all bevels;
12-inch blades cut a bit faster than the smaller ones;
12-inch saws have more powerful motors, which can increase the efficiency of your work.
Any Cut You Like
Having a cordless miter saw, you obtain all the benefits of the professional corded machine but also can take it absolutely anywhere and make those complicated cuts without the need to leave the worksite or to bring a cumbersome generator along. Don't forget to learn miter saw safety rules by heart before turning on the machine for the first time and enjoy the versatility in your hands! Was everything clear enough or you still have questions? You're welcome to ask me about anything related to the topic if needed! I'd be also happy to know which portable chop saw model you have selected, so don't hesitate and join the chat in the comments!