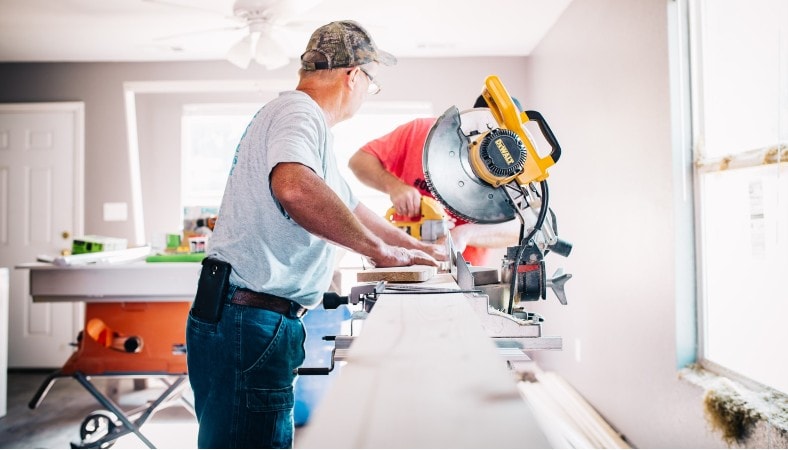 Whether you are an ambitious DIYer or a pro carpenter whose work involves a lot of moving around, a portable miter saw is likely to become one of your most frequently used tools. The ability to make angled, or miter, cuts is precious. From large-scale jobs such as crown molding to cutting picture frames, everything that has angles is likely to require a miter saw sooner or later. Combined with the ability to make crosscuts, this makes it an essential part of pretty much any toolbox. If you learn how to find the best 7 ¼ sliding miters saw for your purposes, you'll have a not-too-bulky go-for tool for all the above tasks.
Pros
Comes with all you need to start working included
Top Pick
Pros
Comes with all you need to start working included
Blade size is all about versatility vs compactness here. 7 ¼ inches is one of the smallest options available, meaning you won't be able to use the saw for really big pieces, but a sliding option can make up for this at least partly. In this article, you'll find an unbiased sliding miter saw comparison within the compact niche plus a shopping guide to help you make an informed decision.

7 Best 7 1/4 Sliding Miter Saw Reviews
Here's my top seven of compact miter saws that stand out in different respects, but all use a 7 ¼-inch blade that slides out to make it suitable for wider workpieces. Go ahead and choose whichever model is best for your situation.
1. DeWalt: My Compact Sliding Miter Saw Top Pick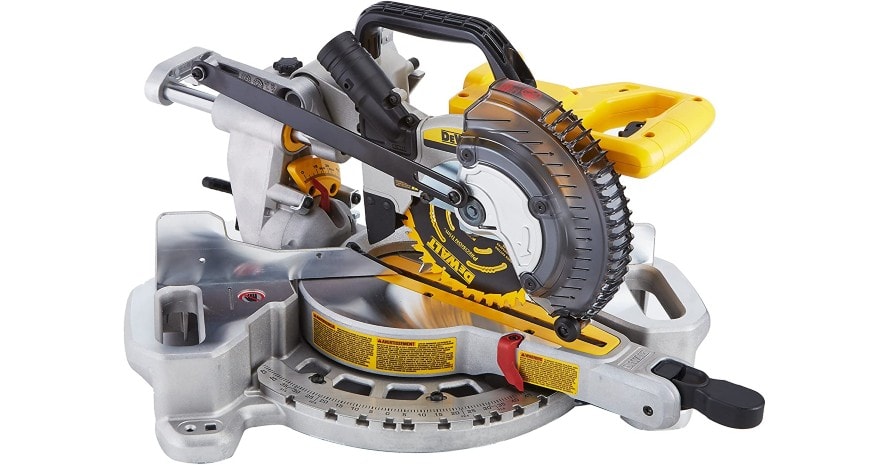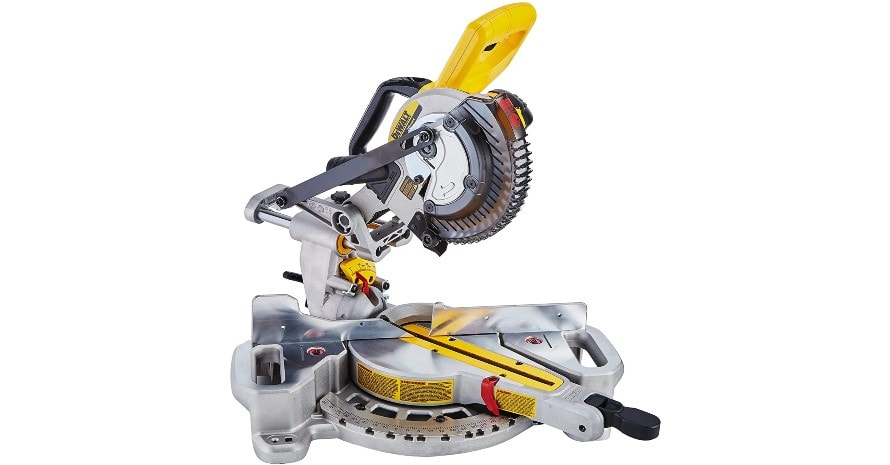 Made by one of America's most well-known manufacturers of power tools that have been in the industry for nearly a century, this model combines impressive power and versatility with a portable ergonomic design.
DCS361M1 is a cordless 7 ¼ sliding miter saw running on a 20V Max battery (this comes included). It will do on average between 183 to 275 cuts without recharging, giving the blade a no-load speed of 4,100 RPM. It will make a ninety-degree cross-cut on an 8-inch wide board. The miter capacity is 5-1/2″ at 45 degrees, with an ability to produce a one-way 45-degree bevel cut in a 2-inch stock.
With a weight of just 31.6 lbs, this is a highly portable tool. It features a large bevel scale for improved readability, 10 positive stops, and reliable fence support. The miter handle uses a cam lock for effortless precision. When it comes to cross-cutting, accuracy is ensured by a built-in positioning system that doesn't require any adjustment.
Apart from the battery pack, the set includes a carbide blade and a blade wrench, as well as a material clamp.
---
PROS:
Built to last;
Comes with all you need to start working included;
No-adjustment cross-cut precision feature;
Lightweight and ergonomic;
Powerful;
CONS:
Not the cheapest model you may find;
---
2. Craftsman: Lightweight Small Sliding Miter Saw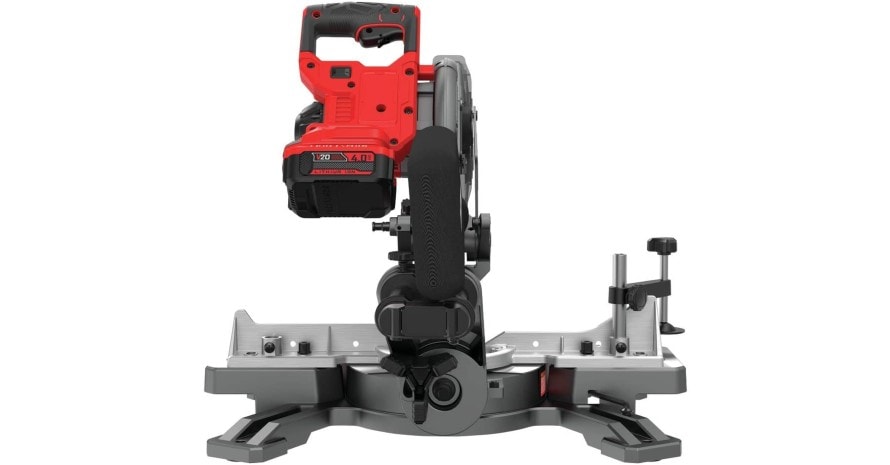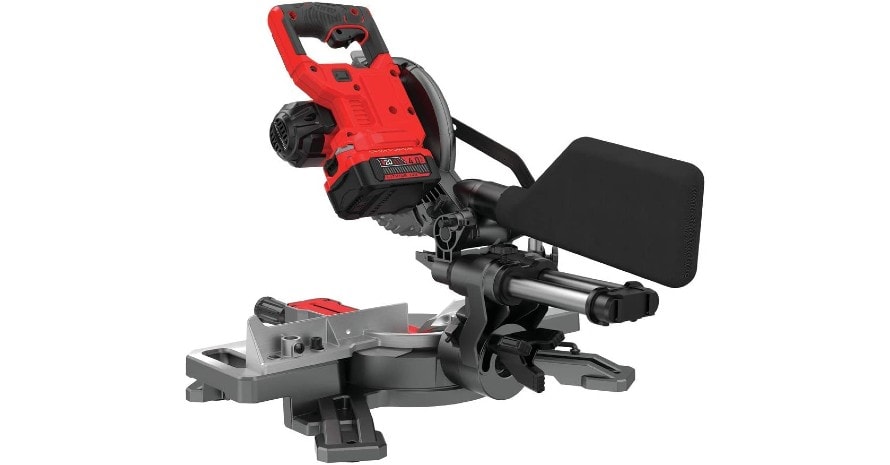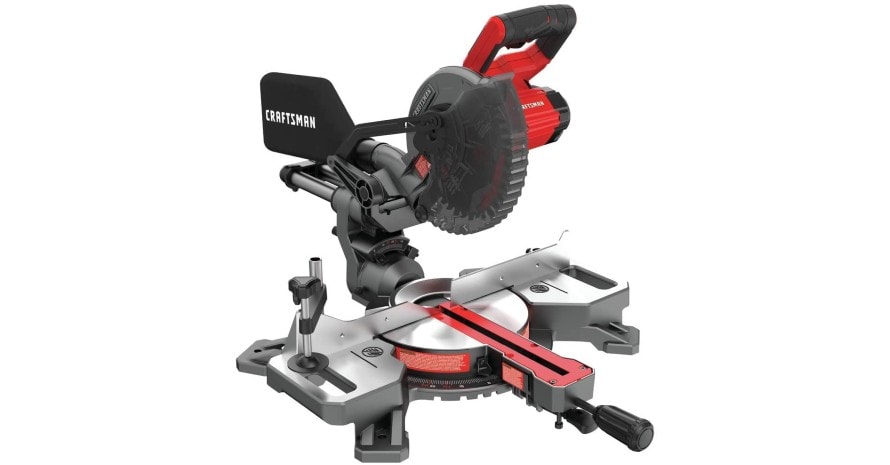 Another excellent compact sliding miter saw belongs to one of Stanley Black & Decker trademarks. This Craftsman model can make a great entry-level solution.
The first thing you notice about CMCS714M1 is how lightweight it is at just 21.8 lbs. This advantage is further enhanced by a small footprint, convenient side carry handles and the fact that it is a cordless model using 4.0AH lithium-ion batteries, which makeover 500 cuts per charge. This is truly impressive, especially if you take into account the fact that the blade runs at 3,800 RPM, which enables it to cut through 8 inches when making a 90-degree cut.
This is a single-bevel miter saw allowing for up to 47-degree bevels and the same miter angle range, with 9 detent stops for increased precision. The LED cut line will guide you through cross-cutting jobs.
The set includes a battery with a fast charger, a carbide-tipped blade and a blade wrench, a material clamp, and a dust bag. Some users have noted the dust bag to be rather flimsy and dust collection subpar, which I believe is a minor issue for an affordable tool like this.
---
PROS:
Extremely lightweight;
Impressive battery life;
Accurate LED cutting line;
Makes making accurate miter cuts easy;
Comes with a full set;
CONS:
The dust bag is poorly made;
---
3. Ryobi: Affordable 7 1/4 Sliding Compound Miter Saw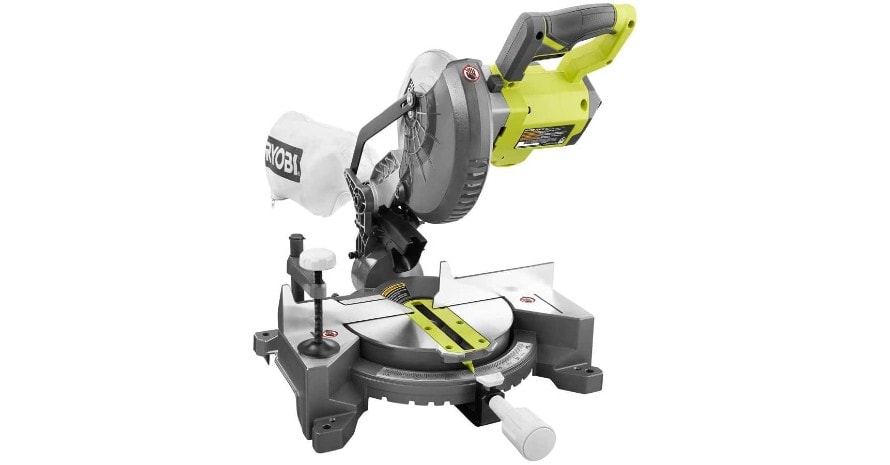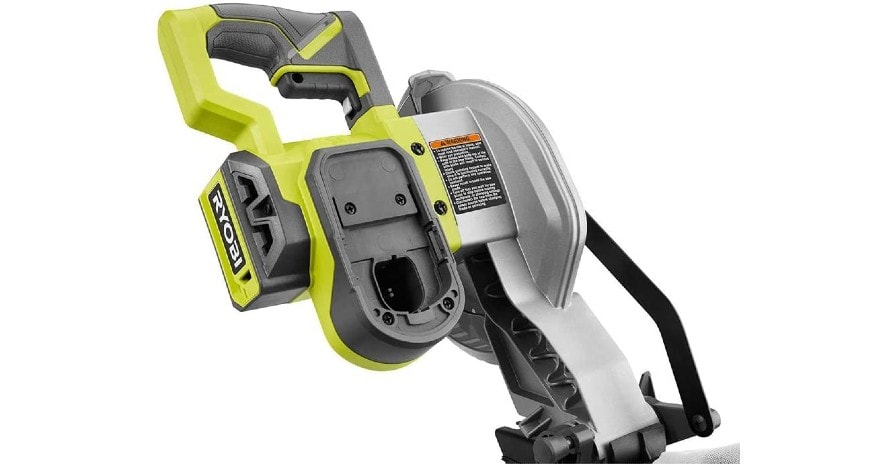 This model is a great example of good value for money, where mobility is a top priority.
A Japanese manufacturer that's been on the market for over seven decades now, Ryobi has been able to squeeze a motor powerful enough to send the blade into a spin as fast as 4,000 RPM, without exceeding 21.5 pounds. The model is powered by an 18-V battery that you will need to purchase separately. The battery life is far from impressive but enough for small projects. What you get is the tool itself, a 24-tooth carbide-tipped blade, which is easy to replace due to the spindle lock, a blade wrench, and a well-made dust bag.
The general cutting capacity of this dual-bevel compound miter saw is up to 2 inches x 4 inches. 9 miter stops are provided to aid your miter cutting, which should be enough for a beginner user. Unfortunately, there are just two positive stops when it comes to bevel cuts, namely at 0 and 45 degrees. Another feature many users are likely to miss is a guiding cut line.
---
PROS:
Great power;
Decent cutting capacity;
Durable;
Lightweight and ergonomic;
Comes with a dust bag included;
CONS:
Subpar battery life;
Lacks precision features;
---
4. Kobalt: Laser-Guided 7 1/4 Inch Sliding Compound Miter Saw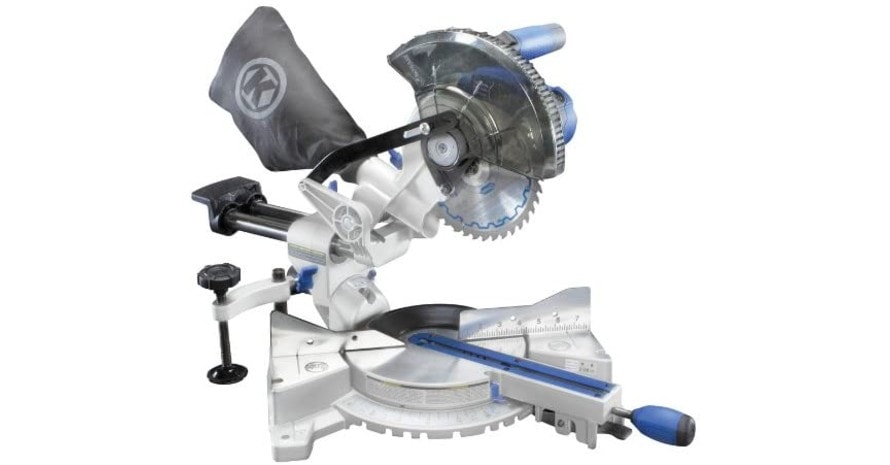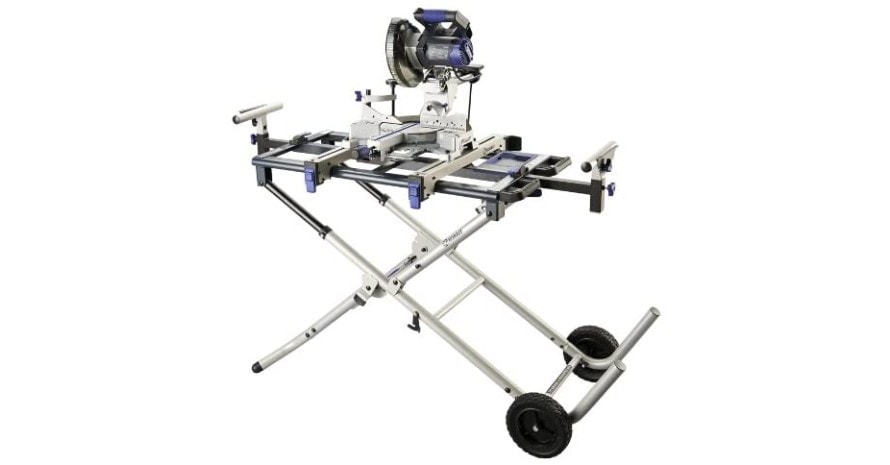 Budget-conscious shoppers who don't want to put up with compromised accuracy will appreciate the fact that this relatively inexpensive model comes with a laser guide.
The maximum crosscut that this saw allows for is 2 inches x 8 inches. The fact that it is corded means reduced mobility but also a torque as high as 5,000 RPM and a lot of power in its 9-Amp motor. Being a single-bevel 45-degree compound miter saw, it has a great scope of application.
The laser guide included does require any alignment. Nine miter stops and two stops for bevel cuts further enhance its accuracy.
At 29.1 lbs, the device is reasonably mobile. A tall fence is designed for increased operating convenience. There's a dust bag included with the saw that is reportedly ineffective, but this is a drawback you should expect given the price.
---
PROS:
Won't drain your budget;
Comes with a laser guide;
Convenient fence;
Very powerful;
Relatively lightweight;
CONS:
The cord limits mobility;
Poor dust extraction;
---
5. Milwaukee: Most Accurate Miter Saw in the Compact Category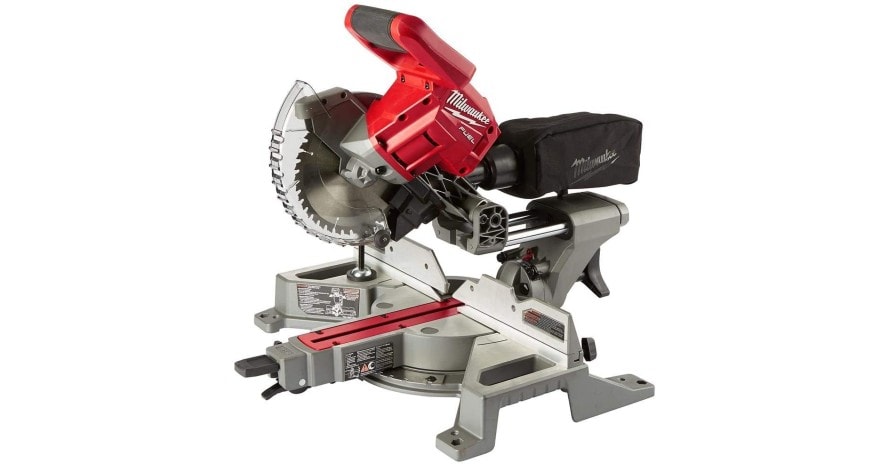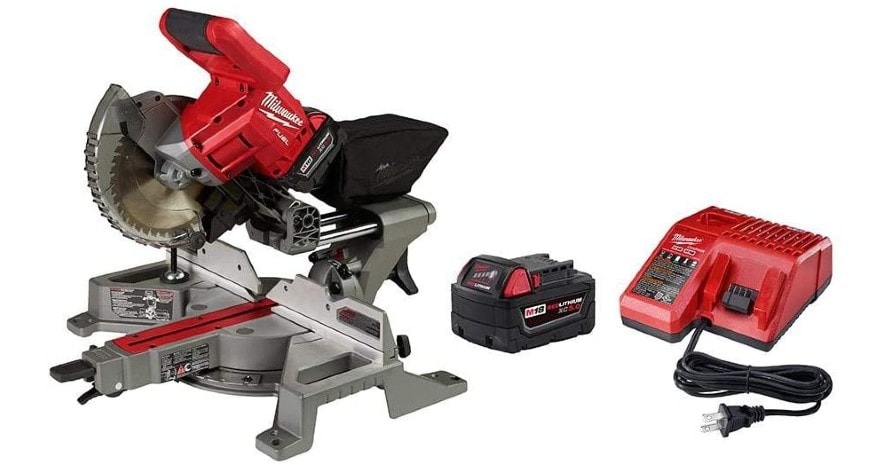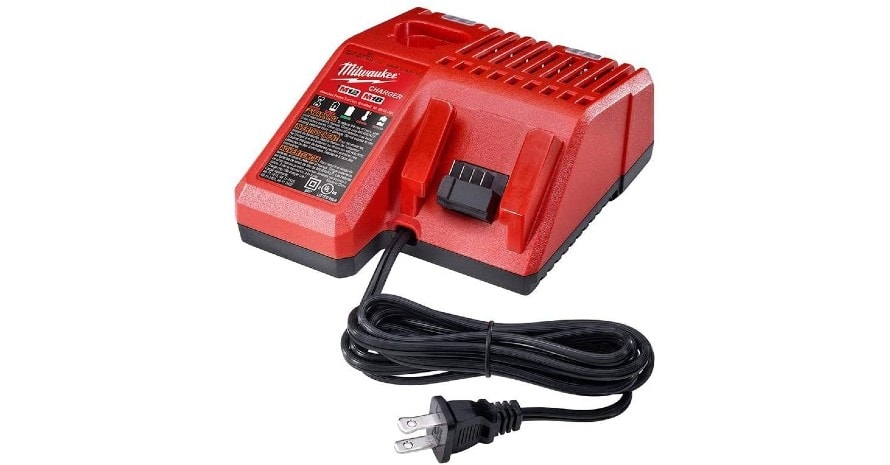 Designed by a nearly one-hundred-year-old company with a notable history of innovation, this cordless Fuel series saw combines portability with outstanding power. The latter is provided by Milwaukee's M18 red Lithium XC5.0 battery (included) and a brushless 5000 RPM motor. The battery life of over 600 cuts per charge adds to mobility further. On the downside, the unit falls on the heavy side at 35.2 lbs.
Unlike the majority of saws, this model has a maximum miter angle of 48 degrees. It comes with a dual bevel feature, with precision ensured by stops at 45 and 48 degrees. The LED cut line provides for smooth and accurate operation.
The kit contains two chargers, a dust bag, which is effective and well-made, a carbide-tipped blade and a blade wrench, and a material clamp.
---
PROS:
Powerful brushless motor;
Wide angle variety;
Trouble-free LED cut light;
Outstanding battery life;
Effective dust extraction;
CONS:
Hefty price tag;
Not especially lightweight;
---
6. DeWalt: Robust Cordless Sliding Miter Saw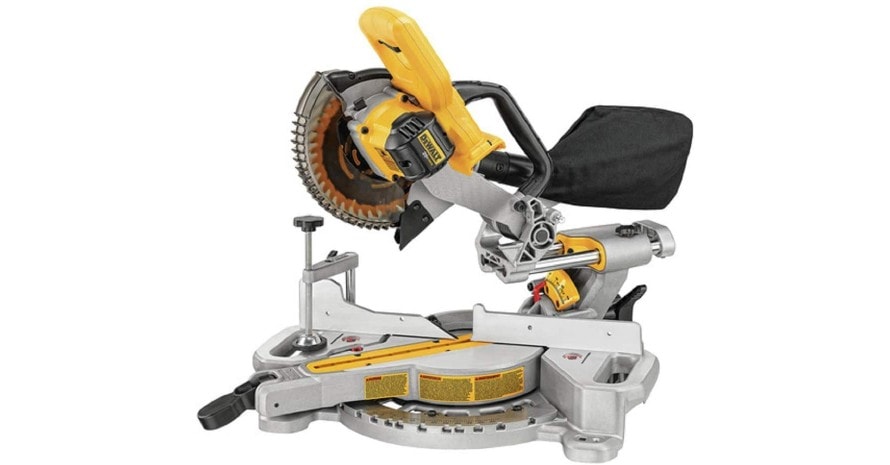 Another 30 lbs cordless option offered by DeWalt, is a popular model with many thankful cordless miter saw reviews. It has a similar ergonomic design and is powered by a 20V Max battery pack. This provides you with 183 to 275 cuts per charge. Please note that the battery and the charger are to be purchased separately. No dust extraction is included either; the model comes only with a blade, a wrench, and a clamp.
The 4,100 RPM motor provides for a cross-cutting capacity of 8 inches at 90 degrees. The key reason why I like this model less than the top pick is that it has not-so-bright cut the light. Otherwise, 11 positive stops along with an oversized bevel scale ensure decent accuracy.
---
PROS:
Lightweight;
Tool-only offer so that you don't have to pay for what you don't need;
User-friendly precision features;
Easy to use;
---
7. WORX: Entry-Level Small-Footprint 7 1/4 Miter Saw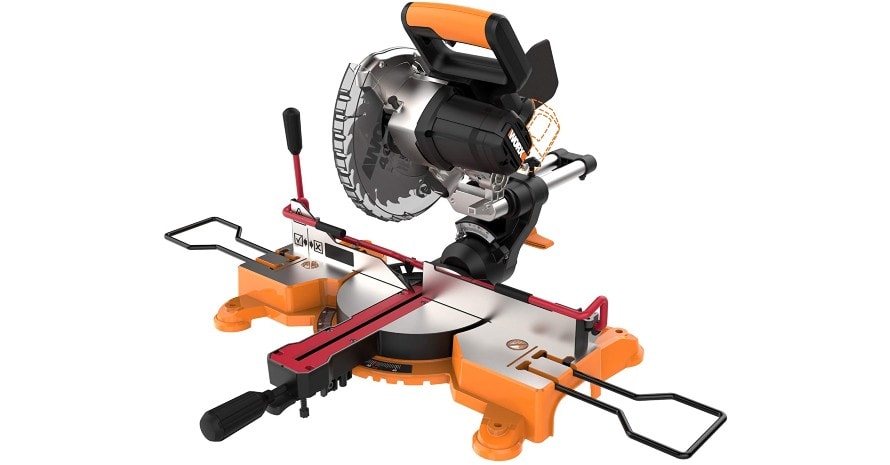 This 21-lbs Chinese model is unlikely to ruin your budget, but it is also a very lightweight and portable sliding compound miter saw with a remarkably small footprint. It is sold as a bare tool. That is, you can use your old 20V Power Share batteries to get the 3,600 RPM motor going for a cutting depth of 2-¼ inches at 90 degrees, with the ability to make up to 45-degree left bevel cuts and miter cuts of 0 to 47 degrees with positive stops. A cam lock for miter angles would be a welcome feature, but it isn't included.
The model features a LED work light for poorly lit areas along with an accuracy-promoting shadow line. It comes with a secure hold-down lever and an adjustable stand for taller workpieces. What it sorely lacks is a carry handle for greater mobility.
---
PROS:
Reasonable price;
No need to purchase dedicated batteries;
Decent power and cutting capacity;
Convenient cut line;
Very lightweight;
CONS:
Not the most ergonomic design;
The miter angle adjustment lock isn't particularly easy to use;
---
Choosing a 7 1/4 Sliding Miter Saw That Will Cut It
Given a miter saw tends to be a vital tool both to DIYers and professionals, there's no wonder the market is overflowing with highly diverse supply. Here's a brief guide to help you spot top sliding miter saws in the compact 7 ¼-inch blade category.
What is a 7 1/4 sliding miter saw used for?
With one of the smallest blade sizes out there, 7 ¼-inch miter saws still have a large scope in residential use, including window trimming, cutting smaller frames such as picture ones, and more. The sliding feature enables it to take longer stock, making it a versatile cross-cutting tool as well.
How to choose a sliding miter saw?
Miter saws considerably vary in price, so your budget is likely to be the main restriction. The most essential criteria to take into account when shopping within a certain price category are as follows:
Motor
Generally, power is expressed in Amps. RPM, or revolutions per minute, is a great alternative measure describing how quickly the blade rotates.
Note: Brushless motors generally have a higher watt-to-torque ratio and are more efficient. They are also valued for reduced operational noise levels.
Cutting capacity
This refers to the maximum measures of stock the saw can cut and should be specified by the manufacturer. Greater capacity means more versatility.
Corded vs. cordless
A cord might limit your mobility, but cordless models tend to have disadvantages in terms of run time and power and usually fall on the heavy side.
Compound vs. non-compound
Opt for a compound model if you need a combination of bevel and miter cuts. A variety within this niche, dual-bevel compound miter saws allow for both right and left bevels, adding to uniformity.
Portability
With a blade as small as 7 ¼ inches, portability is the name of the game. There's always a tradeoff between power and weight, so you'll need to figure out your priorities.
Dust collection
Full-fledged dust extractors aren't common in this kind of equipment. However, a dust bag can save you a lot of time and effort.
Accuracy features
Laser guides are generally a premium feature. Many users believe it to be worth some extra investment, while it's true that LED guides tend to be even more accurate due to better alignment.
Positive stops add to angle precision and are nearly indispensable in entry-level miter saws.
Safety
Investment-worthy safety features include electric brakes and supports for taller stock.
Compound miter saw vs. sliding compound miter saw
It seems to be a common misconception that sliding and compound refer to the same thing for the purpose of miter saws. If you see the word "sliding" next to a title, it means the blade can slide out to accommodate a larger workpiece. "Compound" is something different. A compound model is capable of doing a bevel and a miter at the same time because its blade can tilt in either direction.
Compact Sliding Miter Saw FAQ
In this section, I will answer a selection of questions I often get asked when it comes to sliding miter saws with not-so-big blades.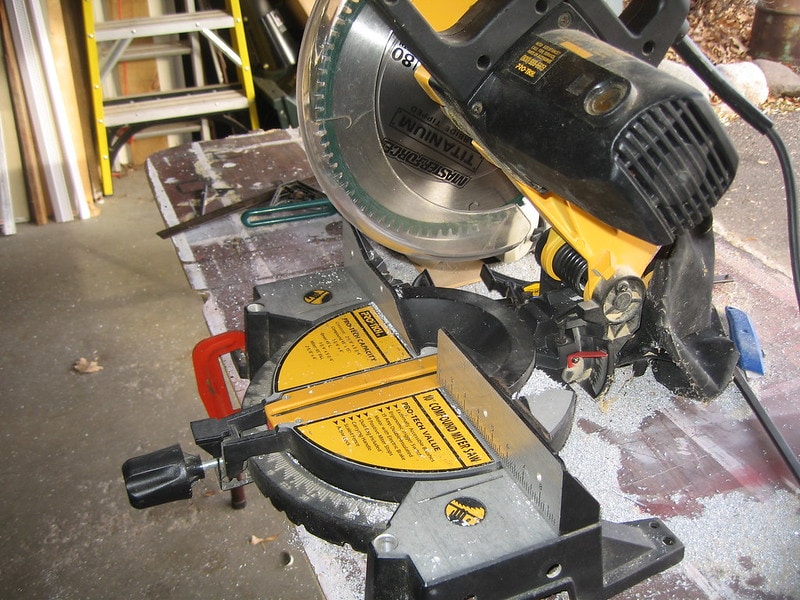 Do I really need a sliding miter saw?
The key advantage of a sliding design is that it can nearly double the maximum board width that your saw can cut using the same blade. Since 7 ¼ is a small blade, you're very unlikely to regret getting a sliding model.
What can a 7 1/4 miter saw cut?
A miter saw using a 7 ¼ can do most of the jobs that non-pros are likely to ever encounter, from cutting furniture to trimming and a lot in between, plus straight cross-cuts based on the specifications. It's unlikely to be enough for large-scale framing tasks, though. The sliding capacity adds to a compact saw's scope.
Can I use a 7 1/4 inch blade on a 10-inch miter saw?
This is not considered a good practice, but a larger-blade model can take a smaller one provided that it has a fitting arbor hole. What you mustn't do for sure is use a larger blade on a model that's meant to be used with a smaller one.
How to use a sliding miter saw safely?
First of all, eye and face protection is a must. Wear a pair of goggles and, preferably, a face shield, ideally paired with hearing protection. Observe all the general saw safety procedures, like taking precautions to avoid unintentional starting, cutting only one piece at a time, securing the stock, and keeping your hands out of the blade's path.
More specifically, when it comes to the sliding variety, be sure to start the movement with the blade assembly closest to you. Plunge downward, then start moving the blade forward. Use only a crosscut or combination blade that fits your job.
New Level of Experience with Portable Sliding Miter Saw
A sliding miter saw with a blade size of 7 ¼ will readily meet the needs of most DIY and repair enthusiasts regardless of their expertise. It can also be a pro tool to depend on for effortlessly neat cuts. An easy-to-use, lightweight, and accurate model like DeWalt DCS361M1 has every chance of becoming a precious addition to your toolbox.
Do you have any experience with smaller-blade miter saws? If yes, what do you think is the biggest challenge? Tell us in the comments!