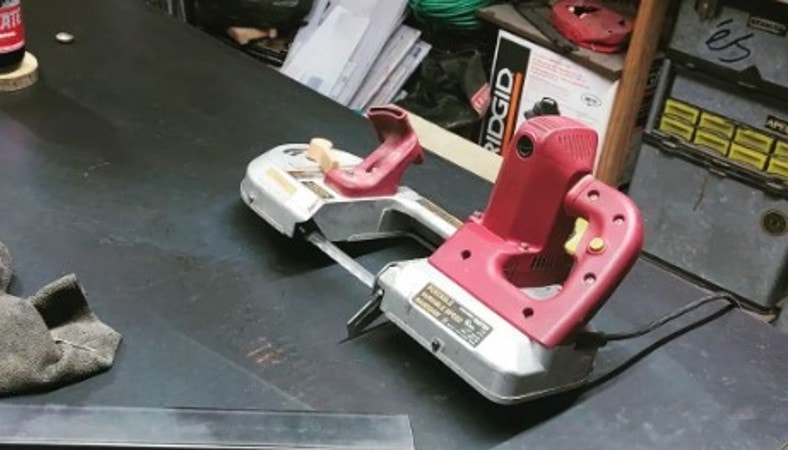 Hand band saws are handy and maneuverable tools for working with a wide variety of materials: wood, metal, plastic, etc. It is popular among both amateurs and professionals. Portable models, unlike machines, are designed for processing small workpieces. The best portable band saw ensures continuous cutting, high quality, precision, no deformation of materials, and, accordingly, minimal losses during work.
I have tried a lot of various devices in my life, but I liked the Anbull handheld bandsaw the most. It has a compact size and relatively small weight, thanks to which I can make straight and curly cuts even over my head. For more precise work, I attach it to a steel base, which I also always take with me if I work outdoors and not in my workshop. It is a perfectly balanced model that I can recommend even to inexperienced users. However, so that you have the freedom of choice, I have included reviews on seven more great devices in this article.
Best Portable Band Saw: 8 Excellent Models for Any Task
Without further ado, I present my personal top eight porta band saw reviews to you, which will suit both professionals and DIYers.
1. Best Hand Band Saw Overall — Anbull Deep Cut 10A
As I've said, this model is my absolute favorite. Thanks to its powerful 10A motor, it can handle almost any construction or renovation task without any problems. I mainly use it for cutting metals (pipes and sheets), but sometimes I have to cut wood and plastic tubes. With a certain skill, you will be able to perform straight and curly cuts on the ground and above your head. The cutting capacity of this tool is 5×4 ¾ inches for rectangular pieces.
I like that this model (14.3 pounds) comes with a steel base. If I need to make incredibly precise or repetitive cuts on pipes, I attach a saw to it. With its use, the cutting capacity is slightly reduced (to 4×3 ⅕ inches), but it is sufficient for most applications. There is a bright LED light, which makes working in low-light areas as comfortable as possible.
Compared to the brand's previous models, this version has a more durable body. The design, equipped with rubber bumpers and a steel shroud, provides maximum protection for your device. It increases tool life and minimizes the possibility of blade jamming, which means you are protected from damage. Professionals that frequently work with hand tools suffer from vibrations and burns from sparks (or other health issues). Users who tested this saw didn't encounter such problems. It is superbly balanced, and the handles are suitable for gripping at any angle.
---
Positives
Powerful;
Lightweight;
Excellent ergonomics;
Rubberized case;
Side lighting;
The base is included.
Negatives
When using the base, the cutting capacity decreases.
---
2. Budget-Friendly Cordless Band Saws — WEN 94396
If you are looking for a budget yet powerful model, I recommend WEN 94396. It has a 10A motor and can reach 420 ft./min. Just like the first item on my list, it is mainly designed for sawing metal sheets and structures. You can also process rubber, plastic pipes, and conduits with it. It weighs about 14.5 pounds, which puts it in the lightweight segment.
Based on my experience, I am convinced that a low price directly affects the build quality. The plastic case feels a bit flimsy; I would like it to give more protection to a motor and internal structures. Also, with really heavy use, you will notice that a blade and bearings fail pretty quickly. As you understand, low cost shortens the tool life. That is why I recommend it to hobbyists who plan to use it only from time to time.
Despite this drawback, it is a good tool for some household chores. Here, like other more advanced models, there is LED light, adjustable speed and handle, and a cutting capacity of 5×5 inches. That is why users who utilize it for non-professional tasks like it. At the moment, it is the only portable band saw in the WEN collection, so it has no analogs. The company mainly specializes in machine tools and benchtop options.
---
Positives
Very inexpensive;
Ideal for DIY projects;
Perfectly copes with thick metals;
Large cutting capacity;
The side handle is adjustable.
Negatives
Flimsy body;
Bearings wear out quickly.
---
3. Professional Deep Cut Portable Band Saw — Milwaukee 2729-22
Among the Milwaukee cordless models, I like the 2729-22 one the most. Although I usually prefer wired devices, since I am not limited in terms of time, this saw has pleasantly surprised me. The two 18V batteries are made with REDLITHIUM technology, so one charge lasts longer than other batteries with the same capacity. So you don't have to worry about the tool suddenly turning off in the middle of a cut.
Milwaukee has a similar corded band saw that had been around for a long time. The model from my list almost completely (90%) consists of the same parts; only a brushless motor is installed here. Its advantage is durability since it can regulate its own power consumption depending on the effort applied. Of course, the use of such technologies directly affects the cost of the final product. This saw is in the premium range, so I recommend buying it if you need the tool for everyday use. Then this investment will pay off.
Many users are interested in the availability of cases for storing tools. You get an incredibly convenient and reliable case in a set with this device. Now, you do not have to puzzle over how to safely store and carry the saw. Other perks include a tool-less adjustable shoe, 5×5-inch cutting capacity, an extra comfortable handle, and cut line light.
---
Positives
Professional-grade tool;
Batteries keep the charge well;
Brushless motor;
Durable.
---
4. Ergonomic Battery Powered Bandsaw — Ryobi P590
It is another portable battery model on my list. It is part of Ryobi's ONE+ system, where batteries are interchangeable on all tools. So, if you already have a cordless device by the company, consider buying this model since it comes without a battery (tool only). This option will cost you less.
As far as I know, fans of this company's products had been asking for the release of a portable band saw for a long time, and it didn't disappoint them. Its powerful motor speeds up to 560 ft./min., thanks to which a blade cuts like butter through even hard metals. Many technical characteristics are close to or even equal to professional tools.
However, the cutting capacity is not as large as I would like it to be. With this device, you will only be able to make cuts of 2 ½ inches deep. It is exactly half as much as the items above on my list. Also, when cutting tough metals, I feel the motor struggles a bit (especially when compared to the previous Milwaukee device).
The design is top-notch, as with all instruments manufactured by Ryobi: comfortable handles, a solid body, tool-less blade changing, and even a hang hook. I would probably replace the plastic blade guard with a metal one for more durability. I hope that the manufacturer will listen to customers and improve this model in the future.
---
Positives
Acceptable price;
High speed;
Excellent design and ergonomics;
Part of the ONE+ battery system.
Negatives
Small cutting capacity;
Plastic blade guard.
---
5. Band Saws for One-Handed Cuts — Milwaukee 2429-21XC
It is the smallest and most lightweight band saw I have ever owned. I would view it as a toy instrument if it didn't have such impressive specs. It is one of the latest Milwaukee models, which has one significant difference from all other analogs. Its lower guard covers a blade from all sides except for the working area. I have not come across such things yet. By the way, it makes the tool fully compliant with OSHA safety requirements for hand-held devices.
This guard's design allows you to make overhead cuts without endangering your health. Also, as I've said, it's a really small tool. Its weight is 6.75 pounds; just what you need for one-handed use. It runs on a single 12V battery, and one charge is enough for 150+ cuts. You definitely cannot expect a large cutting capacity from such a miniature saw. On this model, it is 1 ⅝x1 ⅝ inches, which is enough for basic tasks.
I believe that there are many professional models on the market now, which are powerful, bulky, and can handle heavy-duty jobs. It is challenging to find a truly compact tool for home use. The 2429-21XC is just that. However, as many customers have confirmed, it fully meets their expectations for Milwaukee products. It has good performance and works quickly and quietly.
---
Positives
Extra compact;
Ideal for single-handed operation;
Maximum safe to use;
Works quietly;
Comes with a case.
---
6. Fast-Charging Portable Metal Bandsaw — Makita XBP02TX
Makita is one of those brands whose products almost always make it to my tops. It is not surprising because the company produces truly high-quality and durable tools. When choosing a saw, always remember that Makita devices are usually a bit more expensive than their counterparts. It, in my opinion, is the only minus of XBP02TX. Other users also note it.
This model is a set of the XBP02Z saw, two 18V batteries, a charger, and a soft tool bag. Since the batteries of this brand are interchangeable, you can use them on other devices as well. The Star Protection Technology guarantees their long life and fast recharge speed. The tool is equipped with a truly powerful motor capable of speeds up to 530 ft./min. It does an excellent job of sawing even tough metals up to 4 ¾ inches thick without much stress. Despite such motor capabilities, the device's weight remains relatively small (14.3 pounds).
Compared to the previous models of the brand and many other analogs, this tool has one clear advantage. It is equipped with an aluminum blade guard, ensuring maximum protection for a user and the saw itself. It also has LED lighting, a speed control dial (6 positions), a safety switch, and comfortable grips with non-slip coatings. Although some users noted that the speed trigger was a little inaccurate, I didn't experience any problems with it. The design is high quality and just what you can expect from Makita.
---
Positives
Powerful;
Accumulators charge quickly;
Excellent design;
Aluminum blade guard;
Perfectly cuts durable materials.
Negatives
A bit on the pricey side.
---
7. Dual-Trigger Compact Band Saw — Milwaukee 2829-20
Sale
It is the last Milwaukee item on my list. The model is an improved version of the old 2629-20. It has a wheel brush that cleans a blade from dust and debris and a rafter hook that lets you hang the tool when you do not use it. Moreover, it gained higher productivity, which allowed me to saw off a piece of metal faster than using the previous model.
A distinctive feature of this compact tool (7.6 pounds) is the presence of a dual trigger. It works like this: you need to pull the first trigger and then grab the front handle to get the blade moving. As soon as you release the grip, the blade stops. Most similar devices have a single trigger, which might not be very safe when working overhead. Such a feature costs extra money. If you are ready to overpay a bit for your safety, you can purchase this model.
The saw is powered by an 18V battery and a brushless motor that maintains stable power even under heavy loads. I got equally excellent results in whatever material I saw. Its cutting capacity is 3 ¼ inches. Blade covers are made of composite materials and can be replaced in case of cracks or chips. This feature has appealed to many users since the tool sometimes falls and can break if not protected. Other perks include a tool-less adjustable shoe, a variable speed trigger, and an LED light.
---
Positives
Lightweight;
Dual trigger;
Removable blade covers;
High performance;
Brushless motor.
Negatives
A dual trigger increases the cost by almost $50.
---
8. Fastest Portable Metal Cutting Band Saws — Makita XBP05ZB
The XBP05ZB is another cordless Makita model on my list. Compared to the previous item, it is more compact (9.8 pounds) and designed for cutting thin objects (its cutting capacity is 2×2 inches). It is equipped with 18V batteries, which are part of the LXT system and are interchangeable. In my experience, they actually last longer (160 cuts and more) than comparable products, while charging impressively fast. Keep in mind that this model is a bare tool; that is, you should already have suitable batteries.
Although this device does not have the smallest weight, it is also designed for one-handed control. Thanks to the excellent balance and thick handle, you will not face any problems while operating it. The brushless motor can speed up to 630 ft./min. (without load). It is the highest result among all hand band saws I have ever tested. It means that even hard materials can be cut with ease, especially since the motor is protected from overloads.
Many who have tried this saw compare it to its larger version. It's no coincidence that it has superior performance that you wouldn't expect from such a mini-model while being less bulky. However, it also has some features such as pro instruments: a retractable hook, built-in LED light, and a tool-less blade change system. Robust assembly and aluminum housing provide longer product life. Like all Makita's products, it costs a little more than its counterparts.
---
Positives
Incredibly high speed;
Compact;
Fast charging;
Perfectly balanced.
Negatives
You need to have batteries.
---
Handheld Bandsaw Buyer's Guide
I've compiled my portable band saw reviews based on my experience, testing models in real conditions. Also, so that you can choose the perfect model among them, I wrote a short guide.
How to choose a band saw that fits you?
Here are the four main parameters that you should pay attention to first.
Power source
There are only two types of band saws: corded and battery-powered. The former provides uninterrupted access to a power source, is usually more powerful, and costs somewhat less. On the other hand, it limits your movement radius, and a cord can interfere with work. The latter model is more in line with the concept of portability since you can move freely with it. At the same time, the charge lasts for a limited time, and the batteries gradually fail.
Cutting capacity
This parameter shows how thick a bar or pipe you can cut with a particular saw in one pass. It can be 2 or 3 ¼ inches. The maximum diameter for portable tools is 5 inches. Anything larger usually refers to full-sized devices. Choose cutting capacity depending on what materials you work with most often.
Blade type and speed
The blades of such a saw are metal strips closed in circles. As with other tools, they differ in the number of teeth (TPI) and materials they can cut. The speed at which they can move depends on the motor power. In some advanced models, this figure can reach 640 feet per minute. It also affects the list of materials you can cut.
Portability and size
In portable saws, the most important thing is weight and size. They are specially made so that you can carry them from place to place and lift them over your head if necessary. Don't choose items heavier than 15 pounds as you'll get fatigued. It's good if a device is sold with a cover or case for transportation.
Safety tips on using a band saw
Guidelines for the safe use of portable band saws combine tips for operating conventional band saws, as well as hand-held power tools. Never wear loose clothing that can get caught under a blade, always use PPE, and make sure you stand on a flat, stable surface. Regularly check the condition of your tool, change blades, and repair parts.
Handheld Bandsaw FAQ
Need more information about compact band saws? Look for it in the FAQ section.
Can you cut wood with a portable band saw?
Yes, with the portable version of a tool, you can cut the same materials as with full-sized devices. Just for wood, you need to buy the appropriate blade and choose the right speed.
What is the difference between a wood band saw and a metal band saw?
For metal processing, you need to apply more effort. That is why the tools for working with this material are equipped with more powerful motors and sturdy blades and have a durable design. If your device can handle metal, it will easily cut through wood.
Who made the first portable band saw?
The idea of ​​creating such a device appeared at the very beginning of the 19th century. Experts argue about its origin: British or French. However, the industrial production of these instruments in America was established only in the 30s of the 19th century.
Find the Best Portable Band Saw Model
The modern market offers a huge selection of tools for any need. I recommend using my guide to pick several models and explore them in detail. Some might have unusual features you need for specific tasks. Or their weight and dimensions might fit you perfectly. It's good if you have the opportunity to test each tool personally. I hope that, after reading this article, you will find what you've been looking for.
Please, share your thoughts if you are an experienced user of this type of saw. What model do you use? What is more important to you, power or portability?