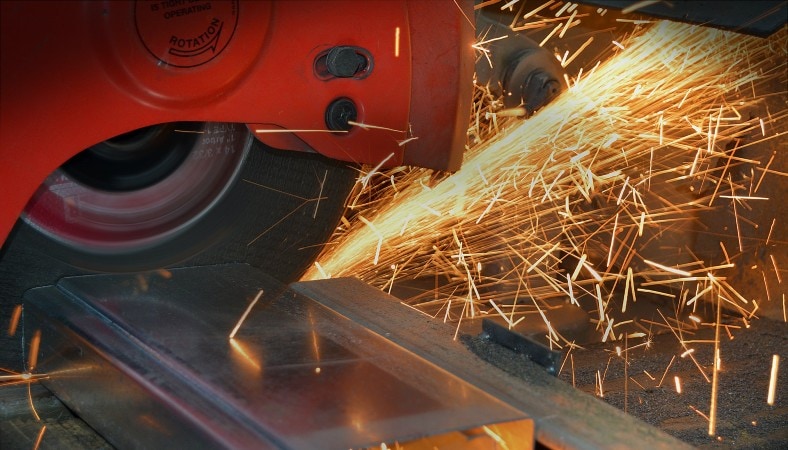 A miter saw is one of the most used power tools in carpentering. These days, companies offer so many models that choosing the best 8 1/2 sliding miter saw can become quite a challenge. The options differ in their selection of features, weight, power sources, and more, so it's important to understand your specific preferences. At the same time, there are universal features that should be present in every model. With the help of these 8 1/2 miter saw reviews, you can find out the benefits and downsides of the popular sliding miter saws currently available on the market.
Pros
Includes a laser guide system
Convenient tool for many tasks
Top Pick
Pros
Includes a laser guide system
Premium Pick
Pros
Convenient tool for many tasks
5 Best 8 1/2 Sliding Miter Saw Models Reviewed
In this article, you will find top-rated sliding miter saw models, so you can see their pros and cons to make the best decision for you.
1. Bosch GCM18V-08N – Best 8 1/2 Sliding Miter Saw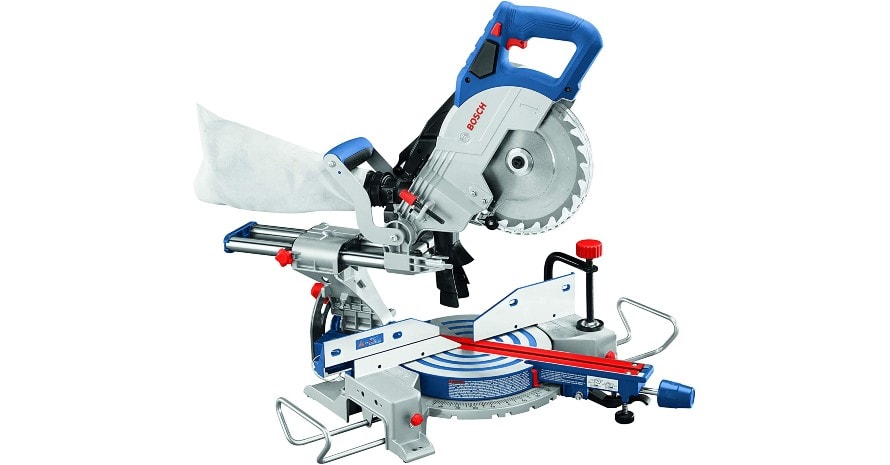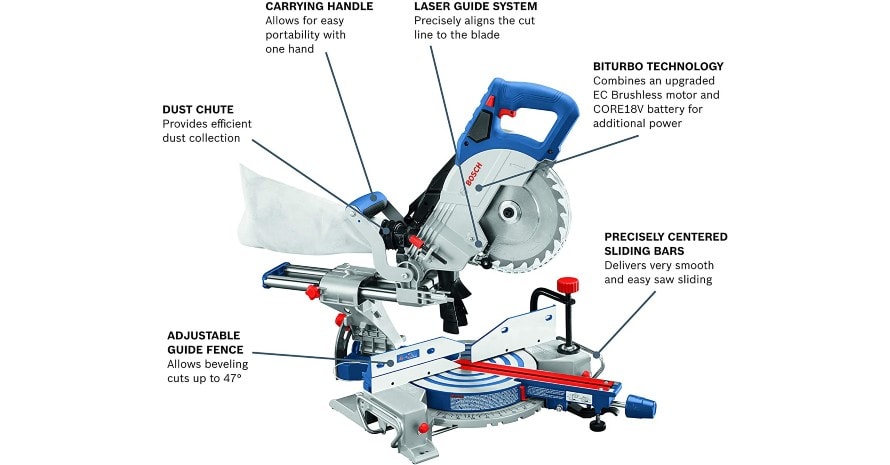 A miter saw is a useful tool for numerous works, so finding the one that will be ideal for you is important. Taking into consideration a number of different features, Bosch GCM18V-08N is an 8 1/2 single-bevel model that surely has several advantages and can be a great option for many people. The first thing to mention is that it is a cordless saw that runs on an 18-volt rechargeable battery. This saw weighs 31.5lbs, so it is quite portable, and you can carry it to the location of your choice.
Another great thing about this sliding miter saw is that it has a brushless motor that is known to last longer compared to the brushed version. Thanks to this type of motor and the battery, it's possible to make as many as 370 cuts on one charge. At 90 degrees, the crosscutting capacity of this tool is 10-5/8''. You can use this saw to cut 47° left to 47° right against the fence.
When it comes to the accuracy features, Bosch GCM18V-08N has a laser guide system. It is a common system you can find in high-quality saws, and it definitely helps with how precise the cuts turn out. To make sure that your space is clean after work, there is a collection bag and a dust chute. The standard warranty that comes with this tool is one year, but it's possible to extend it to 3 years. For being a reliable and powerful tool, the price of this saw is reasonable, though it's certainly not the cheapest option.
---
PROS:
Has a brushless motor;
10-5/8'' crosscutting capacity;
Includes a laser guide system;
Cordless and portable;
---
2. Bosch CM8S – Convenient and Compact Sliding Miter Saw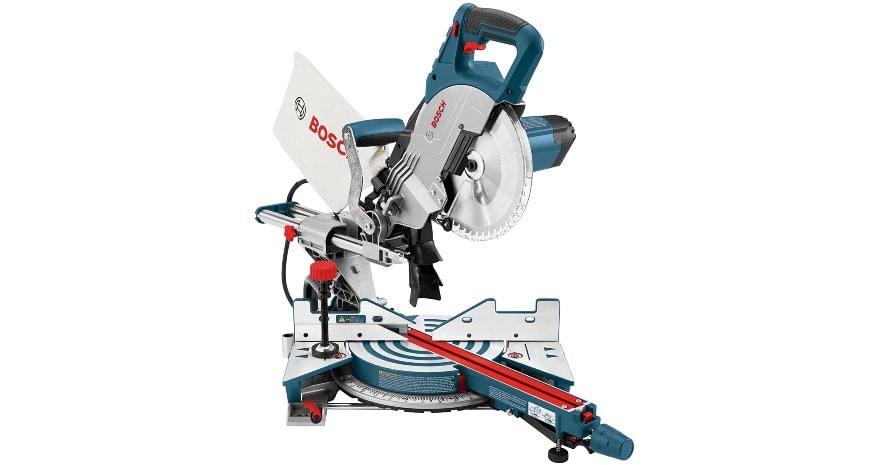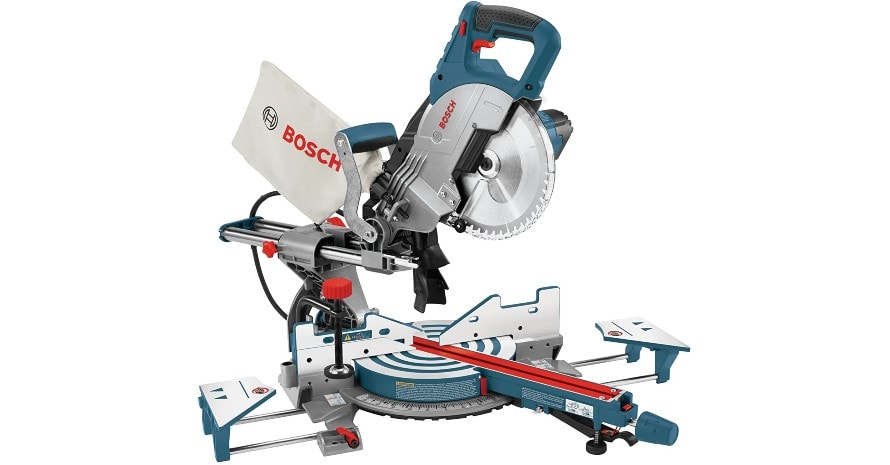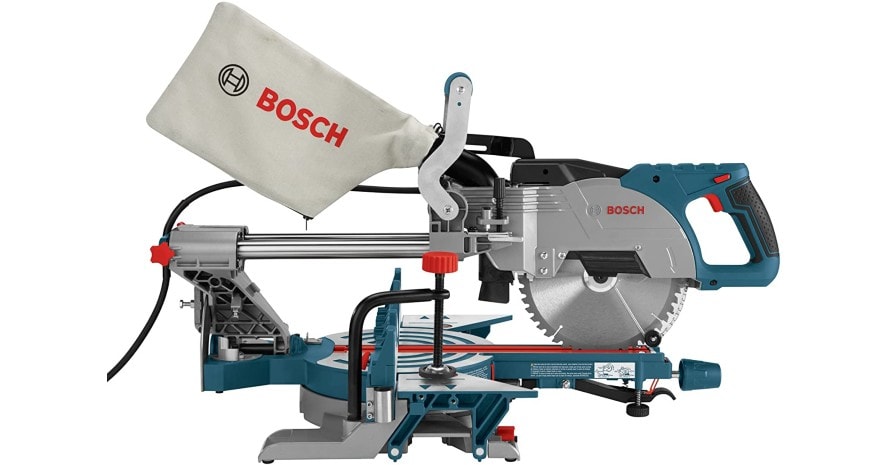 The next item on this list also comes from Bosch, and it is a compact model called CM8S. I consider this miter saw as a runner-up to the previous model, as it offers a great combination of useful features. The first thing that is obvious about Bosch CM8S is its compact design. It is a tool that you can carry with you as long as the cord allows, as it is quite small and also weighs 37 pounds. If it is necessary, the table of this saw can be expanded, which is certainly useful for dealing with large objects.
When we talk about the crosscut capacity, Bosch CM8S doesn't disappoint. At 45 degrees, it's possible to handle 2×8 cuts. And, at 90 degrees, this saw allows you to make 12-1/4″ crosscuts. Despite being a compact tool, there are no issues with stabilization. This potential problem is solved with the help of a front stabilizing foot – it can be easily adjusted for when you cut wide boards and need to be more careful. All the miter and bevel controls are present, and they can be accessed without any issues.
To keep your space clean, there is a dust shroud and a 2-1/4″ dust port that work effectively and remove the majority of debris left when working.
---
PROS:
Portable and lightweight;
Easy-to-read bevel scales;
Great saw stability;
Convenient;
CONS:
Angle setting can be off;
---
3. Metabo HPT C8FSHES – Powerful 8 1/2 Sliding Compound Miter Saw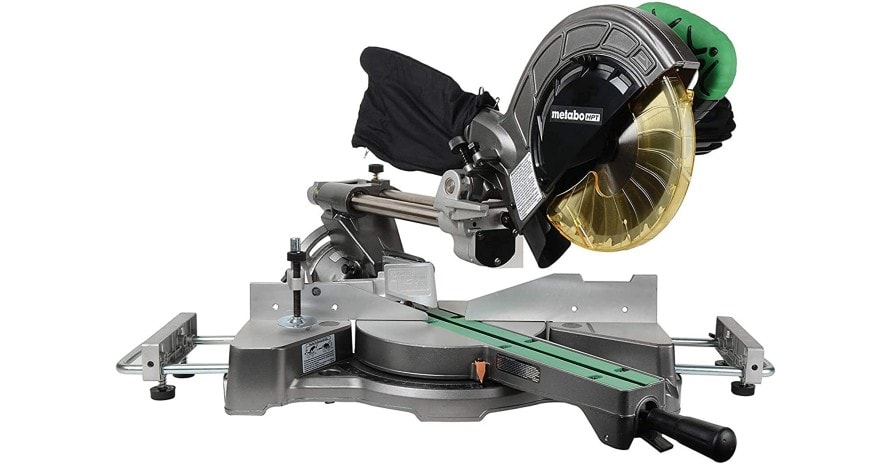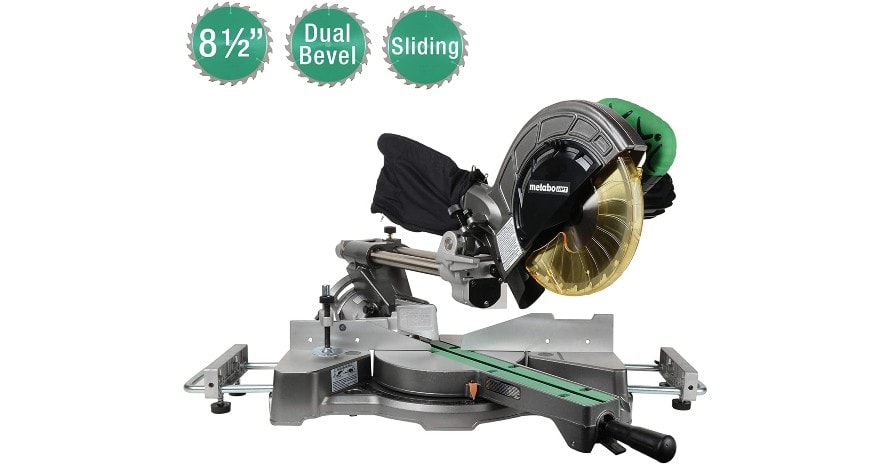 If you are looking for a budget-friendly alternative, Metabo HPT C8FSHES may be just the one you need. It is a corded 8 ½ sliding compound miter saw with a 9.5-amp motor. The no-load speed offered by this motor is 5.500 rotations per minute, which is quite impressive. When it comes to portability, the weight of the Metabo miter saw is 36.8lbs. This places it into a lightweight category, so it's easier to lift it and carry.
The power tool comes with a laser marker that allows you to make precise cuts and work with various fine materials. There is also a fully adjustable LED light that makes it possible for you to work effectively when it gets dark. With the miter angle, you get a range of stops for easy adjustment – 45, 31.6, 22.5, and 15 degrees to both the right and left. When you work with the bevel angle, there is a possibility of making compound cuts with a 5-degree angle right and a 48-degree angle left.
This saw can be a great option for many works, including framing, carpentry, etc. Because of its affordable cost, this Metabo miter saw is a good option for many people out there.
---
PROS:
Convenient tool for many tasks;
Precise cutting;
Laser marker system is included;
LED lights are adjustable;
CONS:
Dust bag may be too small;
---
4. Makita LS0815F – Accurate 8-inch Compound Miter Saw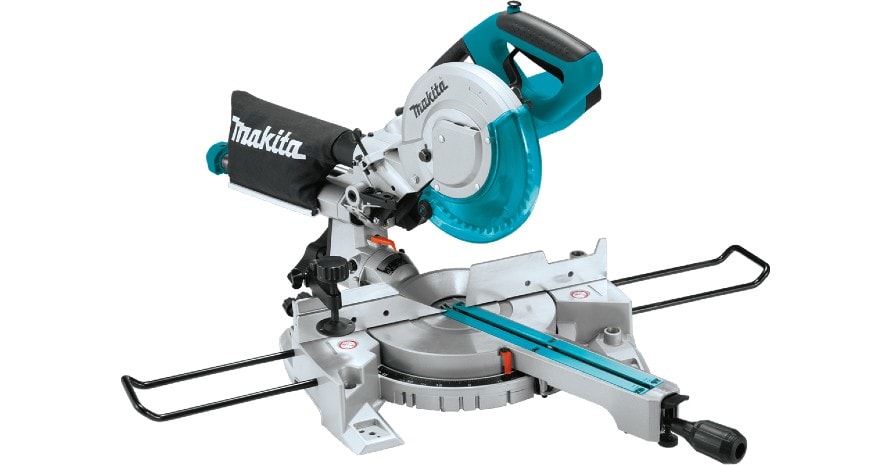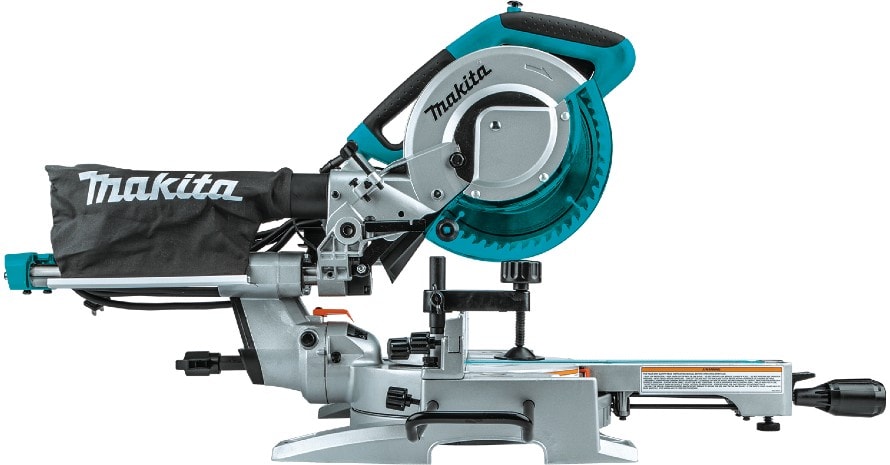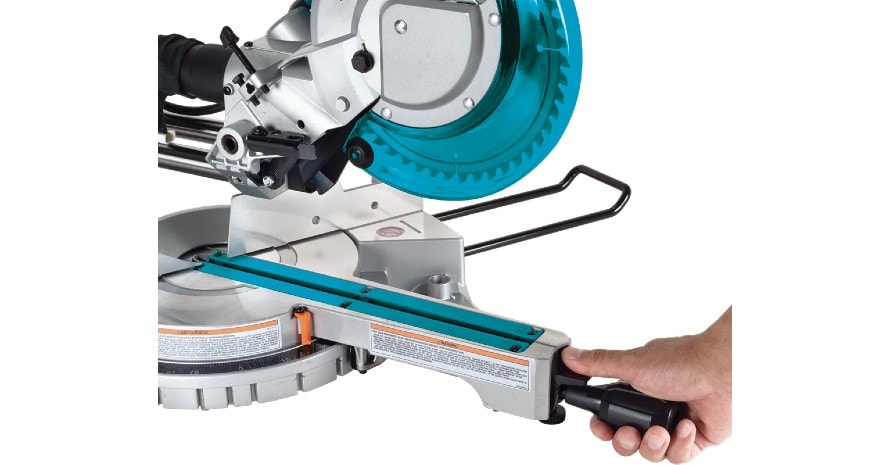 Makita LS0815F is a great miter saw with a 10.5 AMP direct drive motor and a range of useful features. While remaining a lightweight model, it is a powerful option that delivers up to 5,000 rotations per minute during its work. There is a convenient electric brake, which is always a welcome feature.
The blade of this saw comes with a protective guard, and because it is transparent, you can see through it when using the saw. Similar to most modern models, there is a built-in LED light that allows you to see what you are doing clearly even when the lighting conditions are poor. When it comes to the angles, there are positive stops that can be found at 50, 45, 31.6, 22.5, 15, and 0 degrees on both left and right. Also, on the right, there is a 60-degree mark available. This saw can be used successfully for many different purposes, including trimming, finishing, floor installation, etc. It works smoothly at different angles, and its carbide-tipped blade makes cutting a lot more accurate. This is a well-designed, reliable miter saw that can be used both at construction sites and for smaller projects.
---
PROS:
Powerful motor;
Convenient and portable;
Lightweight;
Includes LED light;
Fairly low maintenance;
---
5. Einhell Power X-Change – Adjustable Miter Saw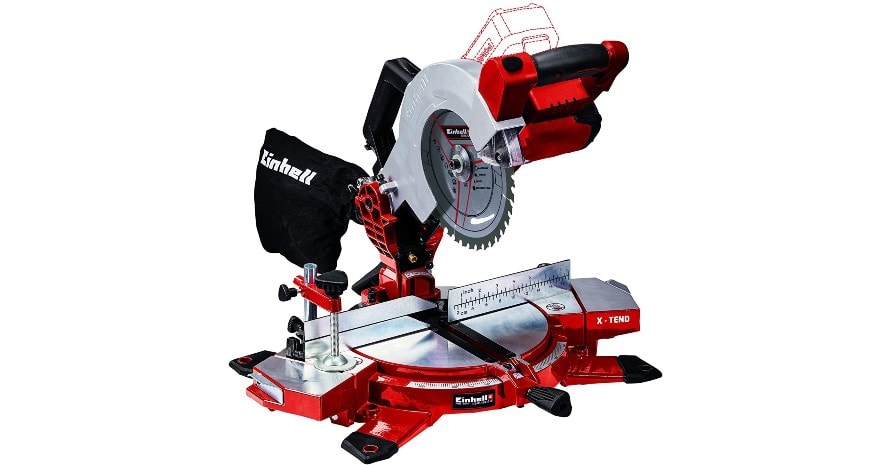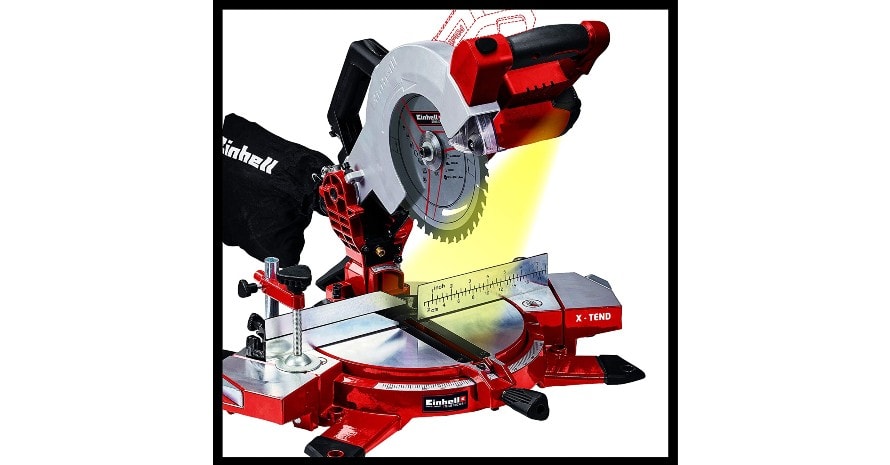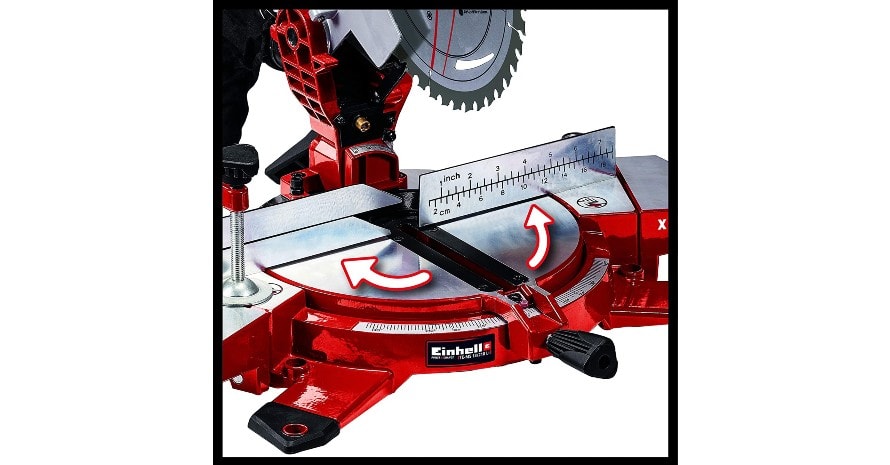 Another model in this sliding miter saw comparison article is Power X-Change from Einhell. This is an 18-Volt battery-powered model that delivers up to 3,000 rotations per minute. If you already have some Power X-Change tools, it's possible to use the battery system interchangeably between the pieces of equipment.
The motor of this power tool works smoothly and supports a high level of precision when working. If you are someone who values mobility, this saw can be right for you, being both lightweight and cordless. It's easy to carry it around with you on a site or in your garden. Just like you would expect, this model has a cutting line laser and a LED light system, so you can be safe and also get the most precise cuts. It comes with different angle marks and is highly adjustable.
You can tilt the saw head to make sure you get the most accurate miter cuts. To keep your place clean, it comes with a chip extraction system and a sawdust bag that work quite well. If you are looking for a compact model that does the job and has the most important features, this option may be right for you.
---
PROS:
Has a laser cutting guide;
Cordless and portable;
Comes with the LED light;
Affordable;
Lightweight and compact;
CONS:
The motor is not as powerful as some other options;
---
Buyer's Guide on 8 1/2 Sliding Miter Saw
Taking your time to select a miter saw that will suit your needs best is a must if you want to receive a product that will serve you well for years.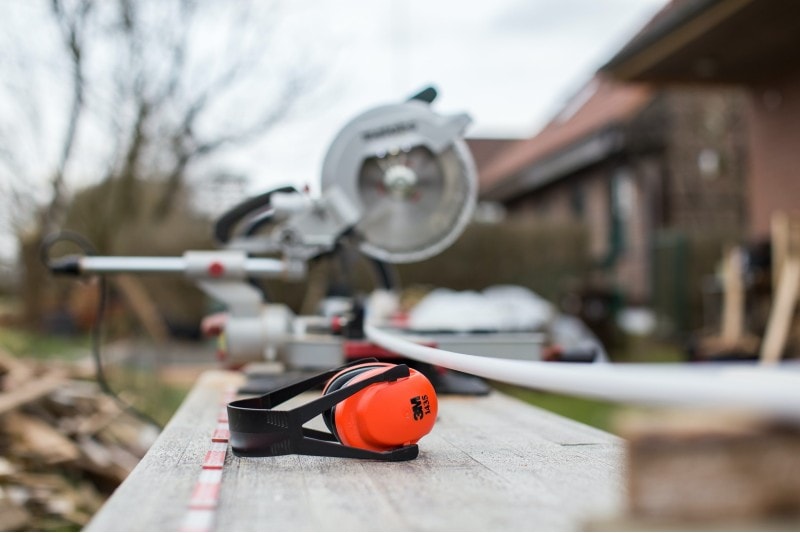 How to use an 8 1/2 sliding miter saw?
Once you purchase your best sliding miter saw, the most important thing is to know how to use it safely and effectively. While every type of miter saw and every model require a separate approach, there are also general rules that are relevant regardless of the tool that you buy.
Ensure your safety
It is essential to make sure that you are safe before you begin sawing. The safety recommendations include the following:
Take off any jewelry and accessories that can get in the way
Wear comfortable and fitting clothing that doesn't obstruct your movements
Wear eye and face protection (glasses, dust mask)
Wear comfortable gloves
Ensure that you always keep a proper distance from the blade
Study your tool before using it
It should be a no-brainer, but familiarizing yourself with your miter saw is essential before you start using it. You should study a manual, take a look at all the controls, and learn where all the parts are located. While there are similarities between different tools, there can also be surprises, so this is a step that you shouldn't miss.
Calibrate your miter saw properly
If you have some experience with similar power tools, you may already know that you cannot use a miter saw directly from the box and expect it to work perfectly. In the majority of cases, you need to make some adjustments before you begin working. There are guides out there that can help you do so step by step to ensure that you get the desired results.
Setting different angles
For various types of cuts, you have to adjust a certain angle. With the help of detents on your saw, it's easy to set the most widely used angles.
Bevel angle
To make this type of a cut, you have to set the miter gauge at 0 degrees and then unlock the bevel. It's also important to note that you can get different custom angles by simply setting the lock between the existing detents.
Miter angle
If you want to make a miter cut, you should simply unlock its gauge and choose the angle you need. The most typical angles that you will need include 45, 31.6, 22.5, and 0 degrees. However, some models may have slight variations, so it's something to keep in mind. Choosing the right angle is easy, as all you have to do is slide the arrow to the correct position and lock the table down.
Compound angle
When it comes to the compound angle, it is the one when both a bevel angle and a miter angle are set at the same time. This type of angle can be useful when you install crown molding, and the process is not too difficult.
Using the miter saw
Using the miter saw requires some practice and skill, so it is best to learn from someone in real life. The general principle is that when you use such a tool, you should start a cut at the front and pull the blade out in your direction.
One thing to note is that you should always wait for the blade to stop rotating before you can lift it back to its original position. With the help of blade brakes, this can be done quicker and easier.
Once you finish cutting, you should wait a bit to allow for the blade to stop spinning. This can take some time if your saw is not equipped with a brake system that stops the blade in seconds.
Remember to use a dust bag
The majority of top-rated sliding miter saw options come with some sort of dust collection system. This is an important thing to consider, as you may want to buy a separate system, or you may get the one that you are satisfied with when buying a miter saw. It is best to use a dust collector even when working outside, as it prevents debris from getting in your face. You can also purchase a vacuum to help you deal with the mess.
FAQ About 8 1/2 Sliding Miter Saw
The world of miter saws and other power tools can be confusing, especially for beginners. If you are just starting, here are some frequently asked questions related to this topic.
Do I need a sliding miter saw?
It depends on the type of work that you do. The sliding motion offered by this type of saw allows you to work with long pieces of wood easily. Also, making cuts on thicker pieces is not as challenging compared to using a non-sliding model. If you often have to deal with such pieces of wood, then investing in a high-quality sliding miter saw is a good idea.
Is a miter saw better than a circular saw?
When it comes to accuracy, the answer is yes. This saw offers a wider range of possible cuts, and it offers a much higher level of precision, which can be essential for achieving finer details in your work. A circular saw is not designed to make such accurate cuts, so it's something to keep in mind when choosing a power tool.
Is it possible to use a miter saw to cut metal?
Usually, it is. However, whether it can be done depends on the quality of the blade and how hard the metal is. For instance, steel blades can be used for some soft metals. And if you want to cut harder metals, you will have to resort to using carbide blades.
Best Sliding Miter Saw for Your Work
A high-quality miter saw can make your work a lot easier if you have to deal with long pieces of wood or some other materials. The majority of current models are convenient in use, lightweight, and powerful. On my list, I decided to give Bosch GCM18V-08N the first place because it is a truly effective power tool with a brushless motor, excellent crosscutting capacity, and portability. It is also a cordless option, which can be important for some. Overall, it's a great model for both beginners and experienced users, so it's the one you should consider.
Do you use a sliding miter saw in your work? If so, what features do you consider a must-have in your power tool? Comment below and share your thoughts!