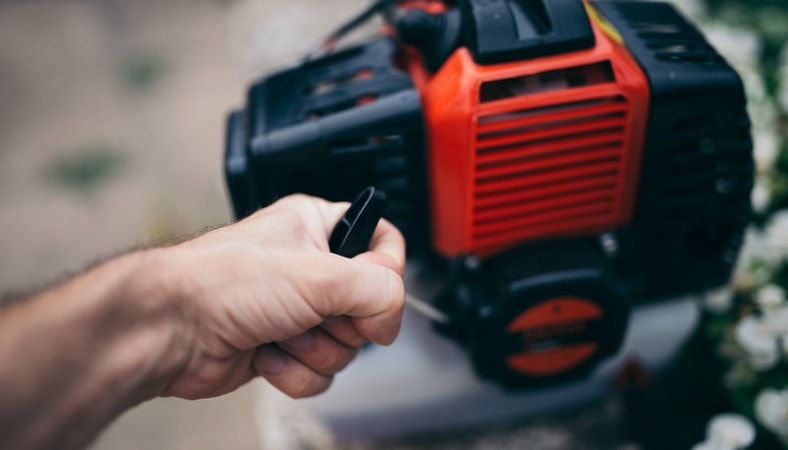 If you're just getting started with such incredibly handy garden tools as grass trimmers, it will be useful for you to learn about the peculiarities of their work. These devices are equipped with gas or electric engines. While corded or battery-powered models are fairly easy to turn on, inexperienced users may have difficulty getting gas ones up and running. I have compiled a small guide, in which I explained how to start a string trimmer, depending on the device type you choose and answered some questions that beginners usually have.
How to Start String Trimmer?
Here is a quick string trimmer starting guide. The first thing you need to do is to make sure that it is properly fueled. If it's a gas-powered trimmer, add fresh gasoline to the tank. If it's an electric trimmer, make sure that the batteries are fully charged. Once your trimmer is fueled and ready to go, simply follow the manufacturer's instructions for starting it up. In most cases, this involves pulling a cord or pressing a button.
How to Start a String Trimmer Easily: Step-by-Step Manual
There is nothing difficult about starting it. My guide will help you figure out this process faster, especially if you have to work with a model that you are not familiar with. Regardless of which type of device you have, before you start a weed eater, check the integrity of all its parts and elements (an engine, screws, handles, etc.). Clean the instrument if necessary, although it should be done after each use.
Gas weed eater
So, how to start a gas weed eater? If you already have experience with gas-powered garden equipment, this process will be familiar to you.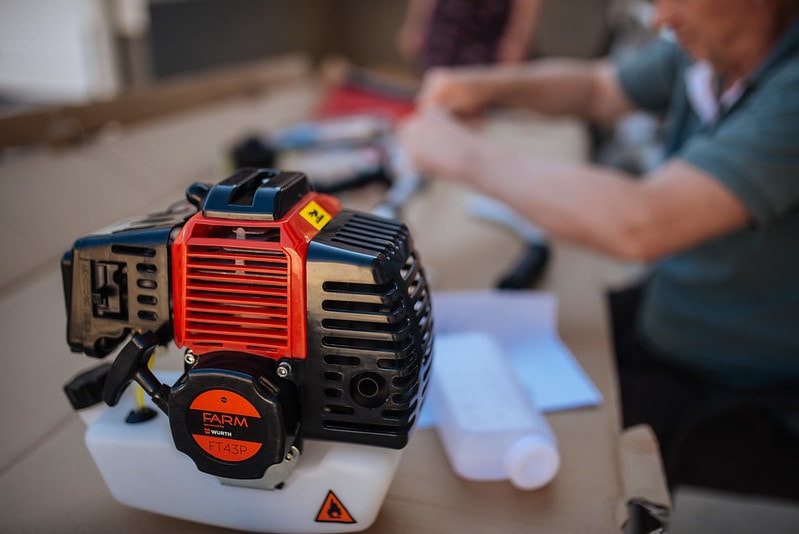 Step 1: Preparation
Place the instrument on a flat surface. Remove branches and stones (if any) lying around and ask your family members to stay away from your working place. Check the gas tank: it should be filled and installed correctly. Depending on the type of engine (2- or 4-stroke), you need the right gas and oil mixture or clean fuel.
Step 2: Close a throttle and purge valve
Turn on an ignition switch, which supplies electricity to the engine. Move the throttle to a closed position to restrict airflow for a faster engine start. Then press the purge valve several times to run the gas into a carburetor. On average, you need to push it 5-6 times, but it may require more in some cases.
Step 3: Pull a starter
Slowly pull a cord towards you once until you feel resistance and then pull it firmly a couple more times. When you hear the engine running noise, release the cable. After that, the trimmer should stall; it is okay.
Step 4: Switch a choke and pull the cord
For a final start, you need to open the choke fully and pull the cord repeatedly until you hear the engine start again. Your trimmer is now ready to use.
Electric weed eater
Starting a weed eater that runs on a battery or plug power is much easier than a gas one. Electrical devices are generally easier to use and maintain.
Step 1: Preparation
If you have a cordless model, make sure the battery is fully charged. If you use a corded device, ensure the extension cord is long enough to cover the area you want. Clear the lawn of ​​stones, branches, and other debris.
Step 2: Pull a trigger
For an easy start, a weed trimmer that is electric-powered has a single trigger. Push it, and a line (or blades) will start spinning. Typically, a start button is located on a case next to or under the main handle.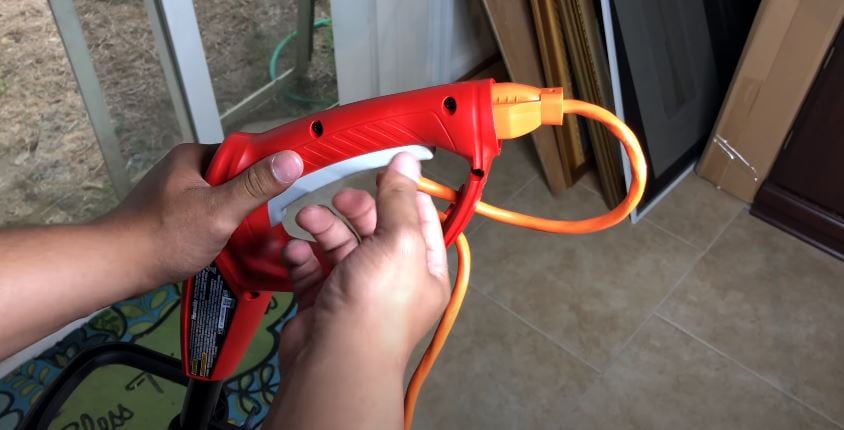 String Trimmer FAQ
Now that you know everything about how to start a weed whacker, I will answer some common questions.
What's better, gas vs. electric weed trimmer?
I think there is no certain answer to this question. Each tool has its pluses and minuses. Gas models are more powerful, handle thick weeds, and are suitable for large areas. However, they also are expensive, weigh more, and produce exhaust fumes. Electric devices are environmentally friendly, quiet, lightweight, and inexpensive; at the same time, they have low-power and limited operating time (battery) or area of ​​movement (corded). So, they are better for small gardens.
What is a weed whacker?
Weed whackers is an alternative term for string trimmers. They are also sometimes called weed eaters. Whichever the name, the principle of operation of these devices and the tasks performed with their help are the same. They are equipped with a line of metal blades that easily cut grass and small weeds without damaging bushes and trees.
How to hold a weed whacker?
Each trimmer has two handles (front and rear) for comfortable maneuvering. Some models may be equipped with a shoulder strap or harness. Hold the device in front of you about 1 inch above the ground, and try not to swing it too much. Your movement should be fluid.
Know How to Start Any Grass Trimmer
I have tried to make a guide that would be understandable even for inexperienced users. Hopefully, after reading it, you will no longer wonder how do you start a weed eater. By and large, you need to know the general working principles of gasoline and electric devices to use any new model with ease. When dealing with hand tools, always wear protective equipment and remember to take regular breaks to prevent vibration syndrome.
Tell me about your experience with string trimmers in the comments. Have you had any problems getting started? How did you solve them?