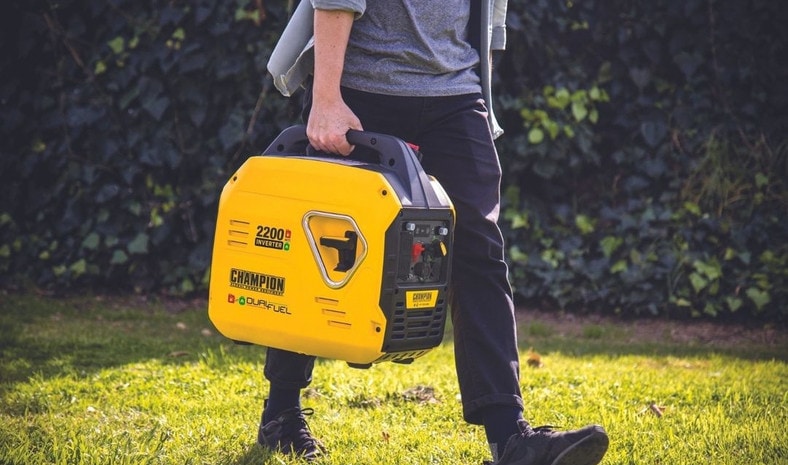 Are you having a problem with power outages and long distances between the power source and your electric instruments? Then you might be in search of the best dual-fuel portable generator. No matter what you have in mind, such generators will always be handy in any household. Even if you live in an area without any power outages, you may still need to work at the farm or at the construction.
While there are different activities you can perform with the generator, there are also different types of these tools. How can you pick the one you need? This article contains detailed dual-fuel portable generator reviews that help you to make a choice.
Top-5 Best Dual Fuel Portable Generators
There are several types of generators, but those with dual fuel are considered to be the most helpful for multiple tasks. Before I share my list of top models with you, let's start with the basics.
A dual-fuel portable generator is a model that runs on two fuels. The most popular option is gasoline and propane. Gasoline is easy to get but it can be slightly noisy, while propane is cleaner and quieter, but is not accessible everywhere. Each of the models on the list contains its own specific features. Check them out.
1. Champion Power Equipment – Top Pick Best Dual Fuel Portable Generator
This model is my prime choice. It has a fair price and a powerful engine. Moreover, I really appreciate the durable wheels that allow me to transport generators from my house to the workshop in no time. Champion Power Equipment is also a well-known company developer in this area. They have been producing power equipment since 2003. The company is based in California, and I believe during the last few years it expanded its business around the world.
Features:
7.7 fuel gallons;
It works for 10 hours on gas, and 5.5 hours on propane;
Running wattage is 7500w, starting wattage is 9375;
Dimensions: 28.9 inches x 27.7 inches x 26.1 inches.
The package includes a 7500-watt generator that has an electric simple start, two wheels with never-flat tires, a battery, an oil funnel, a propane hose, engine oil, and the manual. The fuel tank is made of 7.7 gallons. This is enough for 10 hours of work with the full tank of gas, and 5.5 hours on propane. The engine in this beast is 439 cc which provides 9,375w as the starting wattage, and 7,500w as the running wattage. You may appreciate its compact sizes, despite the powerful outcome. However, you have to pay attention to the noise level it provides, which is 74 dBa and can be quite annoying for your neighbors in the morning. My advice here is to use it far from other people if they have hypersensitivity to sounds.
---
Positives
Powerful generator;
Big fuel tank;
Simple to transport to any area because of never-flat tires on wheels;
Works for many hours;
Fair price.
Negatives
It provides 74 dB of noise while the standard is close to 60 dB.
---
2. DuroMax XP15000E – Premium Choice Best Rated Dual Fuel Portable Generator
This 15000 watts model is quite impressive and suitable for any type of activity. While it weighs 380 pounds and is quite heavy, there are two reliable wheels you can use to roll it around the household and your yard. With its level of power, it is still incredibly savvy, since there is an automatic oil shut-off when the level of oil is getting lower. DuroMax company states that they provided the next generation of power systems on the market. This is an American-based company that lights up millions of homes around the country with its generators.
Features:
The running power is 12 000 watts, the starting power is 15 000 watts;
There is a twin 713cc engine inside;
7 different outlets;
Weighs 380 pounds. Product's Dimensions: 33 inches x 30 inches x 35 inches.
The package includes the generator itself, wheel kit, spark plug wrench, and instructions. You may appreciate 7 different outlets on the generator. Four of them are standard 120V outlets for households, one is a heavy-duty outlet on 120/240V, the twist-lock outlet on 120/240V 30A, and the last one is also a twist lock on 120V 30A. Although this generator is covered with high-quality metal, I still recommend hiding it in the case once the work is done, to avoid moisture getting inside. There is a 10.6-gallon fuel tank that allows it to work for hours.
---
Positives
Long hours of work;
High-quality cover;
It contains 7 outlets for multiple uses;
Contains individual breakers to stop overloading;
Reliable developer.
Negatives
It is a heavy-weight generator compared to the other models on the list.
---
3. PowerSmart – Best Budget Dual Power Portable Generator of 1000W
This model has a two-stroke engine type and a tank volume of 1.1 gallons. It is more compact than the two previous models on the list and I believe it may help you in your household activities. PowerSmart is an American company that produces a wide range of electric power tools for home use, from snow blowers to generators and mowers. You may not even pay attention to the developer of the tools you use daily. You may find lots of them have the PowerSmart tag. This generator does not have wheels, but at least it has a handle you can use to carry it around, which is not a problem since it weighs only 39lbs.
Features:
Weighs only 39 lbs;
1000 starting watts, 900 running watts;
120V outlets for sensitive devices;
Works for 5 hours in a row.
Since it does not have a big tank, the full generator can handle 5 hours of work. It provides 1000 starting watts and 900 watts on the run. Apart from that, there are 12VDC output and 120V outlets with clean power, so you can charge your laptops and iPhones.
Read more: 12000 Portable Generator.
I have checked this generator myself and can assure you that it works unbelievably quietly. You can use it during the night and day, with no objections from your neighbors. The model runs on the oil and gas mix fuel. If you need it, there is a two-year warranty from the company. As for the price, it is the most pleasant news about this tool. If you're considering low-budget options, you can choose this one.
---
Positives
Low noise level;
Provides 1000W surge wattage;
Affordable price;
Lightweight;
Two years warranty.
Negatives
It works only for 5 hours without being refueled, which may not be enough for big projects.
---
4. Westinghouse iGen4500DF – CARB Compliant 3700W Generator
If you are looking for the top-rated dual-fuel portable generators, this model is for you. It is one of the most expensive models on my list, but I believe the price is fair compared to the features it provides. The model weighs 104.7 pounds and has two wheels with never-flat tires for comfortable use.
Westinghouse company does not require any introduction, since we all know the name. This American-based manufacturer has been the leader in the market of electric power tools since 1886. They provide instruments for both personal and industrial use. I consider this model as semi-pro since it combines the power of a professional generator and the simplicity of use required by amateurs.
Features:
Works for 18 hours in a row;
Dimensions: 24.5 inches x 17.5 inches x 20 inches;
Weighs 104.7 pounds;
Provides 4500 peak watts.
It has 4500W as starting watts and 3700W rated. You can easily start the engine with the remote key fob. There is a wide range of outlets that may be useful for home and work, including a Tt-30R 30 Amp outlet, a 120V 5-20R duplex household outlet, and two USBs for your digital devices. Besides that, this generator produces only 52dBA which totally matches the basic requirements for allowed noise. The gas tank has 3.4 gallons and can provide 18 hours of work. There is an economy mode if you want to prolong the life of the generator before it runs out of fuel. However, I still recommend you check out the price before you decide to buy it.
---
Positives
Works for 18 hours;
Low level of noise;
High-quality performance;
Several outlets for the house and RV;
Well-known developer.
Negatives
Slightly more expensive compared to other generators on the list.
---
5. A-iPower SUA 2000iD – Portable Generator for Home
If you are looking for a compact generator with a dual-fuel option, you may try this one. It weighs only 55 pounds and provides 2000 watts. It is simple to start and has clean power for your sensitive gadgets. Meanwhile, it costs slightly less than the Westinghouse model I have described above. A-iPower is a reliable brand that produces different types of generators and pressure washers. It is not that known as Westinghouse, but it successfully sells its products inside the country and even on the international market.
Features:
It produces 2000 starting watts;
There are 120V with clean energy safe for gadgets;
Dimensions: 23.8 inches x 19.2 inches x 22 inches;
It weighs only 55 pounds.
A-iPower is proud of the lack of noise produced by its generators. This model is super quiet too and provides only 52 dBA. There are 2000 starting watts and 1600 running watts on gasoline. As for propane, the model produces 1800 starting watts and 1500 running watts. You can charge your electronics safely, including laptops, TV, and smartphones. Once you are done with it, you need to hide the model in a dry safe space, far from the water.
---
Positives
Produces 2000 starting watts;
Weighs only 55 pounds;
Offers 52 dBA;
Produces clean energy for gadgets;
High-quality model.
Negatives
Costs are similar to the Westinghouse model.
---
Dual Fuel Portable Generators Buyer's Guide
Have you already found out what is the best dual-fuel portable generator? If you still can't decide which model is the one you need, read this guide. I have gathered here the information you may need on this type of generator in general and provided information on the features you need to consider before you make the purchase.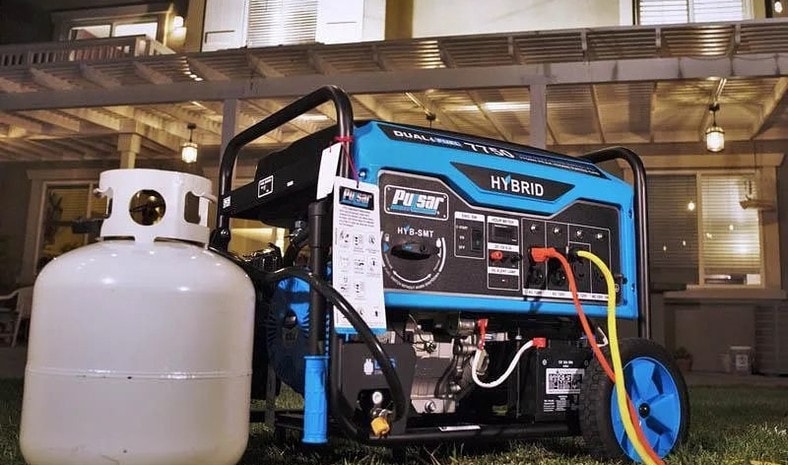 Benefits of a Dual Fuel Generator
A generator with a dual fuel tank is similar to an electric generator with one huge bonus. There are two different types of fuels you can use to run it. The most popular choice is propane and gasoline. Gasoline is simple to find and it is cheaper than propane. Yet, propane works quieter and is more eco-friendly. Basically, the major benefits of dual-fuel generators are:
Ability to find fuel anywhere;
Low noise level;
Reasonable cost;
Clean energy for sensitive devices;
The simplicity of use;
High power level.
How should I choose a portable generator?
Choosing the best generator that suits your own needs is not that simple. You have to make sure that you consider all the possible features. Find out which of them you need the most.
Generator features you have to consider:
Portability. I specifically gathered here only those generators that are simple to transport. Some of them are heavier than others but contain reliable wheels with never-flat tires. Your generator must contain a handle so you can carry it around. If you are looking for lightweight models, you can try PowerSmart for 39 lbs. If you want the model with the best wheels its Champion's model;
Cord Set. All the models on my list contain the cord set for your needs. You have to check out the outlets that are offered for each model, so you can understand which one you need the most for your devices;
Run Time. The list of my top-5 favorite generators contains models with the best run time possible, which is from 5 standard hours to 18 in a row. Based on your needs and on the devices you will run on the generator you can choose the most appropriate time for you. Keep in mind that once the fuel is over you can easily fill the tank with more and continue the work.
Generator Size. I don't believe it is crucial for daily use in most cases. However, if you have limited space in your workshop or RV, you have to make sure that the generator is suitable. One of the smallest models on the list is the A-power generator.
Power Requirements. These generators can produce power from 1000 watts to 12000 watts based on the model. I have gathered here models that handle the average requirements of everyone. The most powerful is the Champion and Westinghouse models. Yet, you may easily be satisfied with 1500W. You have to keep up with the safety standards for each model;
Backup Power. All of them are considered to have their own backup power. Once you run out of one energy source, you can use another one. You may switch between propane or gasoline whenever you need it.
FAQ
Check out these most frequently asked questions online. I hope my answers will help you. If you have more to add do it in the comments below.
Is it better to run a dual-fuel generator on gas or propane?
Gas is a more popular choice mainly because you can get it anywhere. Yet, considering the situation with the unstable prices and noise it provides, I recommend you use propane. Propane provides eco-friendly energy and works noiselessly.
What type of portable generator is best for home use?
In my personal opinion, the best generator must work for at least 5 hours, has to be transportable, and does not cost much. It must be reliable like Champion, for example. It has to provide clean power for sensitive devices.
What size of a portable generator do I need?
It depends on your goals. Think about the place where you will keep it. Pay attention to the fact that you will have to move it from time to time.
Generator for You
The dual-fuel model provides you with wider possibilities. You may choose the fuel you have and the amount of time you want to run it. Here, I have gathered the most trustable options checked by me and my friends. They all will be helpful no matter whether you need electricity during the power outage or for your RV. Based on your demands you can check out products on the list. Think about the features you need the most.
Have you ever used one of the models described above? Share your opinion about them or the brand. Express your thoughts in the comments below.