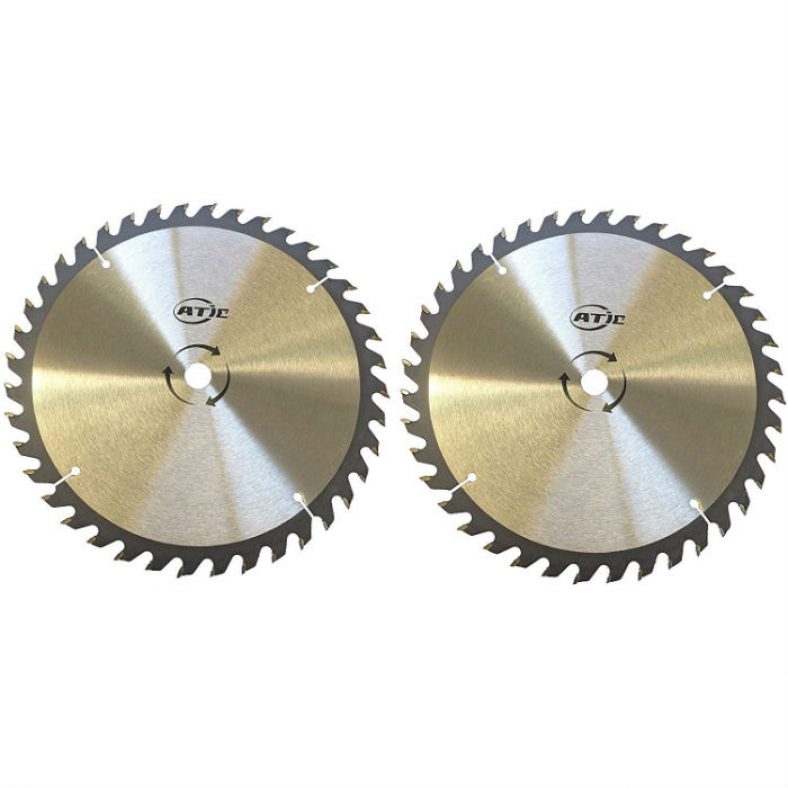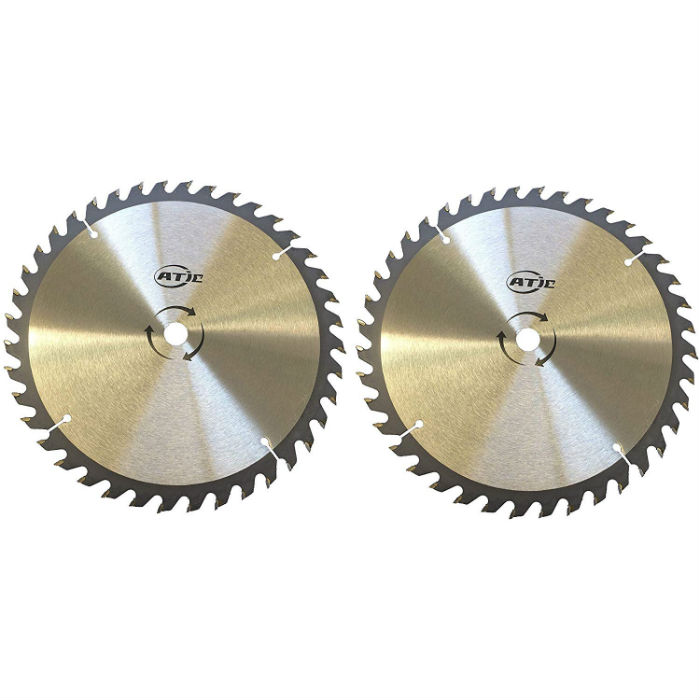 I understand how challenging it can be to search for good equipment online, especially when it comes to saw blades. When looking at a variety of options available on the market, it is hard to figure out which product is a high-quality one and will serve you for a long time.
I have worked in a gardening company for a while, and this work paved the way for me to gain insights regarding gardening equipment such as chainsaws and table saws.
It has an anti-vibration design, which makes for accurate cuts
It displays excellence performance even when used with low-powered saws
Ideal for both ripping and crosscutting on different wood materials such as plywood
My Choice
It has an anti-vibration design, which makes for accurate cuts
It displays excellence performance even when used with low-powered saws
Ideal for both ripping and crosscutting on different wood materials such as plywood
This is the primary reason why I decided to put together an exclusive review of the top 9-inch table and miter saw blades. Below, I have highlighted the main specifications of the seven best 9″ table saw blade models. I hope that this review will help you to settle on the best item for your needs.
Best 9-Inch Table Saw Blades Reviews
In these 9 inch table saw blade reviews, you can find information related to each blade's design, unique features, and efficiency of cutting different materials.
In this regard, it is always important to use a saw blade for its specified purpose. This means that a crosscutting saw should only be used for crosscutting, and a ripping saw for ripping. Only combined saws can be used in both applications.
1. Freud Combination Blade LU84R009 – The Best 9 Inch Table Saw Blade
Freud is one of the leading manufacturers of cutting tools. Their products are typically sturdy and highly efficient. This Freud 9-inch combination blade is a reliable and durable item that is suitable for both miter and table saws. Thus, it can be used for both crosscutting and ripping.
From my experience, I can say that this Freud LU84R009 model is one of the most reliable saw blades on the market. This combination blade features an anti-vibration design. It has unique 10-degree hooks tailored for increased cutting speed and efficiency. Also, the saw blade is made from hardened carbide and features a sturdy coating.
Despite its high price tag, I recommend going for this dual-purpose blade as it is efficient and provides clear, precise cuts with its forty teeth. With this item, one doesn't have to purchase two saw blades for different cutting tasks. You won't have to change crosscutting and ripping blades often as the LU84R009 combination blade is a general-purpose tool.
Being one of the best 9″ miter saw blade options for different purposes, this model is suitable for cutting both wood and metal. Its dimensions are 1 x 1 x 1 inches, and it weighs 1 pound.
I profoundly recommend this product. Let's take a look at the specifics of this saw blade and its pros and cons:
---
PROS:
it features huge gullets that are strategically located around the blade to enhance faster rips and easier chip removal;
it has an anti-vibration design, which makes for accurate cuts;
its sturdy coating is efficient in minimizing pitching and blade corrosion when in use;
it is made of sturdy carbide for enhanced longevity and excellent performance;
the hooks have been positioned at an ideal angle to enhance faster cutting.
CONS:
a bit expensive compared to other multi-purpose saw blades.
---
2. Freud Finish Crosscut LU88R009 – 9 Saw Blade
Freud company is among the top brands when it comes to the design and production of impeccable high-duty saw blades. This blade has a cutting diameter of 9 inches and a 0.071-inch thickness.
It is made of high-duty carbide material and weighs just under 3 pounds. The product dimensions are 1 x 1 x 1 inches, the same as for the previously mentioned model.
One unique feature about this saw blade is the 15-degree hook positioning angle, which makes for glibber cutting and efficiency in regard to the feed rate. The 9 inch saw blades is ideal for both miter and table saws.
Owing to its construction, this Freud Finish LU88R009 model is suitable for crosscuts on wood and acrylic materials. However, it can also work well for cutting vinyl and plastic. Here are the beneficial factors associated with the blade and the notable downsides:
---
PROS:
it features conveniently placed hook angles that facilitate glibber cutting;
the use of a thin kerf minimizes wastage and enhances easy feeding;
a high-duty non-stick coating inhibits rusting and pitch occurrence;
it displays excellent performance even when used with low-powered saws;
the design allows for smooth and efficient crosscutting.
---
3. Freud Rip LU87R009 – 9 inch Circular Saw Blade
As I have already mentioned, Freud is a leading manufacturer of saw blades, and I do like the quality of its products. This LU87R009 rip saw blade is one of the best 9-inch miter saw blade models on the market. This tool has a 9-inch cutting depth with a 0.071-inch thickness.
The item is made from sturdy carbide material and weighs slightly below 3 pounds. It also measures 1 x 1 x 1 inch. The hooks of this model are placed at a 20-degree angle for enhanced efficiency when cutting. This angle position makes for minimized feed rate drag.
This 9″ miter saw blade is good for use with both table and miter saws. Its non-stick coating layer makes it efficient as the saw blade is not susceptible to corrosion and pitching. Also, the blade has a thin kerf, which is essential in minimizing waste and speedier feeding.
With the twenty-two teeth evenly distributed around the blade, this tool is ideal for cutting wood and metal precisely. However, it can also be used for cutting acrylic and vinyl.
It is a saw blade I would recommend to any beginner or seasoned woodworker. Let's take a look at the good and bad highlights of this tool:
---
PROS:
it is made of high-density material for enhanced longevity;
it features a lean kerf for minimizing wastage and pitching;
it is coated with a non-stick layer, which facilitates corrosion reduction and prevents pitching;
it allows seamless ripping;
the hooks have been placed at a good angle to the blade, and this facilitates efficient cutting.
---
4. Atie 2 PACK 9-Inch 40T Saw Blade – A Remarkable All-Purpose Saw Blade
Atie company is an expert at crafting high-performance saw blades. This 9-inch general purpose saw blade is an example of their ingenious mastery. It measures 0.9 x 1 x 0.9 inches and weighs 2.4 pounds. The item is made of steel but also features carbide tips for efficient cutting.
Although this Atie 9-inch 40T saw blade is great for miter saws, it can also be used with table saws. It has a thickness of 1/15 inches, and this contributes to seamless cutting. The tool inhibits wastage and promotes inclined feeding. It is one of my favorite multi-purpose saw blades.
This 9 inch miter saw blade works best for cutting wood and acrylic. Nonetheless, it can be used for cutting metal thanks to the design and the angle of its teeth. I would recommend this item to all woodworkers. Here are the likable factors and the downsides about this saw blade:
---
PROS:
ideal for both ripping and crosscutting on different wood materials such as plywood;
it has a lean kerf design, which makes it suitable for quick and seamless cutting;
considerably cheap compared to similar saw blades;
a convenient design protects you from kickbacks;
it is made of high-duty tungsten, and this makes for durability and accuracy when cutting.
CONS:
does not have a protective blade coating.
---
5. Evolution Power Tools 230BLADEST – A Durable 9 Table Saw Blade
Evolution makes a wide range of saw blades for various settings. The one under review here belongs to those designed with a view for cutting mild steel as well as other ferrous metals, from square tube to angle iron and much in between.
This is an application where some users choose abrasive blades. However, abrasives wear quickly and generally cost more, so Evolution's 230BLADEST is a great alternative. According to the manufacturer, the blade will last about as much as 20 abrasives. It is also faster than an average abrasive one, cutting through 6 inches of a ¼-inch thick plate made of mild steel in only 12 seconds with its 48 teeth.
The blade boasts a combination of a hardened body to resist flexure and a thin .078-inch kerf for excellent precision.
This is a robust high-grade carbide model designed for cool operation to avoid long idle times due to overheating.
---
PROS:
made to last;
ideal for mild steel;
cuts quickly;
cool operation;
great precision.
---
6. JIUNENG 60 Tooth Blade – An Affordable 9 Circular Saw Blade
If you are looking for a way to cut wood with your 9-inch table saw without too much investment, this simple blade might be a viable option.
Made of construction-grade steel with carbide tips, it shows no signs of fragility. The teeth remain sharp for a long time when used on softwood, hardwood, laminate, lumber, and more. The fact that it has as many as 60 teeth makes it an ideal combination tool for ripping as well as crosscutting. It is particularly recommended for use in settings such as floor cutting.
Another advantage of this affordable blade is its high cutting speed. This doesn't compromise precision, though. The cuts it makes are all crisp and clean.
The most significant problem with this blade is the big 1-inch arbor hole that will probably require additional inserts and can be a pain to accommodate, according to some reviewers.
---
PROS:
affordable;
very good rip and crosscut performance;
quick in operation;
cuts clean;
robust.
---
7. Freud LU82M009 – A Premium 9 Inch Saw Blade
Another excellent product by Freud, this blade is designed for heavy-duty operation in a variety of settings. Please be aware that it doesn't include non-ferrous metal cutting, though. Ferrous metals and masonry are not to be cut with the blade either. Recommended applications are crosscut and rip wood cutting and well as chipboard processing. It can also be used for plywood and laminate, although with less confidence, making it a premium alternative to the JIUNENG blade.
Made of TiCo high-density carbide, the blade is built to last and will withstand wear and most chemicals for a long time without getting dull. It comes with a special coating, termed Silver Ice, to prevent corrosion further. This helps eliminate the build-up of pitch that often happens with cheaper blades over time, resulting in wavy cuts.
The blade comes with Freud's characteristic anti-vibration slots for even greater accuracy and splinter-free cuts.
---
PROS:
relatively versatile;
a reliable heavy-duty model;
effective vibration reduction;
enhanced corrosion resistance.
---
Which Is Your Preferred 9-Inch Table Saw Blade?
After going through these 9-inch miter saw blade reviews, it should be easier for you to choose a good saw blade for your equipment. Depending on the material you want to cut, you should consider the blade's design and the size of its teeth. The reviewed items can be used as both table and miter blades thanks to their design.
I recommend getting a blade with an anti-vibration design as this promotes precise cutting. Also, the thickness of the blade plays a significant role. Thicker models are ideal for hardwood, while thinner blades are efficient for cutting softwoods and metal.
I also want to note that smaller teeth allow for smoother cuts. Moreover, blades with coatings are much better compared to coatless ones as they are more resistant to corrosion and pitching. This enhances not only the service span of the tool but also the accuracy of cutting.
In this review, you have read about the saw blades efficient for cutting acrylic, as well as plastic and vinyl. Which is your favorite saw blade so far? Which another 9-inch saw blade do you find of notable quality? Share with me your opinions and suggestions in the comment section below.
Related posts:
1. Saw Blade for Laminate Flooring
2. 8-inch table saw blade
3. 10-inch table saw blade
4. 12-inch table saw blade