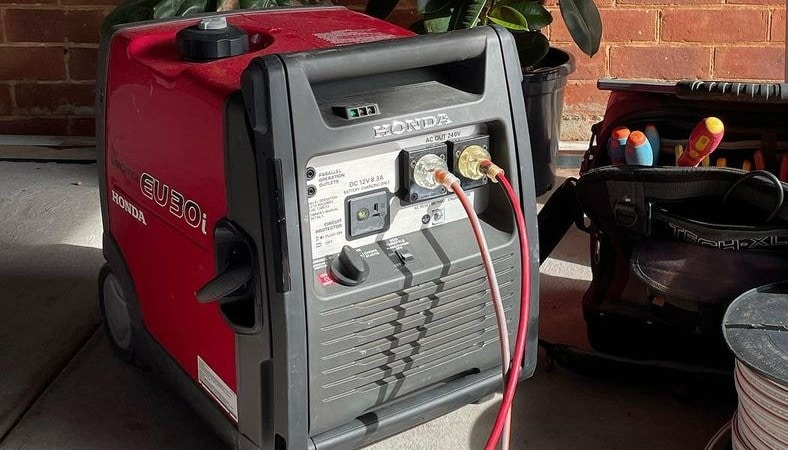 A generator is the kind of instrument you usually think of in case of a power outage. In this article, I focus on the generators that can power a house, so the main question is how to choose the best 5000-watt generator. It is a lifesaver for those living in private houses since this machine ensures you in emergency cases and can serve for everyday outdoor tasks.

Table could not be displayed.

The generator is also necessary for road trips and camping. However close to nature, you want to be, electricity ensures your safety and keeps you connected to other people in unforeseen circumstances.

To define which generator suits your needs best, firstly understand when, how often, and for which purposes you will use it. Except for wattage, generators are divided by the type of current they produce, the number of fuel gallons, the set of outlets, and the noise level. Different models might feature options like oil alert, shut-off, and recoil start. I selected A-iPower AP for myself because it is lightweight and user-friendly. It is also important for me to support small businesses, so I strongly recommend paying attention to this brand.
Best 5000 Watt Generator: 5 Generators to Consider
No products found.

–  Great Value
To understand which properties are essential for your needs, I will start by reviewing particular models right away. This is the shortest way to see which generator can fulfill your needs.
1. A-iPower AP: 5000 Watt Gas Generator With a User-Friendly Control Panel
A-iPower AP provides 4,000 running watts and 5,000 starting watts. At half load, it runs for about 9 hours. It is equipped with a solid cast iron sleeve. This model features low oil shutdown, an essential function that saves an engine from wearing down. The outlet set includes a standard 20A – 120V household duplex and 30A-120/240 twist lock receptacles.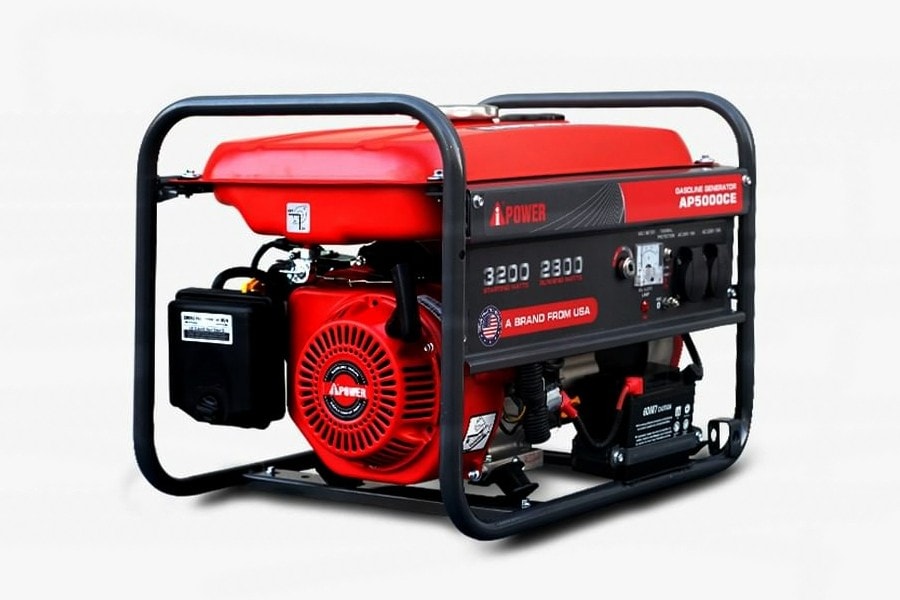 A-iPower AP is the lightest generator on the list (only 109 pounds) and has a convenient design, particularly the never-flat wheels and a folding handle for more portability. A heavy-duty frame construction ensures the stability and durability of the machine. The frame is covered with a powder coat finish.
What I liked the most about this instrument is the easy-to-reach control panel, which also looks user-friendly. For instance, A-iPower AP features a digital hour meter to make time reading easy.
Pros:
Features a user-friendly control panel that includes a digital hour meter;
Lightweight and portable: weights only 109 pounds and features wheels and a folding handle;
Manufactured by a small business.
Cons:
Includes only basic outlets.
2. Briggs & Stratton S5500: 5000 Watt Propane Generator With Carbon Monoxide Control
No products found.
The main difference Briggs & Stratton S5500 makes from the generators on the list is the amount of fuel it can contain. An average household generator includes 4 gallons, while this model features 7. This generator provides 5,500 running watts and 6,875 starting watts, while other items have smaller figures. With such properties, Briggs & Stratton S5500 runs for more than 12 hours at 1/2 load.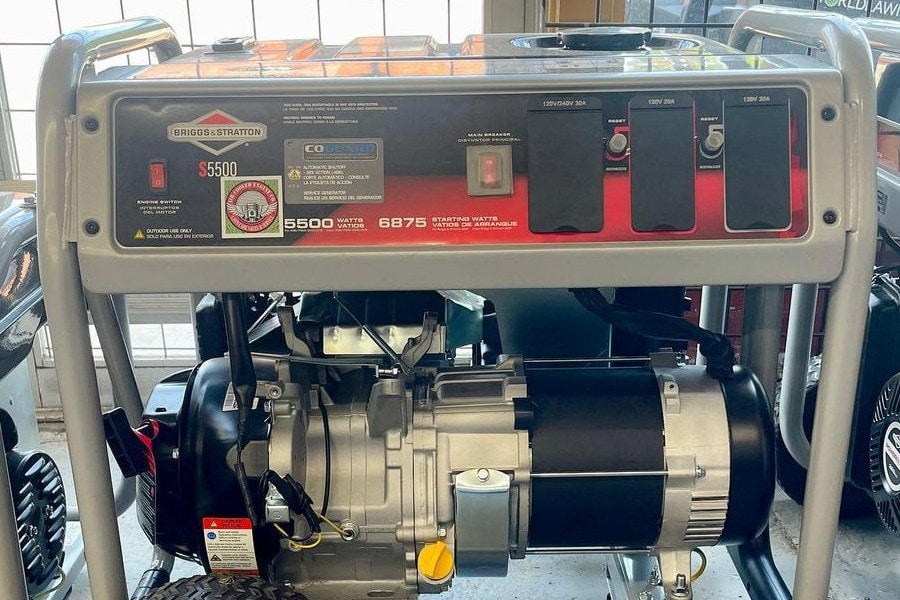 Briggs & Stratton S5500 provides a 120-Volt/240-Volt outlet and 4 GFCI 120-Volt household outlets. For more safety, they are covered with rubber covers. Another thing to control is the level of carbon monoxide. When it gets too high, Briggs & Stratton S5500 shuts down automatically. Compared to the other generators, this model is quite heavy.
It weighs about 200 pounds. However, it has an ergonomic design featuring wheels and a fold-up handle.
APros:
7 gallons of fuel instead of the standard 4;
Controls the level of carbon monoxide;
The highest wattage on the list;
Rubber covers protect the outlets.
Cons:
It might seem to be too heavy.
3. Honda 663640 EM5000SX: Generator With the Highest Starting Watts Rate
Honda 663640 EM5000SX provides 7,000 starting watts, the highest figure among those I name here. It runs for about 11 hours at half a load with 4,500 watts. Unlike most generators, which include 4 gallons of fuel, this one provides 6 gallons. This generator has 20A 125V duplex receptacles, a 30A 125V locking plug, and a 30A 125/250V locking plug.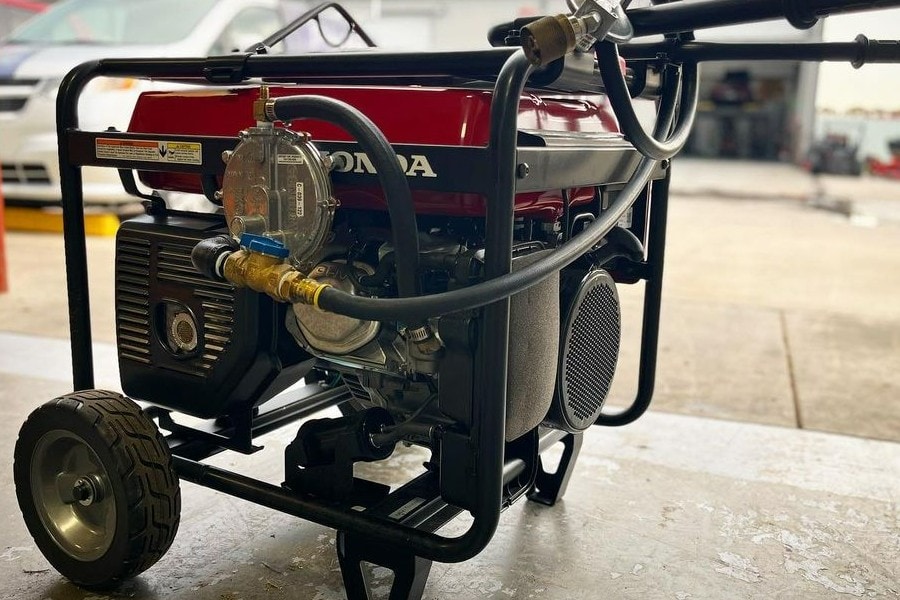 This model has a durable and stable protective full tubing frame and weighs more than 200 pounds. Honda 663640 EM5000SX features an oil alert; it is essential for keeping the engine as long as possible since lack of oil causes early wearing down. The flaw I found is its noise level. 72 dB is an average loudness for such an instrument, yet it is higher compared to other generators.
Pros:
2 gallons of fuel more than an ordinary generator;
The highest starting watts figure;
Features oil alert so you can stop when the oil level is too low for safe work.
Cons:
Louder than an average generator (72dB)
4. Green-Power America GPD5000W: 5000 Watt Portable Generator for Basic Needs
Green-Power America GPD5000 has a 7.5HP engine that provides 5,000 starting watts and 3,850 running watts. Such parameters allow 11 hours of runtime at 1/2 load. The outlet set includes a 120V twist-lock and two 120V household receptacles. As well as Honda 663640 EM5000SX, this generator might be too loud compared to other models, and its noise level reaches 74 dB.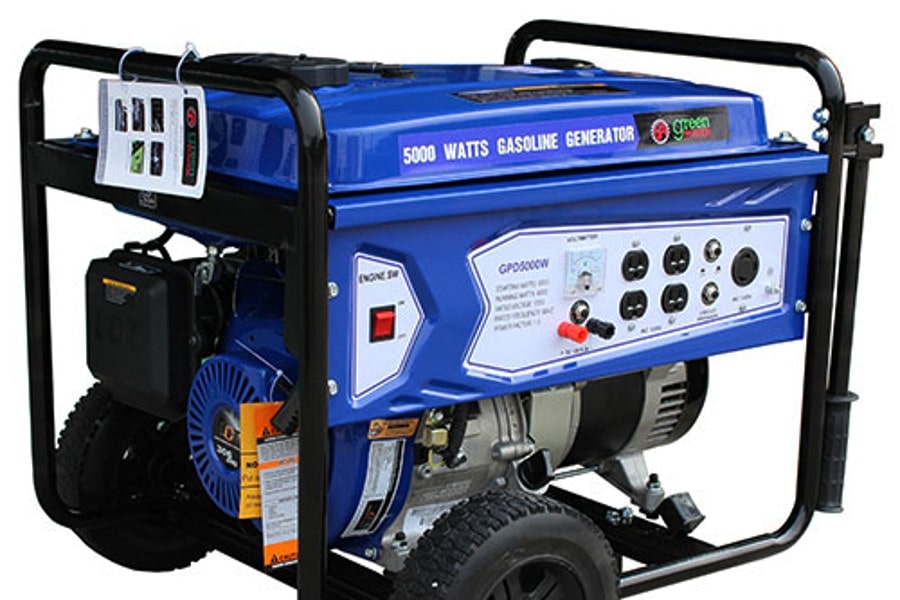 This model is the lightest item on the list (only about 100 pounds). It has a solid construction and durable 8-inch solid wheels for more mobility. To save more fuel, it is equipped with a fuel shut-off system. Green-Power America GPD5000W also features a low oil shut-off system to prevent the engine from wearing down.
Pros:
Provides fuel shut-off system;
Solid metal frame;
Easy to assemble.
Cons:
Provides fewer running watts compared to other items on the list.
5. maXpeedingrods 5500W: Best 5000 Watt Inverter Generator for Residential Areas
MaXpeedingrods 5500W is the quietest 5000-watt generator on this list. Its level noise reaches only 62 dB at a distance of 23ft, making it perfect for use in residential areas or campings. This model seems to be the quietest one of this rated power. However, it is powerful enough to source all the essential needs in a mid-sized house.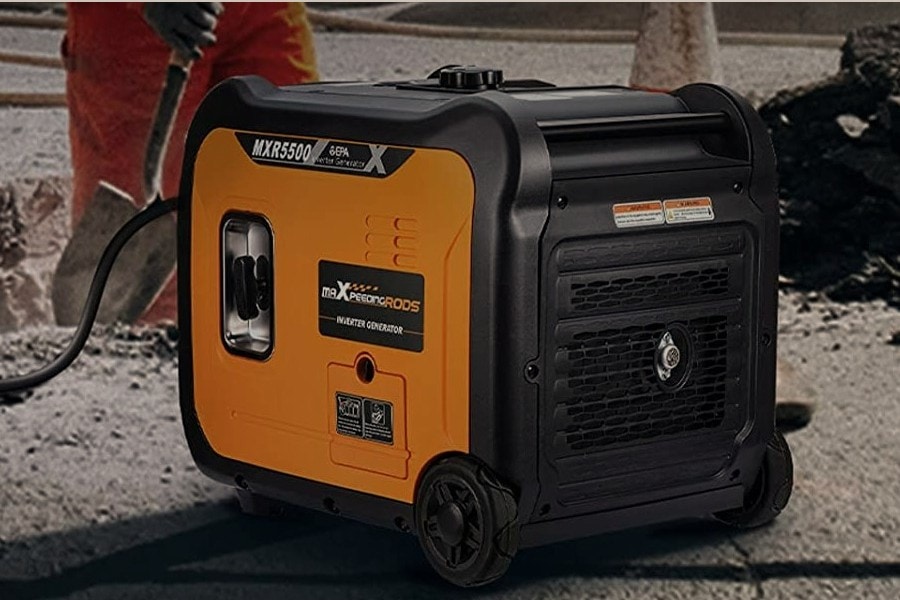 MaXpeedingrods 5500W provides 5,500 peak watts and 5,000 running watts of power and runs for about 6 hours at 1/2 load. It weighs a little more than 100 pounds, which is the minimum weight for this tool.
A generator is an instrument that hedges you in emergency cases, so being able to start it under any conditions is crucial. MaXpeedingrods 5500W features 2 start modes: electric and recoil start. The first one is the common way to start a generator — you need to push one button and start working. Recoil start is a backup option — you only need it when you can't start a machine for some reason.
Pros:
The lowest noise level (62 dB);
Lightweight compared to other generators with similar capacity (114 pounds);
Provides two start modes to enable working even in exceptional conditions.
Cons:
Eco-mode might not be reliable.
Buyer's Guide
Nevertheless, knowing the best options is not enough to choose a particular tool. Firstly, you need to define why you need a generator and how you will use it: is it an everyday tool for a building site or insurance for a few days in a year? Which devices do you plan to plug in?
What can you use it for?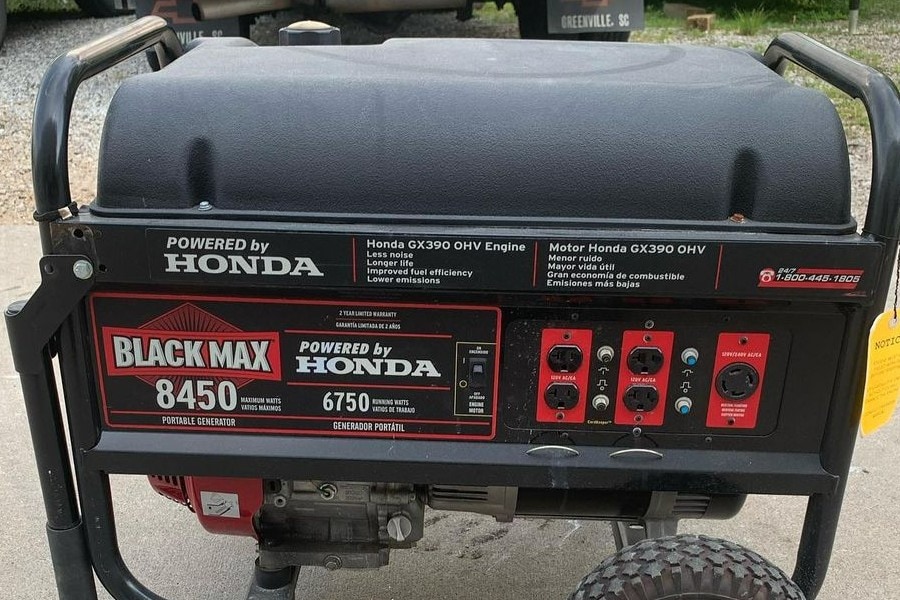 A generator is a multipurpose tool that can serve everyday purposes and insure you in case of an emergency. It's also a useful tool if you want to travel in a car or a trailer.
A generator holds your back in case of a lack of power supply. It helps keep working from home without electricity and is a lifesaver in difficult weather conditions like storms. A generator allows charging your phone to stay in touch. It saves products in a fridge from spoiling and keeps medical devices running.
This instrument is often used on the building sites to source electrical tools and power those run by batteries.
Some models are intended for use on road trips. Generators make camping more comfortable, keeping your phone charged or making cooking faster and easier.
How to choose a quality 5,000-watt generator?
After you decide when to use a generator, the next question is which devices you need to plug in. Traditional generators can source any electrical device if it fits their voltage. However, inverters are more reliable if you need to power-sensitive electronics since they provide alternate current instead of direct current.
This type has a number of other advantages: inverters are quieter than other types, and they also waste less fuel.
The next important thing to pay attention to is the set of outlets. I advise considering not only the devices you already have but also the appliances you will buy. Moreover, if you are searching for a generator for a trailer, you will need a TT-30R receptacle, so notice this detail.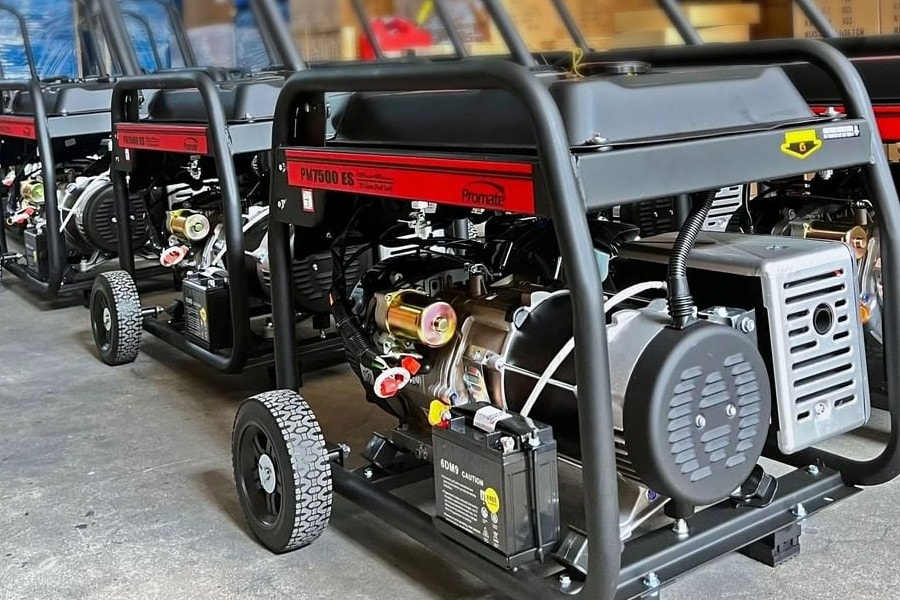 Consider its weight, dimensions, and portability. These properties might be insignificant if you plan to use this tool only when there is no power supply in the house, yet when carrying the generator around, every pound counts. The heaviest generator on the list weighs more than 200 pounds; the lightest one is twice lighter. Inverters are usually lighter than traditional generators.
Starting watts vs. running watts
Any generator's description contains a wide variety of characteristics. Some of them are pretty clear, while others might confuse you. The difference between starting and running wattage might cause most of the questions.
Starting watts, also called surge watts, are the amount of power in a few first seconds of work. In particular, this figure represents the number of watts a generator produces when it starts running. Notice this parameter to prevent power overload.
Running watts is the figure that means how much power the generator has during the work. The number of watts can vary for inverters since they adapt to the load. This parameter describes how many devices you can connect to the generator.
FAQ About 5,000-Watt Generators
If you're going to buy a 5,000-watt generator but still have some questions about it. Check out a few common questions and answers to them below to satisfy your curiosity!
Can you power a house with a 5,000-watt generator?
5,000 watts is enough power to provide comfortable life during a power outage. For example, such a machine can source a full kitchen including lighting, microwave, toaster oven, and coffee maker. Altogether these appliances don't need more than 5,000 watts.
Do you have to turn off your main breaker when using a generator?
Yes, always turn off the main breaker before using a generator because if power is restored while your generator is back feeding, the generator might get damaged. Moreover, you also risk being electrocuted.
Can I just plug a generator into an outlet?
No, as well as turning on the main breaker while using a generator, plugging it into an outlet is extremely dangerous. It causes back feeding, which leads to a few risks, the worst is killing a power line worker. Plugging a generator into an outlet can also damage your neighbor's property and your home's electrical system. It is illegal, and your insurance definitely won't cover the damages.
Choosing the Best 5000 Watt Generator for Your Needs
5,000 watts are enough to cover basic needs and provide comfort during a power outage. Summing up these best 5000-watt generator reviews, the main parameters to check if you are looking for a tool for domestic use are starting and running watts. Depending on them, you define which applications you can plug in and how to avoid power overload. If you need a generator for traveling, pay attention to the outlets, there must be particular receptacles.
Are you choosing your first generator, or do you need to replace the old one? Which characteristics are crucial for you? Please share in the comments.