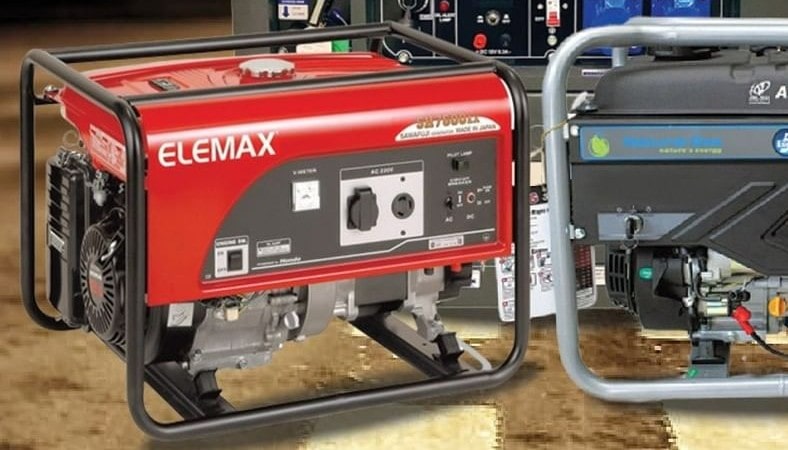 However reliable the power supply in your home is, there is always a moment you need insurance. Weather conditions or power system failures can cause an extended power outage and create lots of problems, from spoiled products in the fridge to the lack of phone connection and idle medical devices. In this article, I will review the best 4000-watt generator I found for myself and describe the alternatives I selected.
Pros
Automatic low oil shutdown
The lightest item on the list, 66 pounds
Great Value
Pros
Automatic low oil shutdown
Best Overall
Pros
The lightest item on the list, 66 pounds
A portable generator seems to be the only way to secure yourself from such surprises. Nevertheless, this tool can serve for more pleasant occasions; it makes trips much safer and more comfortable and allows traveling for longer distances with no need to disturb about leaving the civilization. Finally, you can power household tools when working too far from outlets, in the yard, for example.
Choosing the Best 4000 Watt Generator
WEN GN400i: Lightest 4000 Watt Inverter Generator – Best Overall

No products found.
Here I name trustworthy brands and provide the 5 best 4000-watt generator reviews. These instruments are powerful enough to provide comfortable living in a small cottage, yet, there are several questions about using them. How quiet are 4000-watt generators? Are they portable enough to carry them around? Which one will last the longest? I will answer these questions with the examples of 5 generators I found best among 4,000-watt instruments.
1. DuroMax XP4000S Portable Generator: Generator for Outdoor Work
DuroMax XP4000S portable generator is the instrument I use by myself. I decided to buy this model since it perfectly fits my purposes: it is both compact and powerful. DuroMax XP4000S is 17.5 x 18 x 18 inches and weighs about 100 pounds. It is not the lightest item on the list, yet it's not a problem if you are not going to carry it around.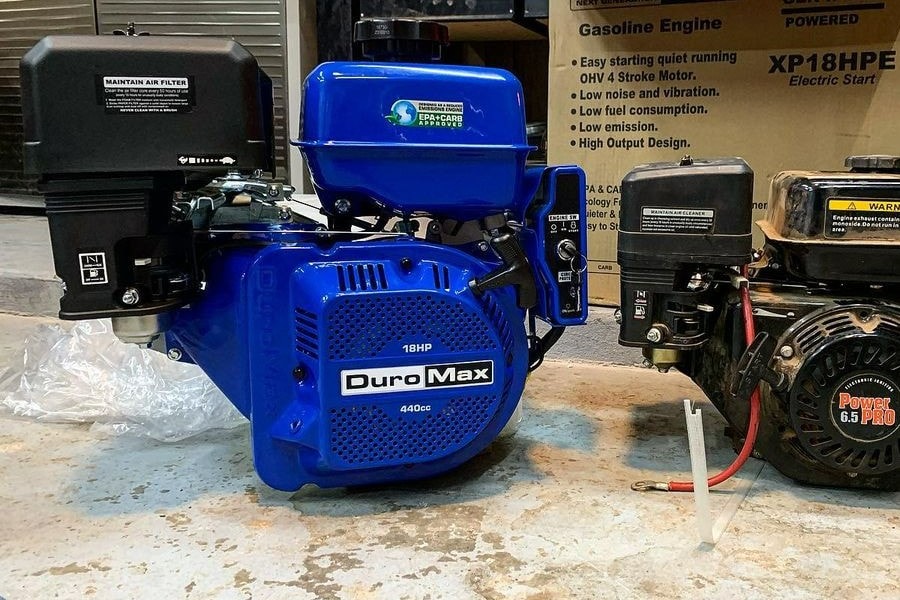 It is equipped with 4 cycle engine which provides 3,300-4,000 watts. Such a machine can cope with heavy loads like lights, refrigerators, or home air conditioners.
However, I don't like buying something just for insurance in emergency cases, so I was looking for a generator that can source household instruments. DuroMax XP4000S handles high amperage power tools, and it is also quite enough for use outdoors in a residential area since the noise level is only 69db.
This model runs for 12 hours at half a load. It provides low oil shutoff, which means the generator stops automatically when the oil level is too low. This function saves the mechanism from wearing out too soon. The power panel includes different outlets ensuring you will find the right one for a few types of plugs.
There are two 120V household outlets and one 120V 30A twist lock outlet. It also features a voltmeter for measuring voltage output.
Pros:
Oil shutoff saves the generator from early wear out;
The power panel provides a 120V 30A twist lock outlet besides two 120V household outlets;
Features a voltmeter.
Cons:
The power panel provides only basic outlets.
2. Westinghouse WGen3600v Portable Generator: Portable RV-Ready Generator
Westinghouse WGen3600v runs longer than DuroMax XP4000S. It can work for 14 hours at full load. 4-Stroke OHV engine. Its running wattage is 3,600 watts, yet the maximum power level reaches 4,650 watts. This generator provides 120 volts for 4 outlets: one 5–20R household duplex receptacle, one TT-30R 30 Amp receptacle, and one L5-30R 30 amp receptacle.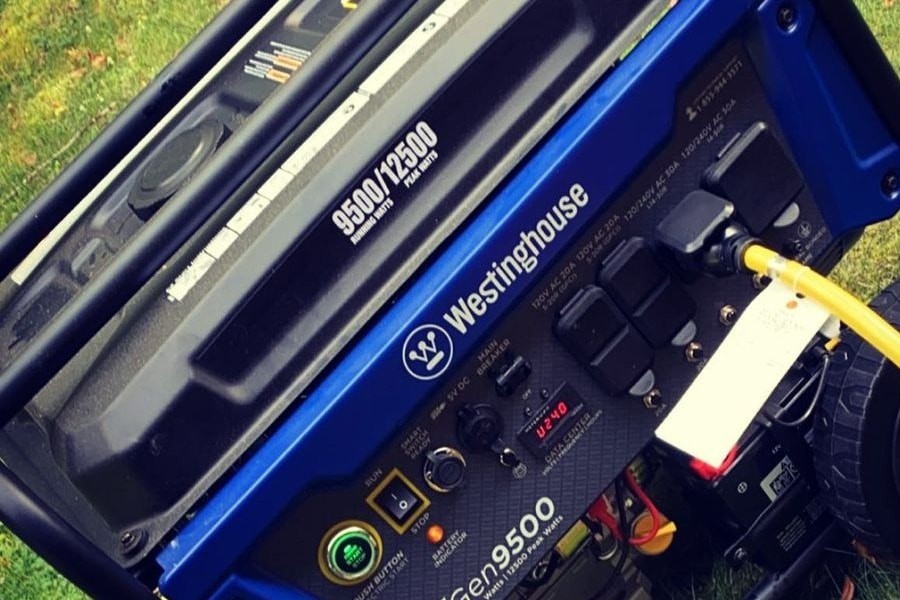 TT-30R makes the biggest difference from the previous item since this outlet makes the generator suitable for powering a trailer. The small detail I liked about this machine is the rubber covers over every outlet, which makes it safer to work outdoors.
As well as the previous item, Westinghouse WGen3600v is equipped with a durable cast iron sleeve, and it features automatic low oil shutdown to prevent the engine from wearing out. It also has a built-in fuel gauge. Compared to the previous generator, it is slightly bigger (23.3 x 17.5 x 18.7 inches), yet Westinghouse WGen3600v weighs fewer and is 95 pounds. It comes with oil, an oil funnel, and a tool kit and requires minimum assembly.
Pros:
Automatic low oil shutdown;
Long runtime (14 hours);
Rubber covers over the outlets.
Cons:
Might be difficult to start it.
3. WEN GN400i: Lightest 4000 Watt Inverter Generator
Unlike the two previous items on the list, WEN GN400i is an inverter generator which means they alter in work principle, so the characteristics are also fundamentally different. The main difference between these 2 machines is the type of power: traditional generators produce direct current, while inverters turn the direct current into alternating current.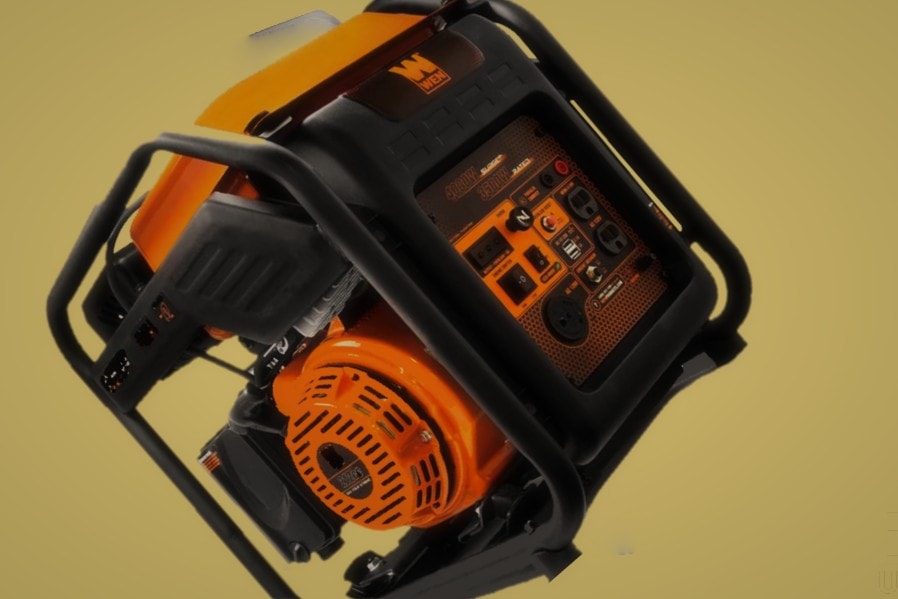 It allows using inverter generators in specific cases, for example, to operate sensitive electronics such as phones, tablets, televisions, and laptops since the alternating current is cleaner than direct.
Inverter generators are famous for being lighter and smaller than ordinary ones. WEN GN400i weighs only 66 pounds and is the lightest on this list. They also make much less noise. This instrument includes two 120V NEMA 5-20R receptacles, two 5V USB ports, and one 120V RV-ready TT-30R receptacle.
You might think these properties make WEN GN400i perfect for traveling, yet consider its runtime of only 7 hours. It's enough for outdoor work, but might be inconvenient for going for long distances.
Pros:
The lightest item on the list, 66 pounds;
Various outlets, including two 5V USB ports;
Quite, fits outdoor work in the residential area.
4. Champion Power Equipment 100302: Quiet 4000 Watt Generator for RV
Champion Power Equipment 100302 is also an inverter. It starts at 4,000 watts but has 3,500 running watts. It is heavier than WEN GN400i. This model weighs slightly more than 80 pounds; however, it is still easier than an average traditional generator. The main advantage is its runtime: Champion Power Equipment 100302 works for 17 hours at 1/4 load.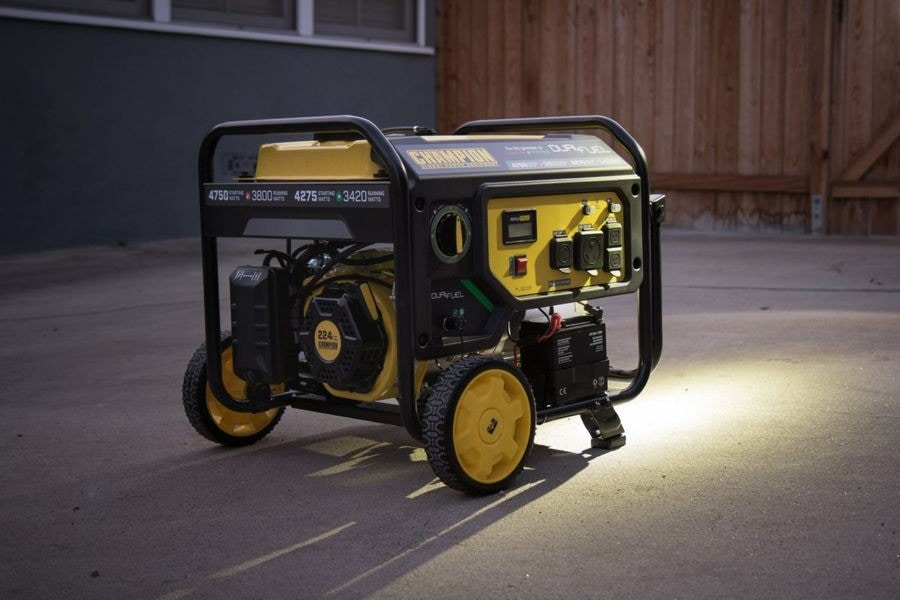 It is equipped with various outlets: a 120V 30A RV, two 120V 20A household outlets with clean power (less than 3% THD), and a 12V DC outlet with a dual USB adapter. The long runtime combined with a set of different receptacles, including 120V 30A RV, makes Champion Power Equipment 100302 perfect for traveling.
One of the main advantages inverters have is a low noise level. Champion Power Equipment 100302 is 64 dBA loud, quieter than a vacuum cleaner. This machine suits both for traveling and in residential areas. This model is parallel ready, which means you can connect up to two 2,800-watt or higher inverters if you need to increase the power.
On the other hand, Champion Power Equipment 100302 provides an economy mode that follows the power consumption and reduces the load when necessary. It allows fuel economy and delays engine wear down.
Pros:
Runs for 17 hours, which is the highest figure on the list;
Parallel ready: you can connect other inverters to get more power;
Economy mode saves the engine from wearing down;
Low noise level: it is quieter than a vacuum cleaner.
Cons:
Might be difficult to maneuver.
5. Durostar 4,000 Watt 7HP: 4000 Watt Portable Generator for Home Use
No products found.
Durostar 4,000 Watt 7HP is an easy-to-use machine perfect for simple outdoor tasks. It has a 7. 0-horsepower air-cooled overhead valve engine with a recoil start. The engine provides constant 3,300 running watts and 4,000 peak watts, and 8 hours of runtime at 1/2 load. This model shuts off automatically when the oil level is too low.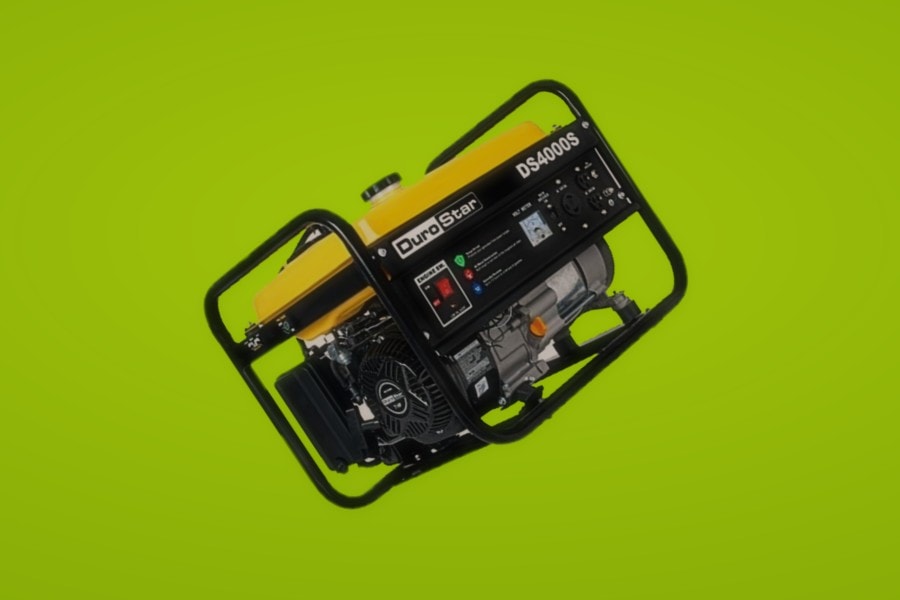 This function is essential to save the engine from early wear down. The power panel features a set of basic outlets: 2 120V household outlets and one 120V 30A twist lock outlet.
The frame is made of heavy-duty steel and 4-point motor mounts. They are fully isolated to make as little noise as possible. Durostar 4,000 Watt 7HP sounds like an ordinary generator, and the noise level is 69 dB. This model mainly suits home purposes as it weighs 420 pounds, which is too heavy to carry around. However, an optional wheel kit for more portability is available if it meets your other requirements.
Pros:
Automatic low-oil shutoff;
Durable heavy-duty steel frame;
A wheel kit is available.
Cons:
Weights 420 pounds, too heavy to transport.
Buyer's Guide
Before buying any instrument, you should consider 2 aspects: which characteristics matter to you most and where you will use and store it. Here are brief answers I formulated while looking for a tool for my purposes.
Factors to consider when buying a generator
The main parameter you need to focus on is the amount of power you need. In practice, wattage shows where a generator can be applied. For example, 1,000 watts are enough to power household appliances like a vacuum cleaner or a refrigerator. A generator with 4,000 watts can power an electric water heater or a good pump. You need to focus on some more characteristics before choosing a particular tool.
Gas vs. diesel
The type of fuel is the next thing that describes the generator. Gas-powered generators can be connected to a gas line and become a reliable power source. It is also important that natural gas tends to cost less than diesel fuel, making it a profitable fuel. On the other hand, such generators demand more maintenance than diesel-run, which leads to higher maintenance costs.
Considering that gas-powered generators have a shorter lifespan, it might sometimes cast doubts on their value.
Diesel generators are safer than gas-powered, and they are less explosive and flammable. Generators of this type weigh less; they are smaller and more portable. This type of equipment also requires less maintenance. However, they tend to be more expensive. Diesel might be less available than gas since it is more affected by price fluctuations.
The other flaw is their noise level; diesel-powered generators are louder than those powered by gas, which might cause some trouble if you need to work in a residential area.
Noise level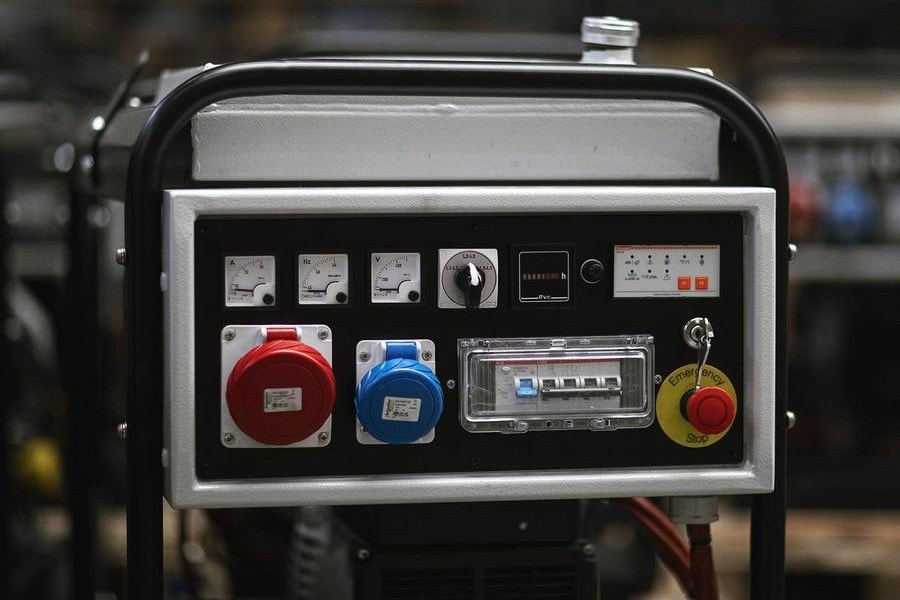 The noise level might be restricted in some areas. Average generators follow the standard 70 dB(A) heard at 23 feet. However, depending on the location and the kind of work, you might need a machine that reduces the sound.
Runtime
The optimal runtime for any generator is about a typical workday. Fewer hours might mean you will need to interrupt your work to refuel the instrument, but too long a runtime is unfounded.
Tips on using generators
A generator is probably not an instrument you use every day. However, this tool is a lifesaver in extraordinary situations such as storms or power outages. You might also find it helpful if you prefer corded tools like leaf and snow blowers and have to use them on large sites.
The most critical reason people use generators is the need to run a medical device.
A general power supply might be reliable enough, yet, you always need insurance if it concerns your health.
The biggest problem with power outages is always a fridge; a generator might save the products from spoiling.
Portable generators make camping more comfortable, bringing bits of civilization to the site. If you are going to spend more than a day, it is better to have the possibility at least to charge your phone in case of emergencies.
Any electric tool requires an accurate following of the safety rules, especially such complex equipment as generators. Acquainting the instruction is no less important than choosing the right equipment mainly because you need to know if it is possible to follow the rules of usage and storage in your conditions.
Keep it dry. Avoid using or storing it on wet premises. Don't use it during rain, mist, or high humidity. Work only on dry surfaces and never touch the machine with wet hands.
Before refueling the generator, turn it off and make sure it has cooled down. If fuel contacts hot surfaces, it heats up quickly and can ignite.
If you can't plug an appliance straight into the generator, use an extension cord that fits the outdoor work and ensure its wattage equals the sum of the connected appliance loads.
From time to time, check if the cord is intact, control the condition of the plugger's prongs, and pay extra attention to a grounding pin.
Store fuel out of the house in the locked shed. To prevent accidental fire, don't store it near a fuel-burning appliance, such as a natural gas water heater in a garage.
FAQ on Choosing a Perfect Generator
However essential rules and instructions are, there are always practical questions they can't unravel. To be sure you won't waste money on the model that doesn't meet your needs, get a clear understanding of how you will use it, figure out what appliances you will connect, taking into account the electric tools you are only going to buy.
What can you power with a 4,000-watt generator?
A generator can power a number of appliances, and to understand what you can power with a 4,000-watt generator, learn how many watts every device you want to plug in requires. For example, with such a generator, you can power one electric water heater, 4 hammer drills, or 8 laptops.
4,000-watt generator – how many amps is that?
As a rule, a 4,000-watt generator provides 33.3 amps if the electric pressure is 120 volts. In case electric pressure is 240 volts, the instrument provides approximately 16.6 amps.
Is the 4,000-watt generator loud?
Generators with the same wattage can produce different noise levels since this parameter depends on wattage and some characteristics. The 4,000-watt generator can make noise from 50dB to 75dB.
Which Generator Fits Your Needs Best?
No matter what your purposes are when choosing a generator, there are several parameters you should keep in mind. Take into account all the devices you are going to plug in and check the set of outlets to choose the right one. I selected DuroMax XP4000S portable generator since it is reliable insurance for emergency cases and suits routine outdoor work.
Are you looking for a generator to power your house in case of emergency or to travel with? What are the most important parameters for you? Please share in the comments.