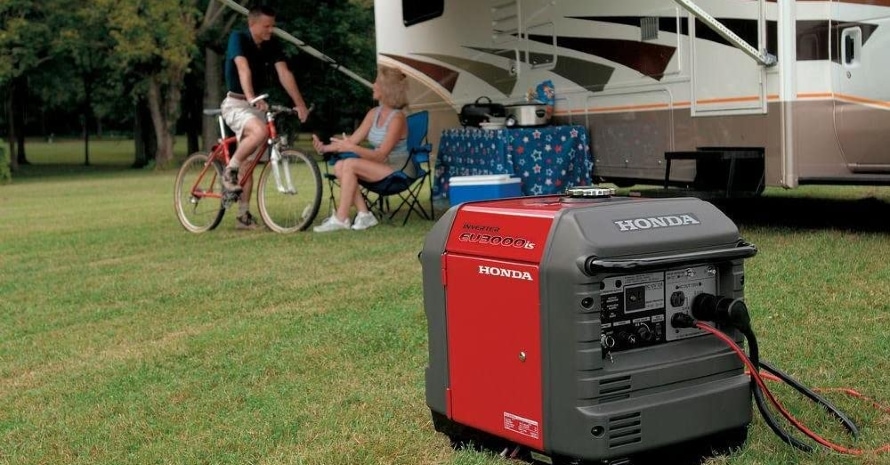 Many people don't know how to pick the best 3000-watt inverter generator properly. They give priority to the price instead of paying attention to the quality and power. The noise level is also vital when it comes to inverters, as well as the smoothness of their work.
Unlike 2000-watt generators, these models are more powerful and reliable. They might be helpful during outages and when you decide to travel in the wild. Extra power and portability are what make 3000-watt inverters so appealing to customers. In these 3000-watt generator reviews, I have gathered my favorite products. I have checked most of them by myself, while I've seen other models in the houses of my friends and colleagues.
7 Best 3000-watt Inverter Generators Reviewed
Check out my top-7 favorite generators of 3000 watts, which proved to be trustworthy. You will find detailed descriptions of all seven 3000W inverter generators, including their cons.
1. Champion – Best 3000-watt Generator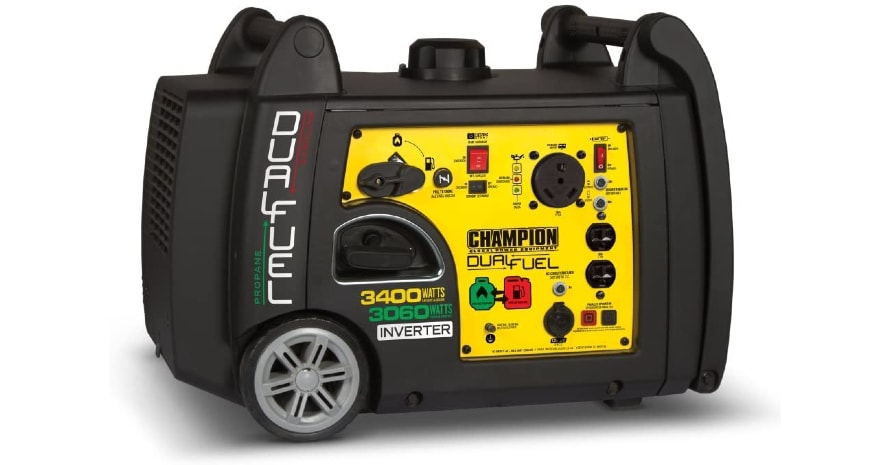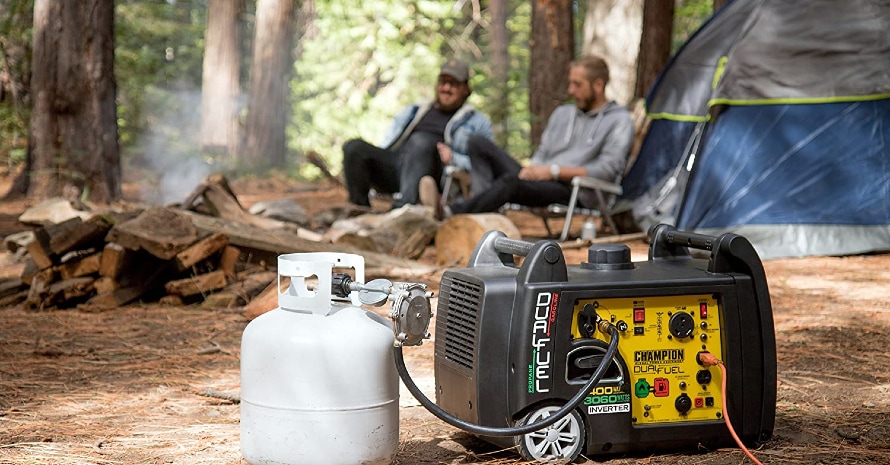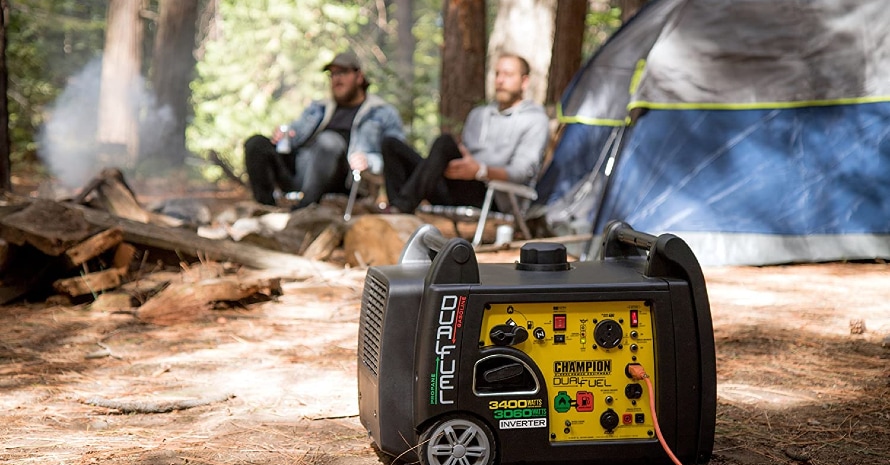 Champion combines 3400-watt power with dual fuel in this top device. You can use propane or gasoline. The generator holds up to 0.6 quarts of oil. Whenever you run out of it, the automatic sensor shuts off preventing further damage. Since this generator weighs 95.7 pounds, you can't underestimate its two small but helpful wheels. There is a handle if you feel that you want to carry it around.
Specifications:
Voltage: 120 Volts
Item Weight: 95.7 Pounds
Runtime: 7 hours
Engine Type: 4-stroke 192cc OHV
Item Dimensions: 25.1 x 17.3 x 18.3 inches
What's included:
This 3000-watt inverter generator with an electric start is simple to use. All the buttons you need are located on the panel in front of you, including the ignition switch. The noise level is 59 dBA, which is slightly louder than high-quality 2000-watt generators but still not too overwhelming. The run time of this generator on gasoline is nearly 7.5 hours. The clean power is good enough for sensitive electronics such as laptops and conditioners. Buying this top-quality item, you also get a 3-year warranty from Champion.
---
PROS:
3400 starting watts;
Dual fuel;
Automatic shut-off sensor for low oil level;
Clean power for sensitive tools;
The noise level is 59 dBA.
CONS:
Slightly more expensive than other generators on the list.
---
2. Generac – 3000-watt Inverter Generator with PowerRush Technology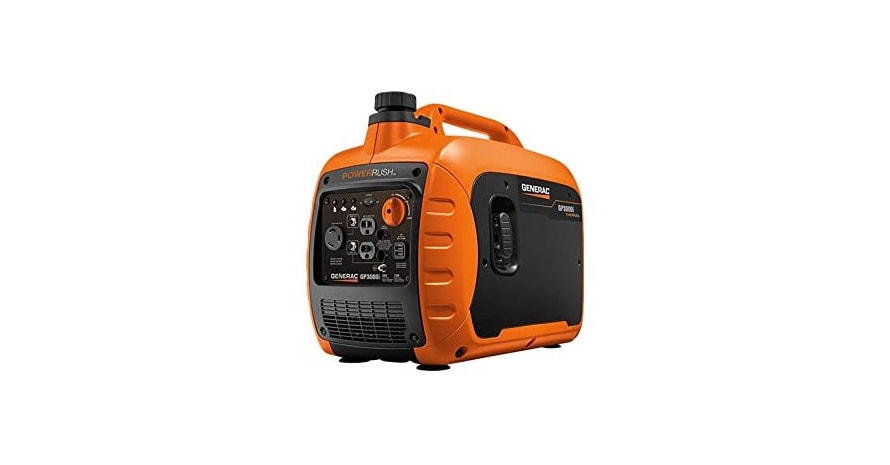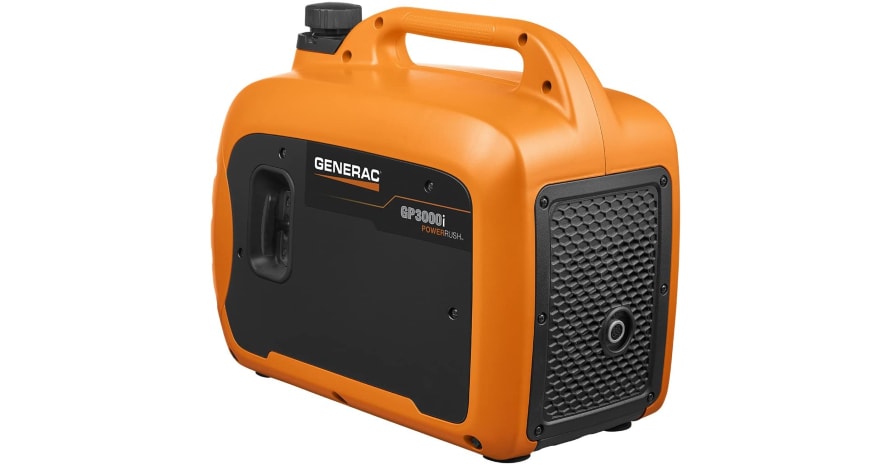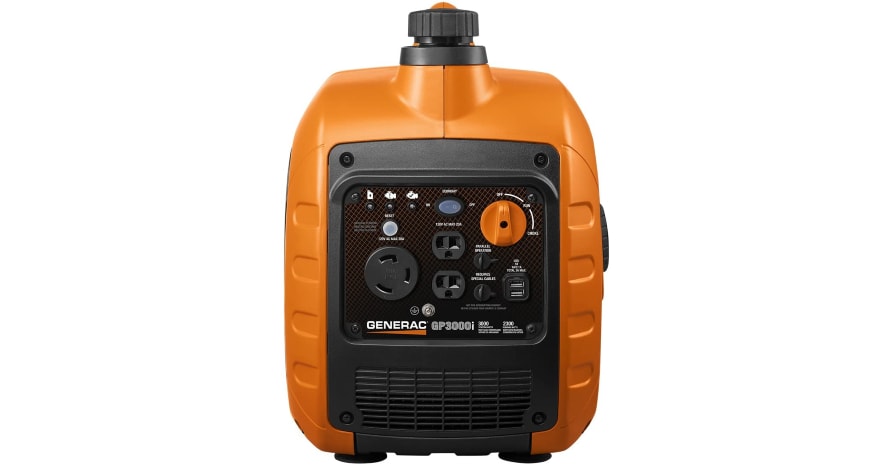 Generac is a Wisconsin-based manufacturer that creates reliable electronic tools and generators. So, when they revealed this model, I bought it without thinking twice. It weighs 59.5 pounds, which I still find not really convenient considering the lack of small wheels. This is the single complaint I have. On the other hand, the model offers more than 50 percent of starting capacity, which works splendidly for me. The device works quietly for the user's convenience.
Specifications:
Voltage: 18.5 x 10.2 x 15.7 inches
Item Weight: 36.3 Pounds
Runtime: 5.5 hours
Engine Type: OHV Portable
Item Dimensions: 18.5 x 10.2 x 15.7 inches
What's included:
The 3000-watt portable generator from Generac can be attached to others by parallel connection if you need it. However, you have to buy a parallel kit separately since it is not included in the pack. The device also has 2 USB ports. The main panel with all the buttons is intuitive and easy to reach. It provides 2300 running watts. The clean power allows you to use the generator with different sensitive gadgets. As for the fuel, you will need gasoline to run it.
---
PROS:
More than 50 percent of starting capacity;
Two USB outlets;
Intuitive control panel;
Well-known developer;
Reasonable price.
CONS:
No wheels for easy transportation.
---
3. Briggs & Stratton – Quiet and RV Ready Professional Model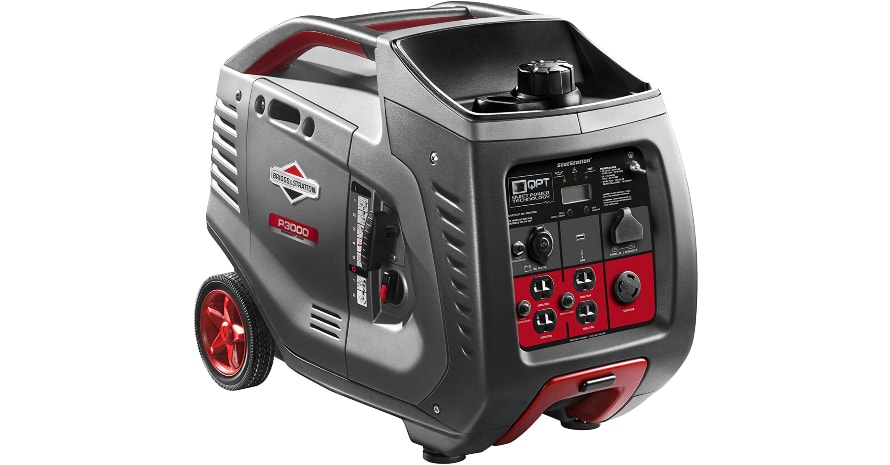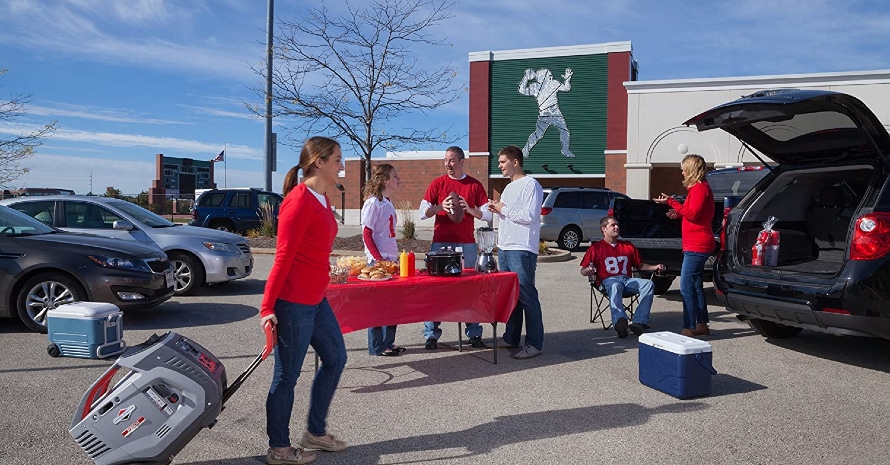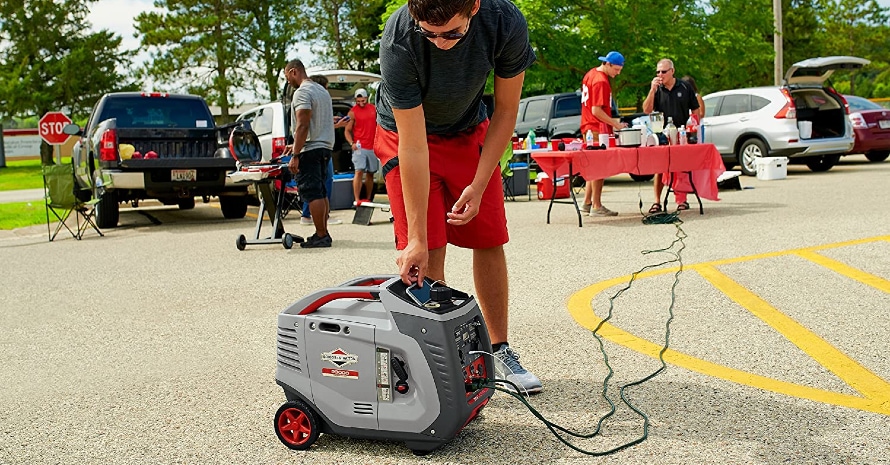 This Briggs & Stratton generator has a comfortable LCD and all the ports and buttons you need in front of you. It provides 3000 starting watts and 2600 running watts. The developers offer models with the capacity of 2200 watts, 2400 watts, 4500 watts, and 6500 watts. If you need to run the RV and charge electronics, I recommend starting with 3000 watts. This model is slightly heavier than others but it has two durable wheels attached and a long telescoping handle for your convenience.
No products found.
Specifications:
Voltage: 120 Volts
Item Weight: 84 Pounds
Runtime: 10 hours
Engine Type: OHV, 111cc
Item Dimensions: 26 x 14 x 21 inches
What's included:
Quick start guide

oil

tools 

battery charger cord
According to the developers, this model is 60 percent quieter than any other standard generator. Yet, it produces 58 dBA, so I believe it is similar to other models on my list. It works up to 10 hours at a 25-percent load of the 1.5-gallon tank. This 3000-watt generator is a quiet tool with a permanent magnet as an alternator. The power is clean and steady. There are 4 household outlets, a USB port, and a 12 V 30 amp locking outlet on the panel.
---
PROS:
Quiet performance;
Multiple outlets;
Wheels and telescopic handle;
10 hours run time at 25 percent load;
Intuitive display.
CONS:
Its 2600 running watts might not be enough for the entire household.
---
4. Honda – 3000-watt Gas Generator for Home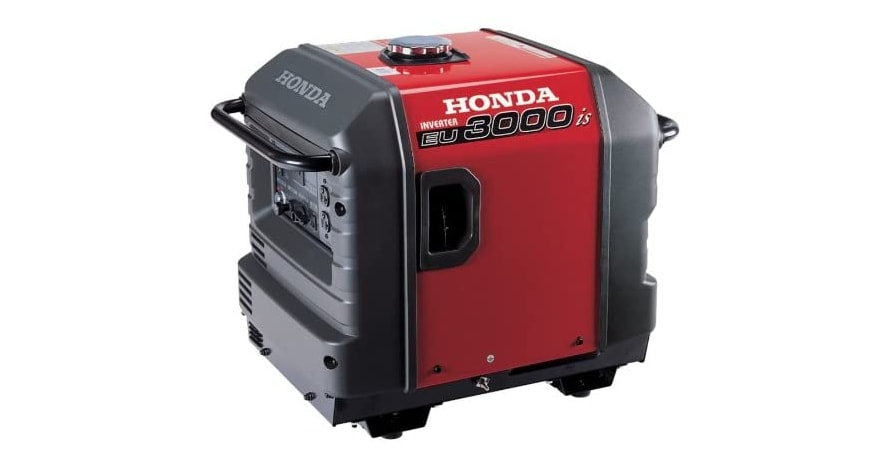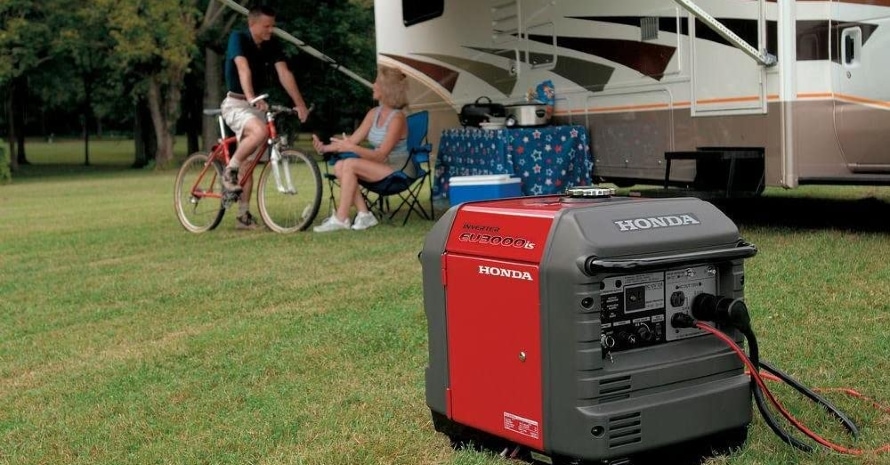 This is a portable 120V generator with the incredible ability to run 20 hours in a row. There is a 3.4-gallon fuel tank which I recommend filling with high-quality gasoline. This model is popular around the USA since it works quietly and reliably. It can produce from 49 dBA to 58 dBA noise levels, which is great news to anyone who lives with extra sensitive neighbors.
Specifications:
Voltage: 120 Volts
Item Weight: 144 pounds
Runtime: 19.6 hours
Engine Type: 4 Stroke
Item Dimensions: 21 x 28 x 28 inches
What's included:
The model features 2800-watt running power, which you can use to feed a TV, a microwave, a fridge, conditioners, and other electronics in the house. The panel on the generator is pretty straightforward even for a complete amateur since all the buttons and ports are signed. It can also be connected to other generators by parallel cables, which you have to buy additionally. In my opinion, the main disadvantage is its 144 pounds weight, yet there are wheels to roll it.
---
PROS:
Produces only 49- 58 dBA of noise;
20 hours run time;
Stable inverter work;
3.4 gallons tank;
Low-level oil alert.
---
5. Predator – 3000-watt Portable Generator on Wheels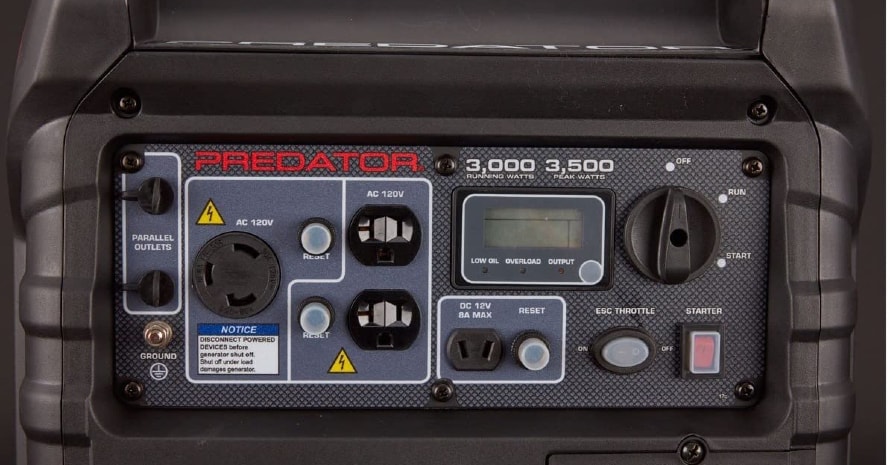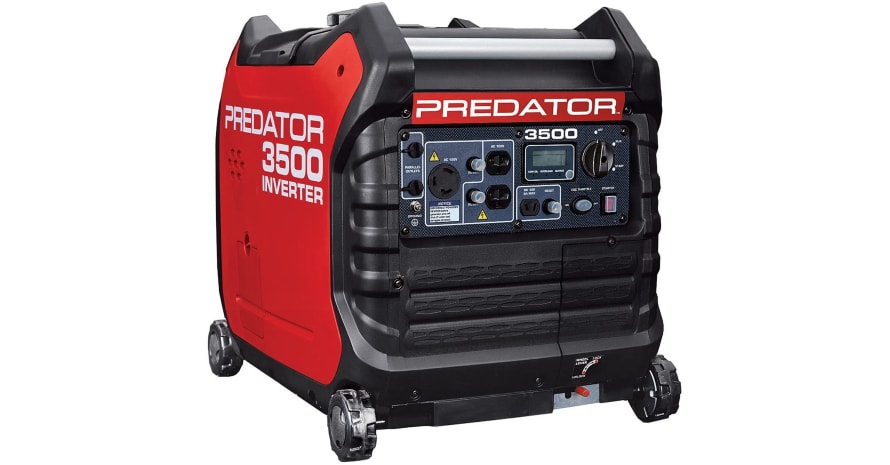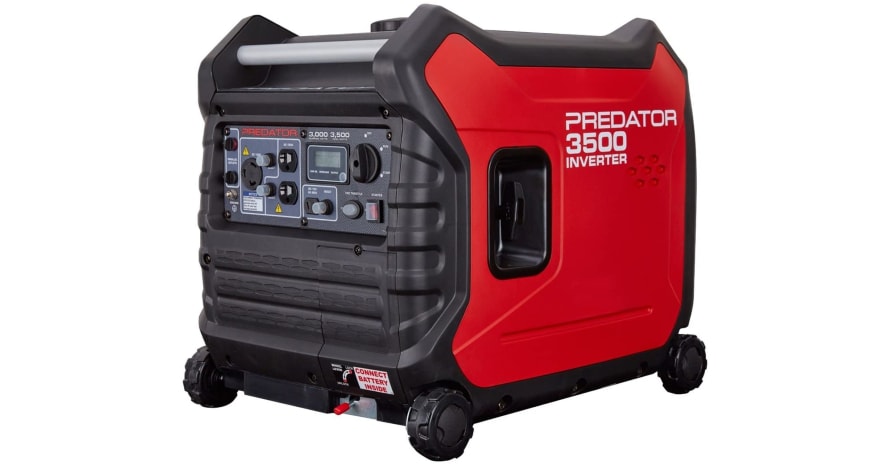 This model offers 3500 watts of start power. It runs on a 212 cc OHV gas engine, equipped with an air cooler. At 25 percent of fuel, this generator can work for 11 hours. To make sure you don't run out of fuel, check for the LCD Digital screen on the panel. There are also light indicators of output and overload to extend the life of this product. Check them out to avoid any problems that might appear.
No products found.
Specifications:
Voltage: 20 Volts
Item Weight: 107.8 pounds
Runtime: 11 hours
Engine Type: 212cc air-cooled OHV
Item Dimensions: 22.75 x 17.3 x 20 inches
What's included:
While the generator is 110 pounds and might be too heavy to carry around, you may roll it on never-flat tiring wheels. It is great for both camping outdoors and working in the field, in case you use electric tools. During the outage, all you need is to start the engine. As for the noise level, the device produces 57 dBA and is unlikely to be heard in the house nearby. There is a parallel connection available for those who want to increase the power.
---
PROS:
Simple to start;
3500 watts of start power;
Protection from overload;
Provides 11 hours of run time at 25 percent capacity;
LCD digital screen.
CONS:
The wheels are not of high quality.
---
6. Firman – Portable 3300-watt Model with Recoil Start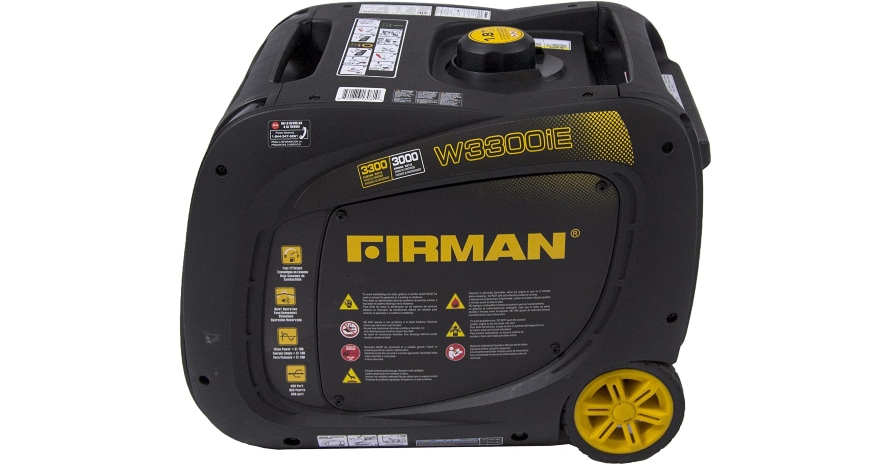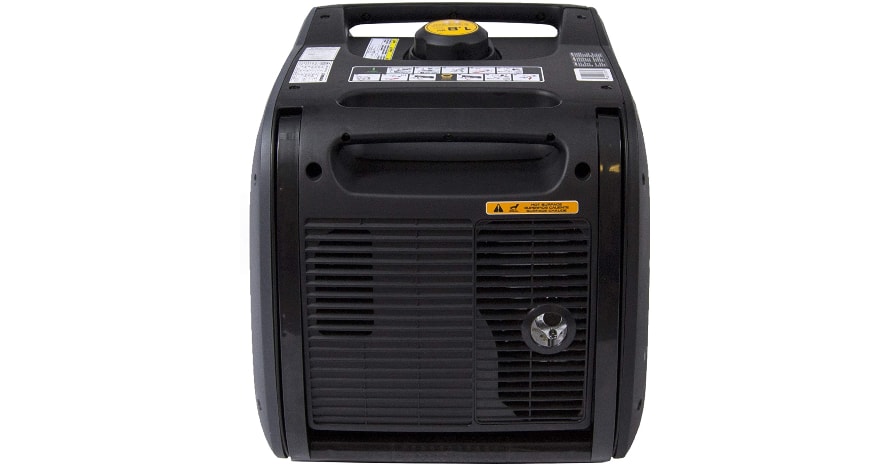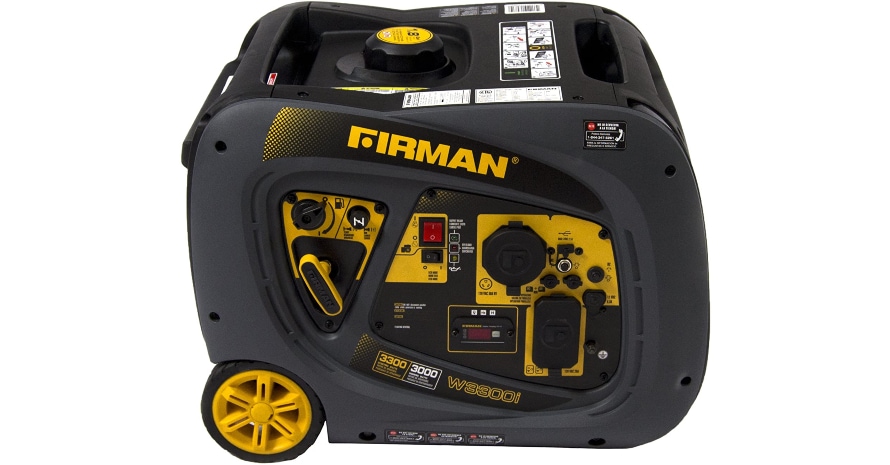 This model by Firman looks rather futuristic if you ask me. Yet, it is one of the most powerful generators on the list. It provides 3300 watts in the recoil start and contains a fuel tank of 1.8 gallons. And the best part, it weighs only 94 pounds. It is California Emission Certified and is perfect for camping and other outdoor work. Though this tank might not be the biggest one on the list, it is enough for 9 hours of running in a row. You have to carry gasoline with you if you want to extend the working hours. You can also increase the power by using the parallel connection in case you have a cable.
Specifications:
Voltage: 120 Volts
Item Weight: 94 Pounds
Runtime: 10hrs
Engine Type: 171cc Firman engine
Item Dimensions: 26.6 x 18.9 x 19.3 inches
What's included:
A number of decibels are certified by the National Park authorities. It works quietly, with a 59 dBA noise maximum. I also enjoy the fact that there is an eco mode in this generator. You can use it to cut fuel emissions and to benefit from all the efficiency of the amount of gas you have. It provides clean power for your sensitive gadgets like TV, computer, or phone. There is a Firman volt lock voltage regulator. The warranty grants you 3 years of service. All the buttons are located in front of you, on the panel.
---
PROS:
3300-watt start power;
Quiet work;
Compatible with other generators;
An eco-friendly mode that saves fuel;
Affordable price.
CONS:
Possible issues with starting it for the first time.
---
7. Westinghouse – Powerful Outdoor CARB Compliant Generator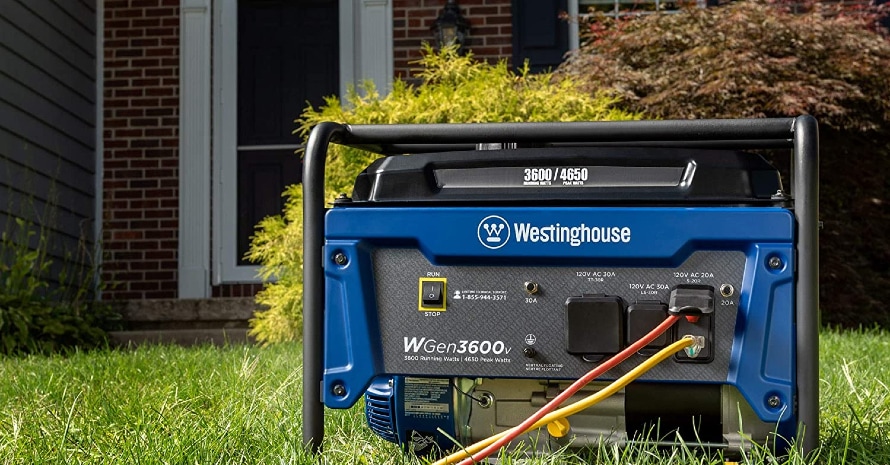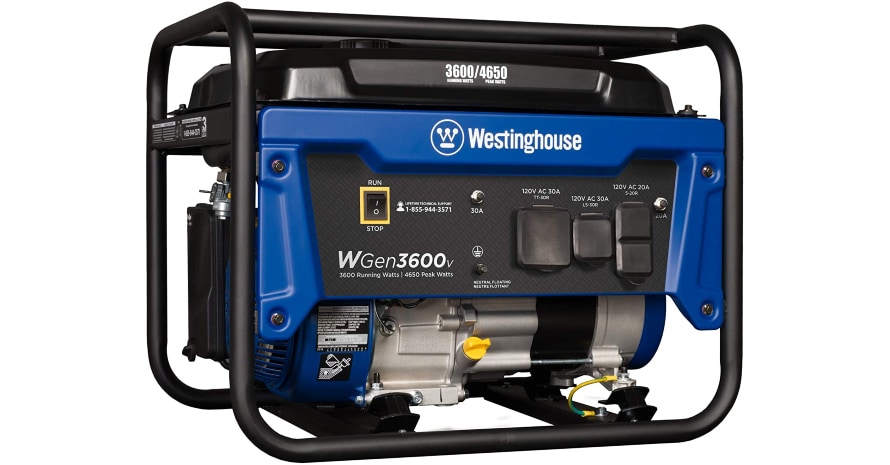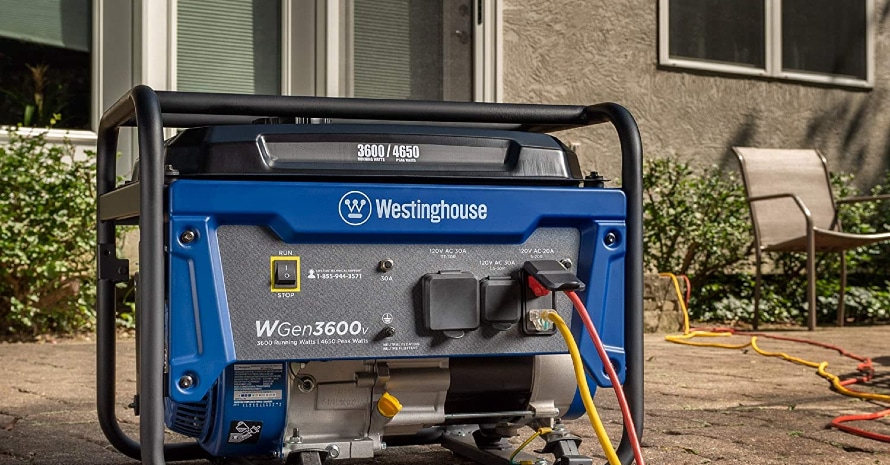 This portable conventional generator works steadily and quietly, producing only 68 dBA. Therefore, you might consider it a nice alternative to inverter models. This generator is powered by gasoline, which you should add to a 4-gallon fuel tank. It provides 3600 watts. The device is equipped with a 4-stroke engine. It weighs 99 pounds but does not have wheels attached. The panel is pretty comprehensible with the engine shut off in front of you.
Specifications:
Voltage: 120 Volts
Item Weight: 98.8 pounds
Runtime: 14 hours
Engine Type: 4 Stroke
Item Dimensions:23.3 x 17.5 x 18.7 inches
What's included:
WGen3600v

Oil, Oil Funnel

Assembly Tools

Quick Start Guide

Manual
This generator features 4650 peak watts, which makes it one of the most powerful items on the list. With such a big tank, you can run the generator for 13.5 hours in a row. The tank has a fuel gauge to prevent any problems with the lack of fuel. There are several outlets, all with rubber covers. It works splendidly for any outdoor project with TT-30R 120V 30 A outlets for travel trailers or RVs. And while I don't like the idea of carrying the device around my yard, I like its solid, reliable construction with a hardened steel frame and rubber protection for every electric outlet. I also trust Westinghouse company for its 130-year history and flawless reputation on the market.
PROS:
3600-watt run power and 4650-watt peak power;
Protective rubber covers;
Multiple outlets;
Runs for 13.4 hours;
Well-known developer.
CONS:
No wheels and the weight is 99 pounds.
---
Buyer's Guide on 3000-watt Inverter Generators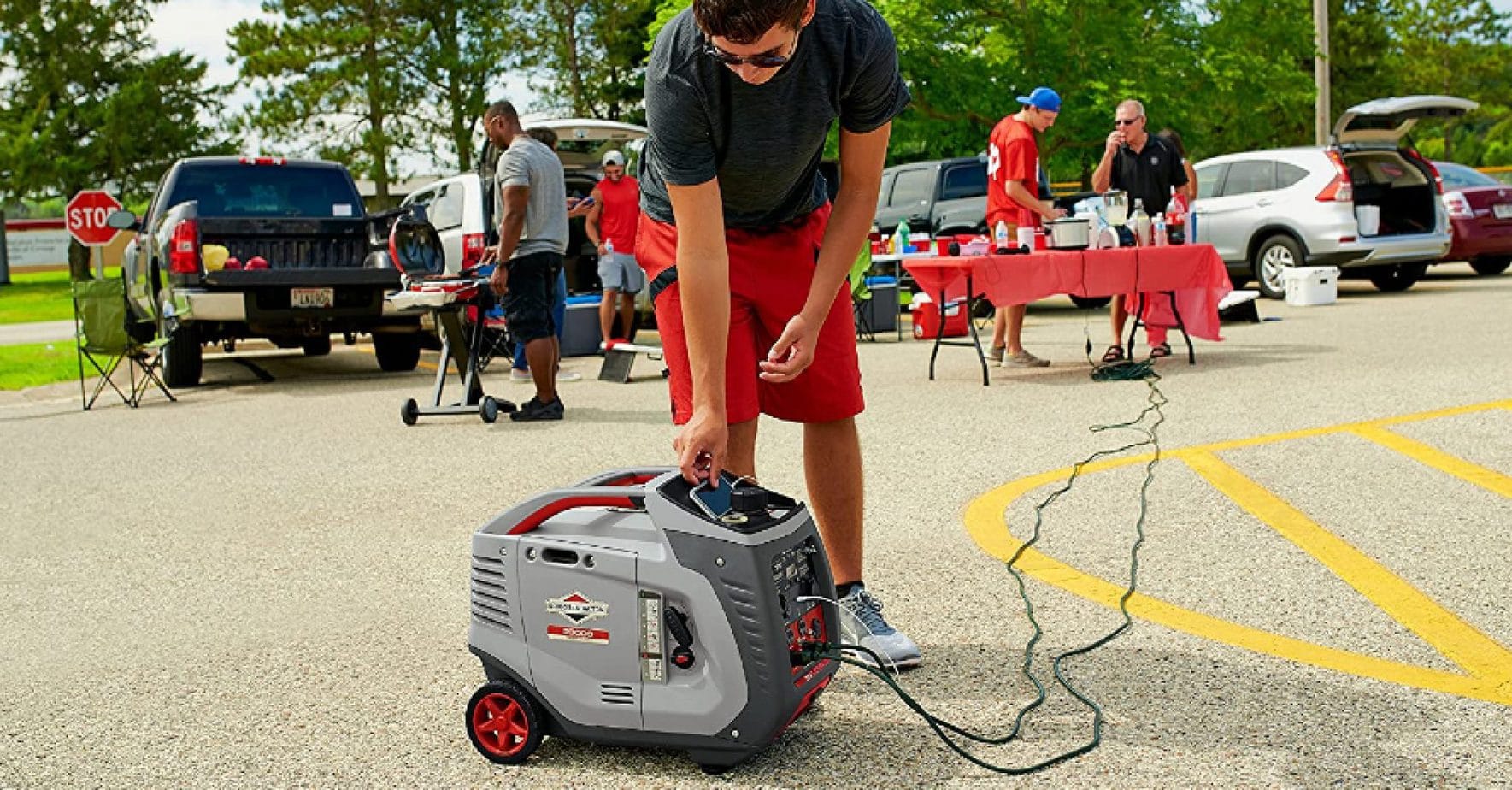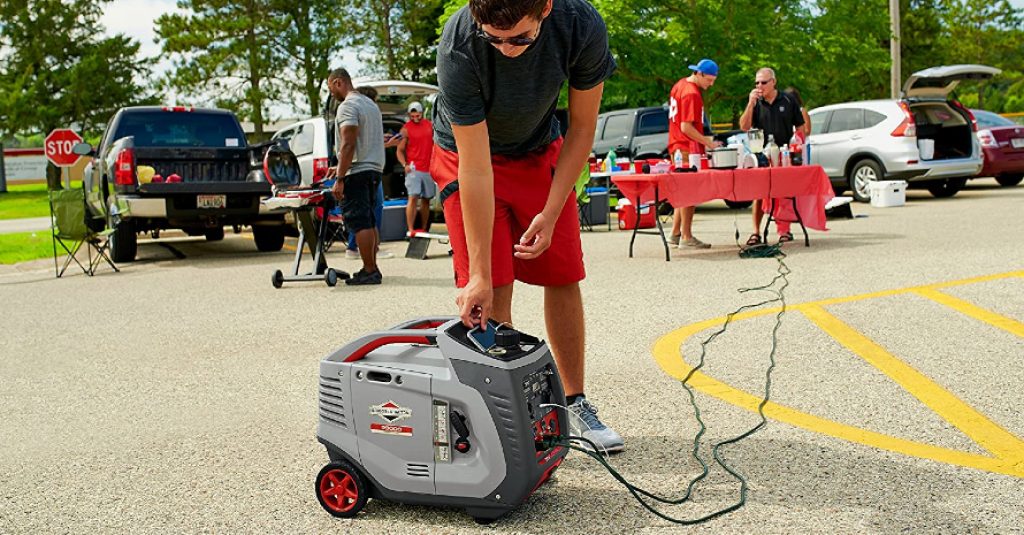 I hope you have already decided on the generator you need. Otherwise, make sure you are familiar with all the options offered on the market. My list contains only top-rated models to meet any demand. But you still have to consider the features you prioritize.
What is an inverter generator?
Inverters usually throttle the engine electronically with a specific frequency, but not all the time. It means that you receive enough hours of use with less gasoline consumption. Inverter generators are steady and reliable, with clean power. They work more quietly compared to simple generators and produce fewer emissions. Inverters use the DC source for power, converting it into AC power.
What to look for when choosing an inverter generator?
Pay attention to the features you have to search for in the first place. They are all vital when it comes to choosing inverter generators of 3000 watts. Think about the features you need the most:
Where you will use it. You should have an exact plan for your generator before you buy it. If you want to use the device during your camping trips, it must be portable and lightweight. The wheels might be beneficial in this case. The same goes for outside work. If you want to use it at home or on RV trips, consider heavier and less portable models. You will not move them much anyway. If you intend to move to another state, check the gas emissions allowed there;
Runtime. The 3000-watt inverter generator offers extended runtime compared to 2000-watt models. They can provide you with 9 hours of work, or even 20 hours, depending on the tank's size. Consider the time you require the generator to work. Usually, manufacturers define the run time for a 25-percent full tank;
Noise level. Inverter generators usually run quietly. The loudest of them do not reach 60 dBA. Still, you have to check this for every model. The average generator on my list produces 58-59 dBA. You have to find out the noise regulations if you go to the park. Sometimes, the acceptable noise level is too low;
Price. The price for high-quality inverter generators with a 3000-watt potency usually starts from $800 and goes up to $1500. Don't overpay for the device, especially if you don't know much about the developer and can't find any reviews on the Web.
FAQ About 3000-watt Inverter Generators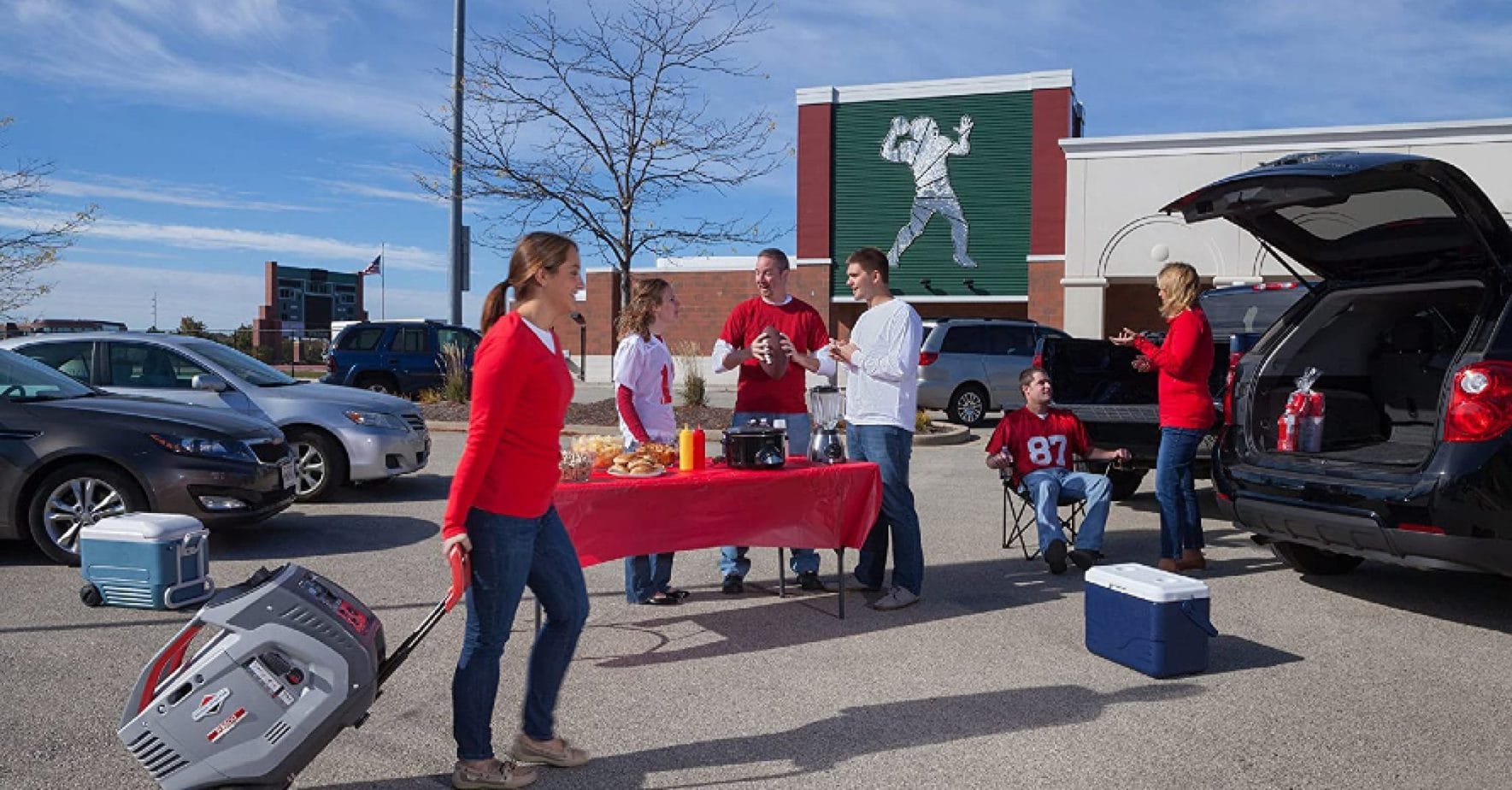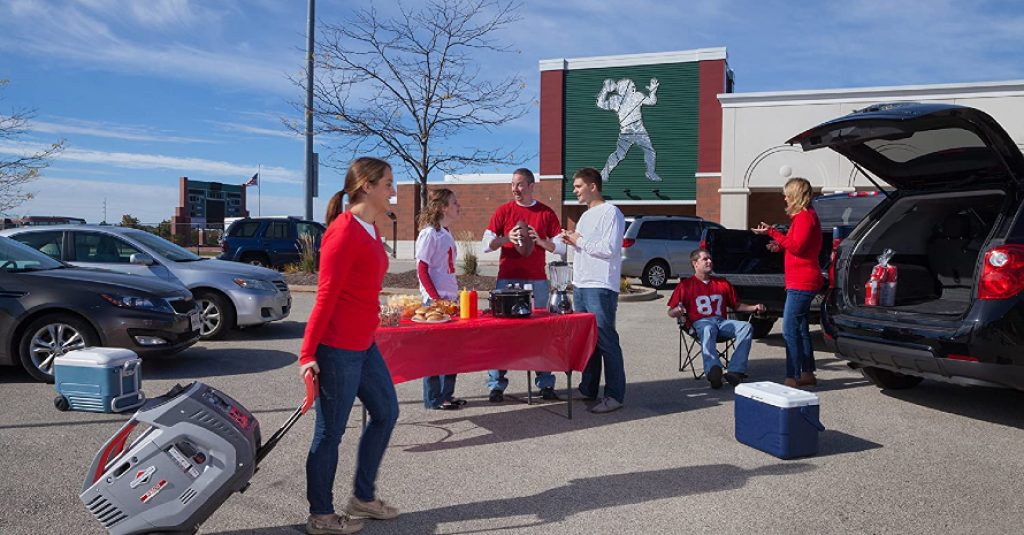 If you are still doubtful about the generator you want, these questions might be helpful. I have answered them to provide you with more useful information about such generators.
What can you run on a 3000-watt inverter generator?
If you know how to connect the portable generator to the house, you can run all your electric objects. They are incredibly popular among travelers since you might run travel trailers with their help. Such a generator can feed a fridge, an air conditioner, a TV set, a laptop, a phone, and any lamp in your house. You also can use it to feed the power tools. It really depends on the clean power it provides. You can't feed sensitive gadgets if the power of the device does not run smoothly without a voltage drop.
What is the quietest 3000-watt inverter generator?
All the inverter generators work more quietly than classic generators. The average level of noise is 60 dBA. However, I have gathered generators that are even quieter than this level. They can produce 55-59 dBA, depending on a particular model. There is a Honda Power Equipment EU3000IS on the list that provides only 49 dBA. Before you buy any model, check out the level of noise that is allowed in the area you are going to use it in. The level of noise allowed in your place might be found on the Occupational Safety and Health Administration website.
What can a 3000-watt generator be used for?
As I have already mentioned, you can easily run every electric object in your house with the help of this generator. It is powerful enough to feed an air conditioner and fridge. You can also use this generator for travel trailers and camping. I use several of them. One generator is always helpful in the barn to run power tools outside the house. I also keep another model in the basement for a power outage, and the third one is for road trips and camping.
Inverter Generator of 3000 watts for Your House
You might pick several options for your personal use, as I did. I have described these items on the list. If you need only one generator, pay attention to its features, noise level, power, and run hours. You might also require it to be portable, depending on the purpose of the model. If you have used any of the generators on the list, don't hesitate to write your opinion about it. How long have you been using it? Do you find the generator helpful? Did you have any problems with it? And the most frequently asked question here is: where do you use the generator?