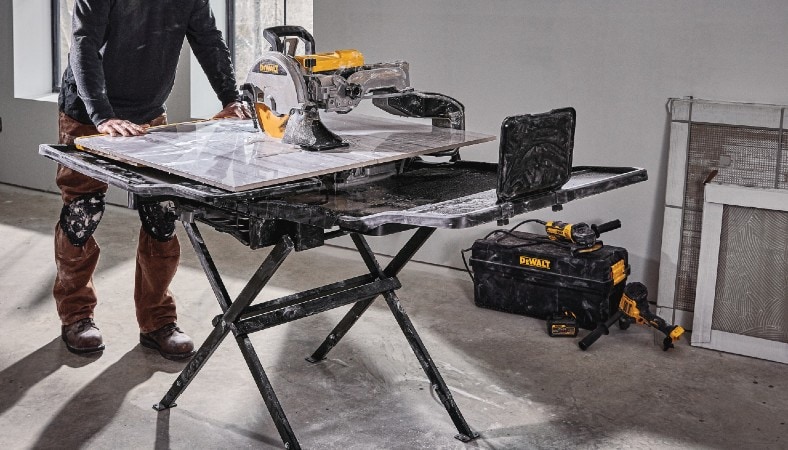 Tile saws are rather narrow tools that rarely interest even the most avid DIYers. Nevertheless, this type of saw is extremely useful when it comes to all sorts of works that involve tiles and stone cutting. These saws always use special diamond-coated grinding blades that don't rip the material and provide a relatively smooth finish without chipped edges. If that's something you need, my guide will help you choose the best professional tile saw available for your needs.
Pros
Large cutting capacity (up to 24″)
Features a unique silica dust vacuum and dust filter
Great Value
Pros
Large cutting capacity (up to 24″)
Premium Pick
Pros
Features a unique silica dust vacuum and dust filter
Below are the comprehensive explanations of all tile saw types, useful expert tips, and my answers to the most buzzing questions of my readers who have been choosing a tile saw for their works before. In addition, I provide my own reviews of the 8 most reliable pro-level tile saw models that I tested on my own projects. My personal leader is the 10-inch DEWALT D24000S wet tile cutter, which is portable, precision-focused, and powerful enough to tackle the majority of tasks. Still, your choice can be totally different. That's why I strived to select as many worthy tools for different purposes as possible.
Professional Tile Saw Reviews: Top 6 Models
I picked 12 top-rated tile saws on Amazon and conducted a field test for each of them to build my own opinion. Below are 6 of them, which have passed my threshold. I provide detailed characteristics for each tool and the use recommendations for professionals and avid DIYers.
1. DEWALT D24000S Wet Tile Saw – Best Pro Tile Saw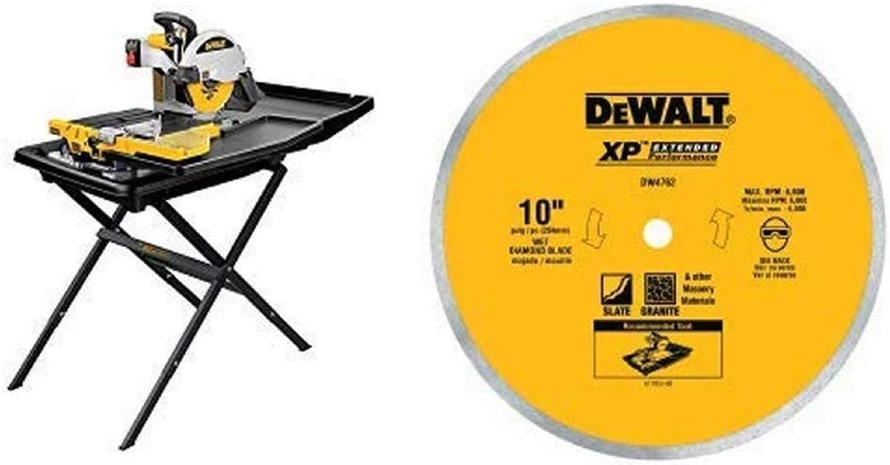 DEWALT is a famous American brand that has been supplying the market with some of the top-quality industrial-grade electric tools for almost 100 years. Today, it's run by Stanley Black & Decker but remains committed to the initial quality goals. These aren't the most affordable tools, but I think their specs and customer support are worth the money.
The D24000S is a superb tile cutter that includes most of the latest innovations in the field. I don't want to sound promotional, so here are the dry facts. First of all, it's a pretty lightweight tool with a foldable stand. Given its only 69 pounds, you can transport it in your car without any difficulties. This makes it a cool option for individual contractors.
The next feature I love is the moving trolley. The tool is mounted on a stainless steel frame with 2 rails that let you move the workpiece simply by moving the platform. It features a non-slip coating, making the operation much safer.
It's not that perfect, though. I know masters who lack the capacity of the platform. The cutting length is limited to 18 inches, which can appear not enough for your projects. There's a high-capacity 10-inch version of this saw for such a case. As for the cutline measurement, it's very easy to make due to the groove in the trolley. When the work is done, you can easily detach the trolley and clean the whole thing in a couple of minutes.
The blade on this model is 10 inches in diameter, which is enough for cutting through 3 1/8″ stones. Of course, the bevel cut depth will be slightly lower, depending on the angle (90°-45°). The water cooling system has both rear and side nozzles that optimize water use by reducing the overspray. As a result, all the water goes down into the 5-gallon pan.
---
PROS:
Comes with a firm foldable stand;
It's quite easy to transport;
Water-capturing system;
Cuts through 3 1/8″ pieces;
The movable trolley is extremely convenient and secure.
CONS:
You may lack capacity;
It's quite expensive, but the 3-year warranty is worth it.
---
2. Delta 96-107 7″ – Best 7″ Professional Wet Tile Saw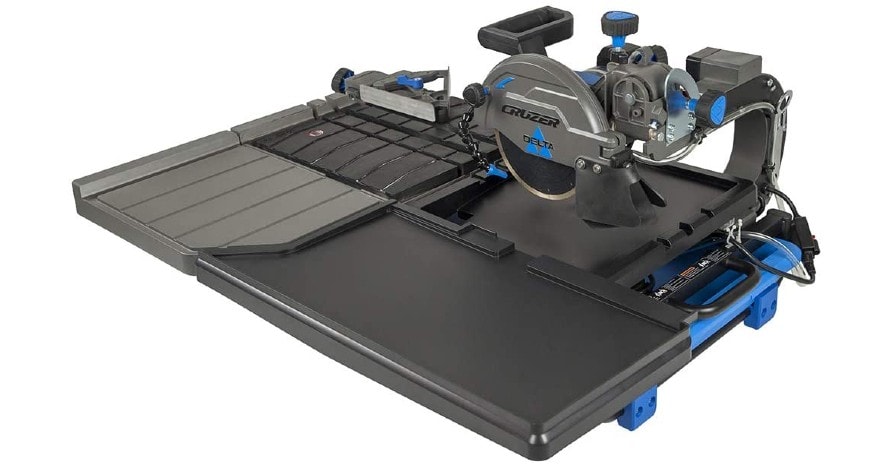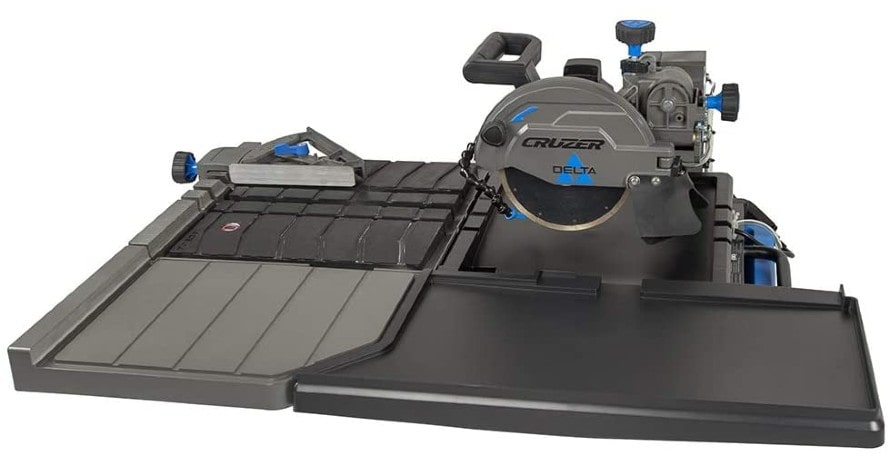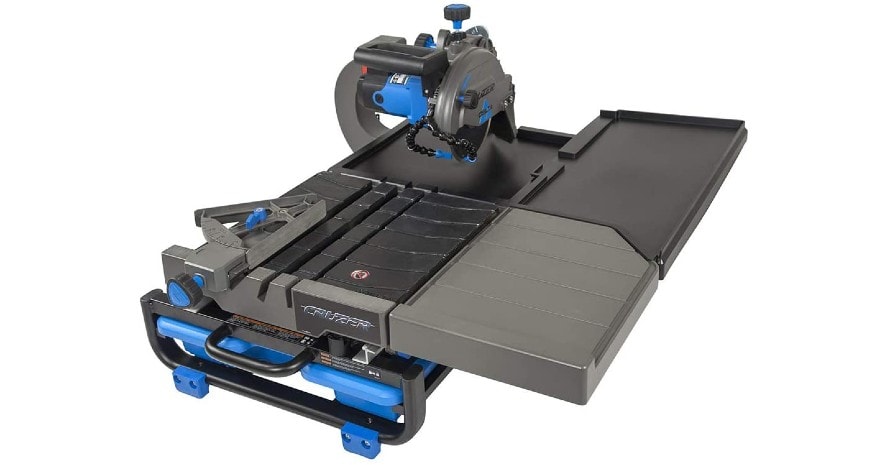 Delta was found 102 years ago in Milwaukee. Since then, the company has passed through the stage of a small private brand to one of the major subsidiaries of Black & Decker and then to the Chinese giant Chang Type industrial major American manufacturer.
The 96-107 Cruzer wet tile saw is a pro-grade cutter with a large cart that lets you lay down tiles and stone of up to 24″ wide and an 18″ diagonal cut capacity. At this point, it's better than the standard DEWALT D24000S, but the blade diameter is limited to 7 inches, so you cannot cut stones thicker than 2 ⅜". It's not a problem, but you should pay attention to this aspect or consider the more expensive 10″ version. The tool also features a double lubrication system with flexible nozzles which makes it very easy to adjust the best cooling, depending on the workpiece thickness and the bevel angle.
Although the platform is broad, the tool weighs 63 pounds without a folding stand. Well, it's much heavier than the previous tool on my listing, but it's still not too much for carrying it from the truck to the worksite and back. The only thing I don't like about this item is the short warranty term that ends just 1 year after purchase. Delta tools are made to last, but I'd like to have more guarantees for the price. Nevertheless, I highly recommend this one for professional use. There are setups with and without the folding stand, so you have a choice to save up a bit if you want.
---
PROS:
Large cutting capacity (up to 24″);
Bevel cut stops with grooves at 0°, 22.5°, and 45°;
Dual flexible water cooling nozzles;
Cuts up to 2 ⅜" stones.
---
3. iQTS244 10″ – Top Construction-Grade Dry Commercial Tile Saw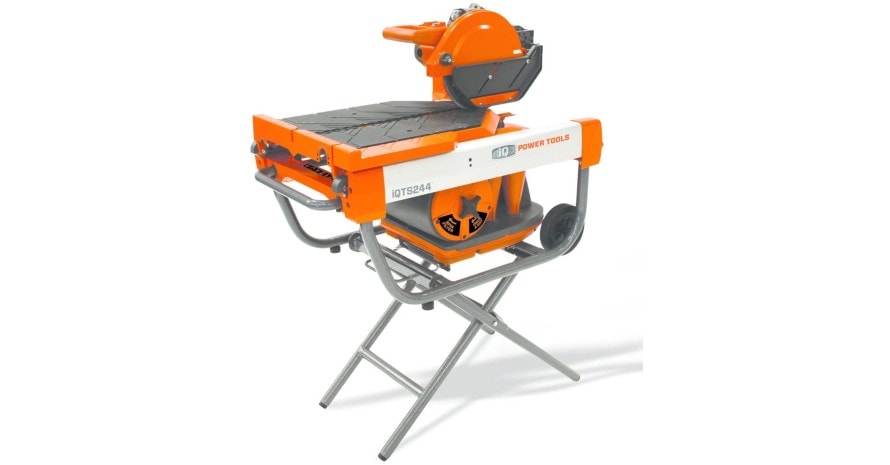 IQ Power Tools is a relatively small American brand founded by two experienced masons, Joel and Paul Guth. Today, the company produces heavy-duty professional-grade masonry instruments with dust minimization in mind. Actually, this is the #1 priority of this family brand. They've reached excellent results in this field.
iQTS244 is a rather cumbersome 93-pound tool, and it costs over $1,800, but there are purposes for that. First of all, it features a unique dust control system. It takes quite a lot of space under the cart, but it manages to remove the majority of the dust and match the latest OSHA regulations on respirable silica dust amounts. If working with water isn't acceptable for some reason, this tool does the same job without it.
I worried about the cooling quality when I first used the tool, but the powerful dust vacuum manages to cool down the blade quite well. The nonstop run time of the proprietary heavy-duty Q-Drive blade is long enough to let you tackle tough tasks on construction sites.
Actually, that's what this tool is for. I'd not recommend it for average tile cutting jobs as it's too tough and heavy for that. But if your projects involve a lot of heavy cutting tasks on construction sites, this saw can serve as a perfect full-cycle tool. It has a large cart without borders, a tough wheeled frame, long-lasting air filters, and a powerful 1.5 HP motor. What else should it offer?
---
PROS:
Super-powerful dry tile saw for thick tile and stone;
Features a unique silica dust vacuum and dust filter;
Powerful vacuum cooling system;
Heavy-duty wheeled frame.
CONS:
It's too expensive for average tile works;
It weighs over 93 pounds with a foldable stand.
---
4. DEWALT DWC860W – Best Handheld Wet Tile Saw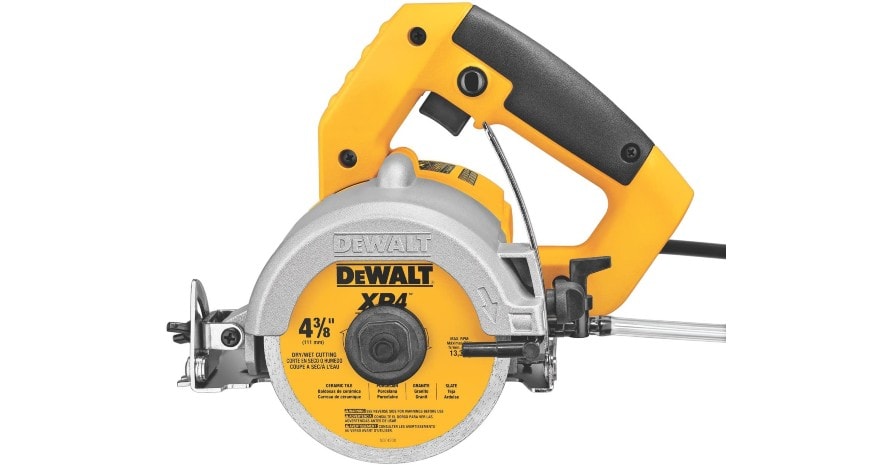 You already know about the brand, so I will concentrate only on the tool this time. You may have noticed that it's the only handheld tile saw on my listing. That's because DWC860W is an absolute leader in the category.
Although it's a DEWALT pro-grade tool, it costs less than $150 (without a blade) and includes everything you expect to see in a small 9-pound tool. First, it features a high-torque 10.8-Amp motor that spins the 3 ⅜" blade and cuts up to 1.2″ tile and stone without notable RPM drops.
Due to the water cooling system, you can use this saw not only for small cuts (like those dry angled saws) but for long production cuts as well. The water line comes in the package and lets you connect the water supply up to 13 feet away from the water source. I can't say that it reduces the number of particles to zero as part of them blows from under the workpiece, but the amount isn't critical. The tool can be used dry as well, but I don't recommend making long cuts without cooling if you want to prolong the blade's life as much as possible.
Similar to average handheld circular saws, this one has a stainless steel shoe. It stabilizes the tool and helps you to make straight cuts without balancing the angle manually. An additional benefit is the option to make precise bevel cuts without too much effort. There is no angle limitation so that you can tighten the blade position anywhere from 0° to 45°.
---
PROS:
Works both wet and dry;
Cuts through 1.2″ tile and stone;
Affordable pro-grade cutter with adjustable bevel;
Compact 9-pound design;
13-feet water supply line.
CONS:
Only for diamond-coated blades.
---
5. SKIL 3550-02 – Top Compact Commercial Wet Saw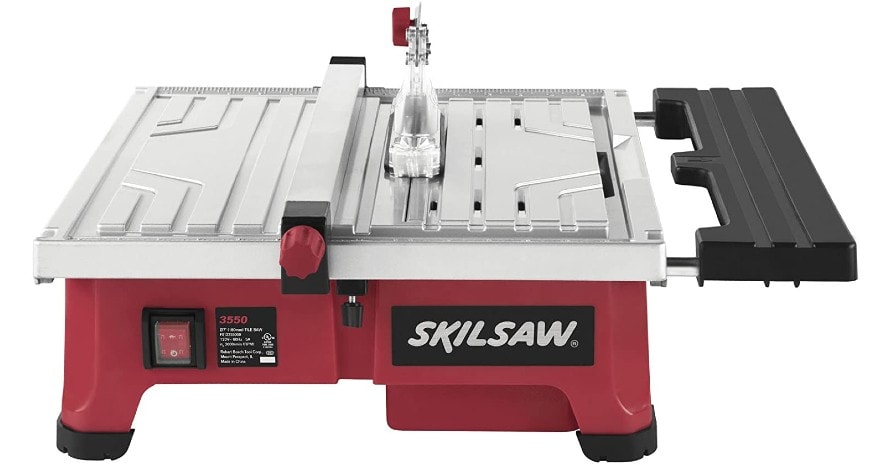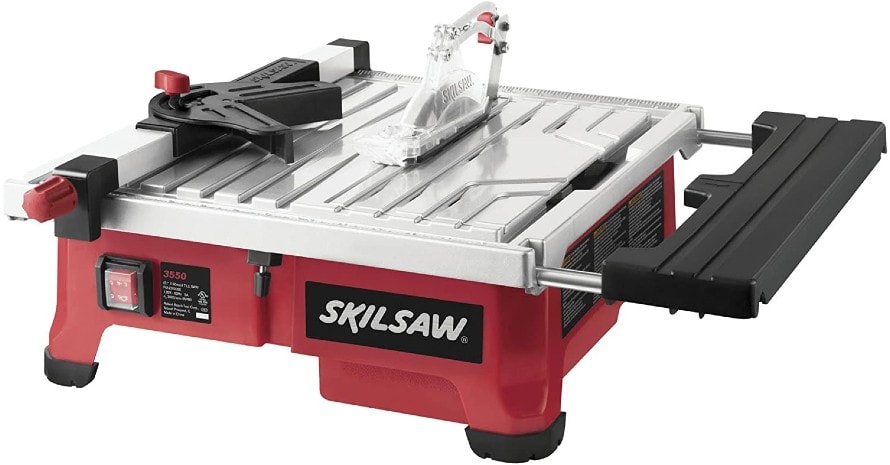 SKILSAW is a legendary circular saw manufacturer from Illinois. This company introduced the world's first portable circular saw in 1924. The company still makes benchmark-quality tools today and keeps the price tags on quite a low level to match the needs of both DIYers and professional users.
SKIL 3550-02 is a portable 24-pound wet tile cutter with a surprisingly big 7-inch blade. Despite small dimensions, it lets you cut tiles that are up to 18×18 inches. The table isn't railed for the sake of portability, but it's covered in smooth aluminum that lets you slide the tiles without too much effort. The guide bar helps a lot with that. In order to fit large tiles, you can use the expandable table surface on the right. Just slide it out to add up capacity.
The red bottom part of the tool includes a closed-cycle reservoir. It cools the blade down perfectly well as part of it is always underwater, while the cutting part is covered with a guard that blocks drops and keeps both water and dust inside for clean operation.
---
PROS:
A compact 24-pound wet tile saw;
7-inch blade and 18×18″ table capacity;
Locked water cycle cooling system;
Expandable table capacity;
Affordable pro-grade tool.
CONS:
Only 3 bevel cut positions (0°, 22°, 45°);
1-year warranty.
---
6. PORTER-CABLE PCE980 – Best SKIL Alternative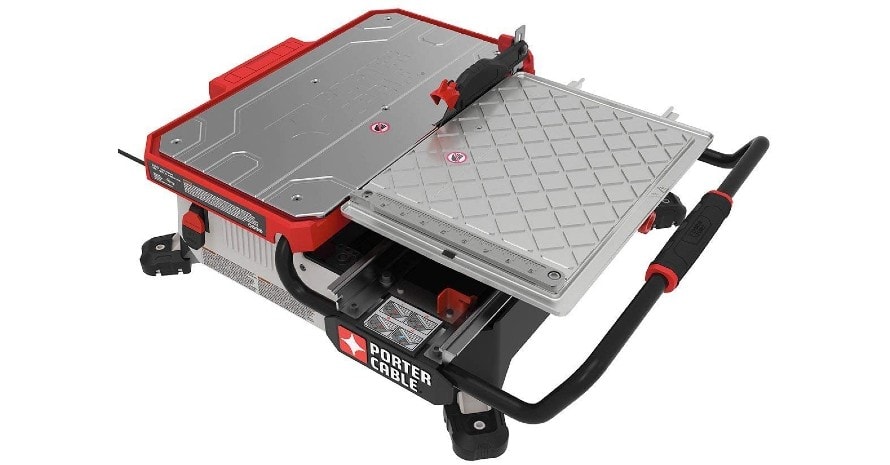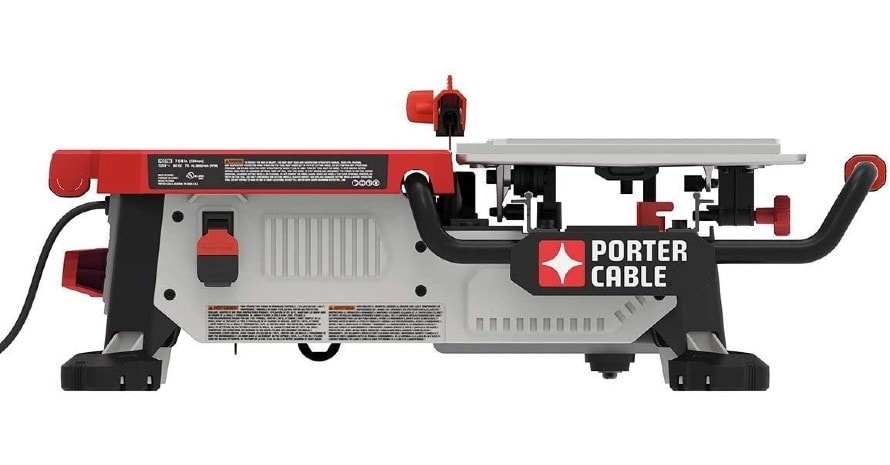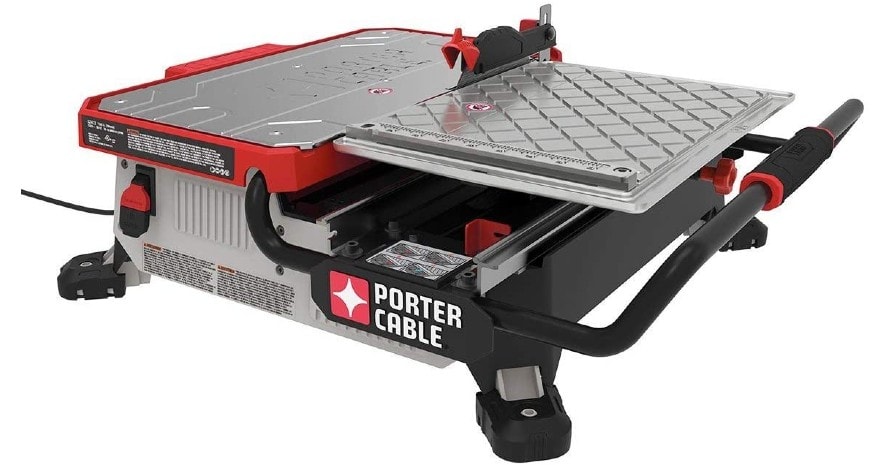 For a slightly higher price, P-C offers a compact tile saw with a sliding cart. To integrate the rales into a small box, they sacrificed 1 inch of cutting capacity and added several pounds of weight. However, if you are a fan of this feature, you aren't likely to suffer from that.
The real minus is that this compact machine requires as much maintenance as a full-sized model. The cut thickness is also limited to average tiles because of the low-settled blade guard. The peak RPM is also a bit lower than SKIL offers. The 1 HP motor makes up to 2850 RPM, while SKIL makes 3600. This isn't a critical difference, but it can be notable when you batch multiple tiles.
On the other hand, you get 3 years of warranty and firm P-C toughness that has been developed in over 110 years on the market. The tool tackles the majority of tile cutting jobs without difficulties and lets you feel like operating a full-sized tile saw without the need to bear too much weight.
---
PROS:
Compact cutter with a sliding table;
3-year warranty;
Water splash guard;
Can make miter cuts;
Highly secure sliding table with a handle.
CONS:
No bevel cutting;
Only for average-thickness tiles.
---
Tile Saw Buyer's Guide
Here is a tile saw guide that will let you get enough knowledge for choosing professional tile saws for different needs. It may look short, but it's comprehensive.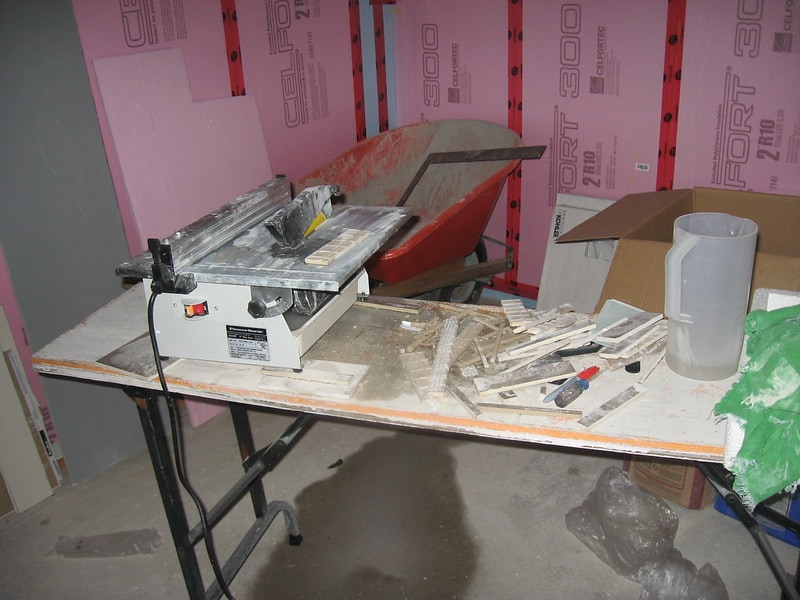 What is a professional tile saw?
A professional-grade tile saw is often confused with small electric miter saws and table saws, but it has several major differences that make it more effective for cutting ceramics and stone rather than wood and metal. Unlike an average circular saw, a tile saw uses diamond-coated blades that don't have any teeth. Due to this, they grind through tiles smoothly, without chipping or breaking them under pressure. I would say that all tile saws are narrow professional tools, but many workers may correct me, as there are average handheld circular saws that are used with tile cutting blades. Well, they are also used at construction sites but don't provide the same level of comfort, efficiency, and accuracy. Even if you need a handheld tool, It's better to get a pro-grade cutter like DEWALT DWC860W (see the review above).
Types of tile saws
There are stationary wet tile saws and handheld tile saws. Wet tile saws are considered the best professional choice. Let's take a closer look at both.
Wet tile saw
These are the best tools for professional use. They look quite similar to compact table saws but have water reservoirs for blade cooling. As a result, such tools can cut large batches of tile without overheating. In addition, water lubricates the blade, making it easier to cut without damaging the workpiece. Finally, it minimizes the amount of dust almost to zero, which makes it the safest tile saw type.
They also provide significantly higher accuracy and finish quality. Due to the similarities with table saws, wet saws let you make precise bevel and miter cuts, even if you are not an experienced master. Safe operating procedures are still important for using this instrument.
There is a wet tile cutter with a recirculating pump that takes the water from the reservoir, filters it, and reuses it. There is no need to connect a faucet to such a saw. Pumpless models work with a faucet, so the water is always cool and clean. Such tile saws can be much more portable than those with a pump.
Handheld tile saw (masonry saw)
This type is designed for smaller workloads and cutting thinner materials. It's a good solution for removing tile parts or odd-shaped cuts with curves. The two types of these tools include wet and dry saws. The first always comes with a long hose for fast connection to a water source but can be used as a dry cutter too. The dry type is less versatile as you cannot convert it into a wet type. As a result, it's easier to overheat the blade and impossible to avoid the dry mess. I don't like this type at all, but it can be used for smaller outdoor works.
Tile bridge saw
A professional bridge tile saw is an alternative tool that has a sliding blade instead of a sliding table. It requires a bit more skill to be used and usually takes a bit more space. It's a good alternative to the sliding table models from my listing, but don't prefer them over this type as there are no outweighing benefits.
How to use a professional tile saw?
Using a pro-grade tile saw is quite easy, so I decided just to split it into steps for you:
Make sure the tool is turned off;
Put a tile onto the cutting surface;
Move the guide bar to the needed point and lock it – this lets you set the needed final width/length of the tile;
Once the guide bar is locked, you can put down the blade guard, start the engine, and start pushing the tile towards the blade. Push it down, in, and away at even speed to make the smoothest cut possible;
Don't lift the blade guard until the blade stops rotating.
Durability tips
Here are some tips that will help your tile saw blades serve as long as possible:
Cut wet when possible – the water cools down the blade, letting you cut nonstop longer;
Make short dry cuts – cutting dry, you have to stop after each tile (especially thick) to avoid overheating blades and the motor. While the motor of a pro-grade tool isn't likely to overheat fast, the blade can be damaged easily;
Change water – pour clean wat into the reservoir every day to keep the pump healthier;
Don't overstrain it – don't cut materials that are thicker and harder than your blade and motor can deal with.
Tile Saw FAQ
I received quite a lot of similar questions about tile saws from professionals from all over the US and Canada. Thank you for reading my blog, guys! Here are the replies to the most frequently asked of your questions.
Do I need a professional tile saw?
Pro-grade tile saws offer a variety of features that are designed to speed up production. While this benefit goes to both wet and dry tile saws, wet cutters are also much friendlier to your lungs. Dry cutting and grinding are hazardous and require more precautions than the wet method. The second can also brag about a better finishing quality.
How long should a professional tile saw last?
If we talk about the machine itself, you should expect it to work for years after the warranty expires. You can find older DIYers who have tile saws that have been working well for decades. Blades last significantly shorter. Low-quality items can last from 6 to 14 hours, while high-quality ones reach 120 hours of non-stop cutting of tough and soft materials.
When should I change my wet tile saw blade?
A fresh professional wet tile saw blade lets you do tough cutting jobs almost without effort. Over quite a long time, you may notice that you need to put more pressure on the workpiece to make an even cut with the same speed. I recommend you use your most used tile type as a benchmark not to puzzle yourself and change the blade when the cutting speed notably decreases.
Can I use a tile saw for lapidary?
Technically, you can use a pro tile saw for lapidary cutting, but the quality of the finish on stones will be too rough in the majority for the majority of uses. A wet tile cutter can produce a slightly smoother finish, but the smooth shiny finish is still impossible for this one.
Grind It Through
Are you feeling like an expert in the field now? Well, you should be, as you already know all you need to make a well-considered choice. You have an option to take the DEWALT D24000S for exceptionally smooth wet cutting and compactness, consider one of the other models on my listing, or make your own run through all the available marketplaces to get the best offer. Regardless of your decision, a good tile saw will make you a much more versatile professional and speed up your tile and stone projects a lot.
Did my guide answer all your questions? I hope so, but you're welcome to ask me any questions on the topic in the comments section below. I would also be very grateful if you tell other readers and me about the cutter model you choose for your projects. If you already have experience in the field, your feedback will be extremely valuable for us all as well. Take care and stay tuned for more of my power tool guides and reviews!