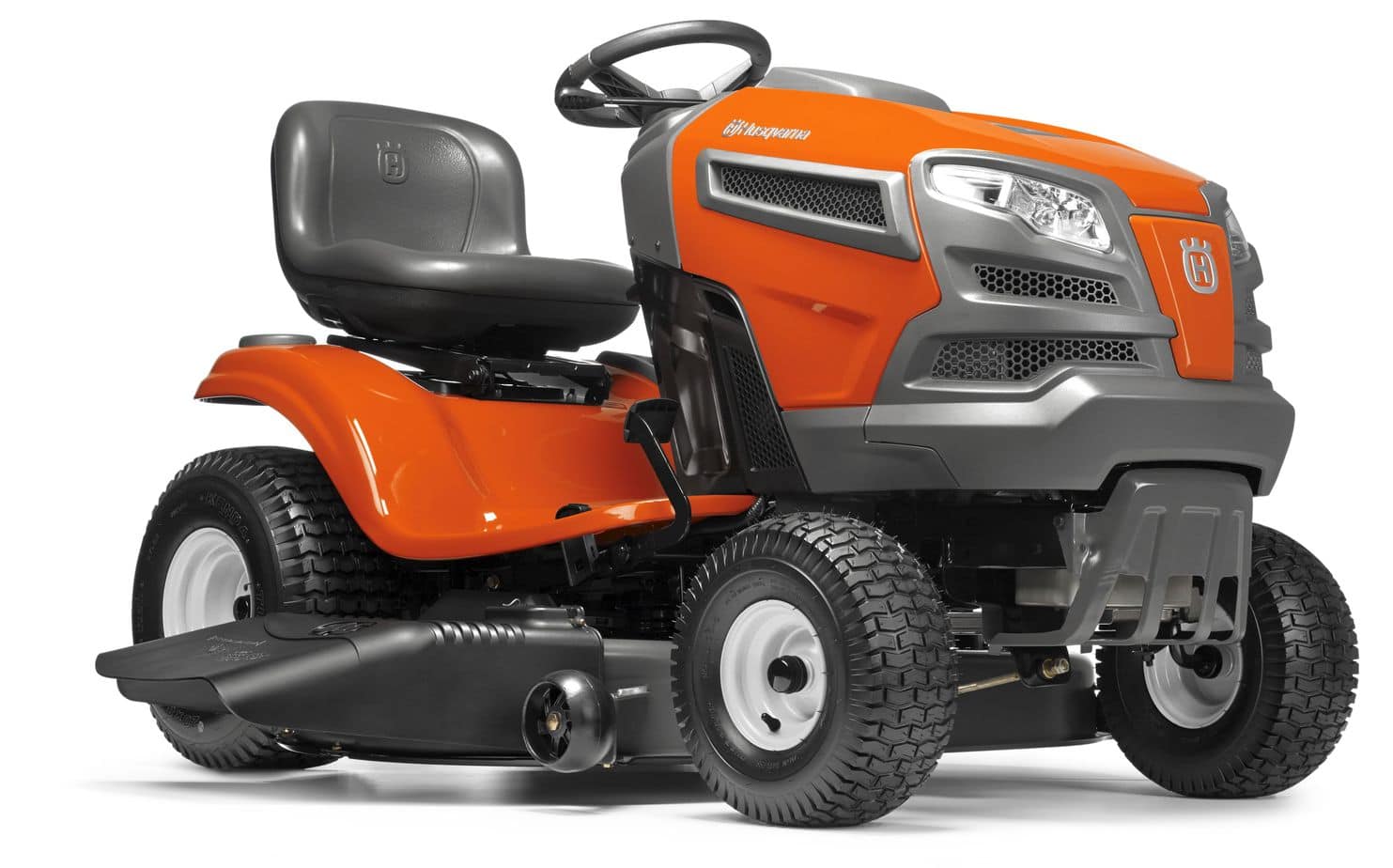 Compact size, easy to maneuver, and requires less space for storage. 2.5 gal. fuel tank. Blade lever on a dash for ease of operation. Angled steering wheel for optimal driver's position. Fender-mounted cutting height adjustment, adjustable seat, and an ergonomic steering wheel for comfort when operating. Auto transmission for smooth, variable forward, and reverse speed. Air induction mowing improves airflow within the deck, ensuring a clean, consistent cut. Fully pressure-lubricated, single-cylinder engine with oil pump and oil filter. Step-through design for comfortable and easy mounting and dismounting. 46" cutting width. 16" turning radius.
Features of Husqvarna YTH22V46:
22 hp Briggs and Stratton Intek V-Twin engine offers smooth, powerful performance
Foot pedal-operated hydrostatic transmission allows you to change speed and direction, which lets you keep both hands on the steering wheel for optimum driving control
Cruise control allows the tractor to maintain consistent speed in rough terrain
Reverse operating system allows the operator to mow in reverse with a simple turn of a switch Tight 16 in. turning radius allows you to mow in tighter spaces and navigate around obstacles
46 in. reinforced cutting deck with air induction mowing technology and dual anti-scalp wheels
Details: Husqvarna's riding lawn mowers offer premium performance with quality results. Their compact size makes them easy to maneuver and requires less space for storage. Features such as fender-mounted cutting height adjustment, adjustable seat, and an ergonomic steering wheel make these tractors simple and comfortable to operate. All tractors feature hydrostatic transmissions for smooth, variable forward and reverse speed. Air induction mowing technology improves airflow within the deck, ensuring a clean, consistent cut every time. For added versatility, all models can be equipped with a range of towable accessories and a mulch kit for effective lawn fertilization.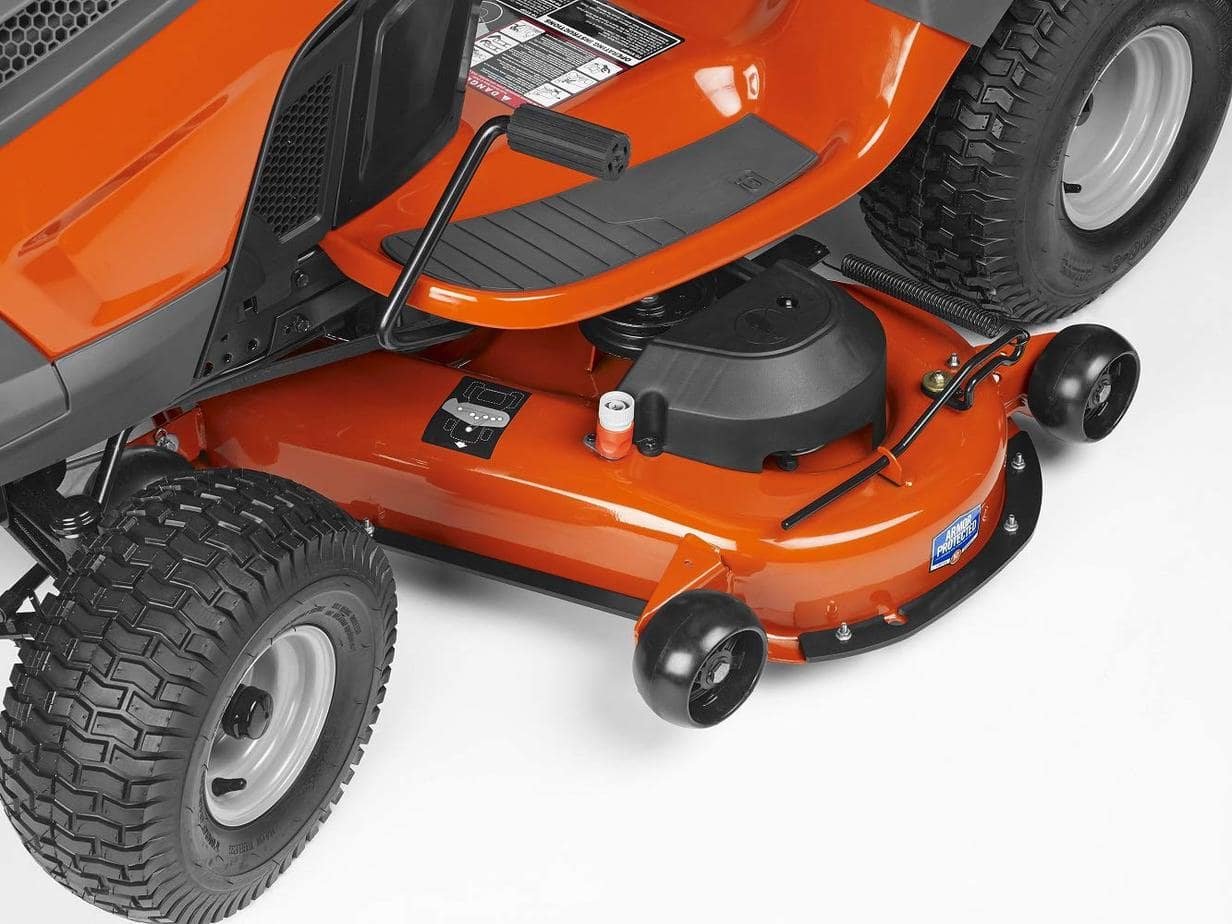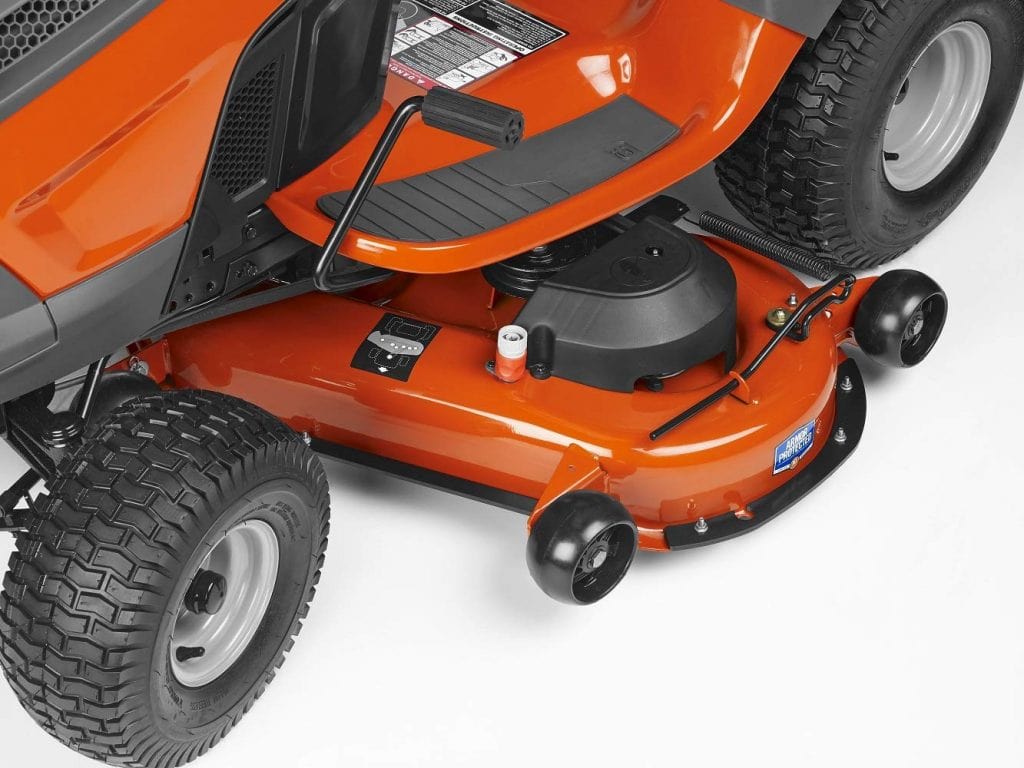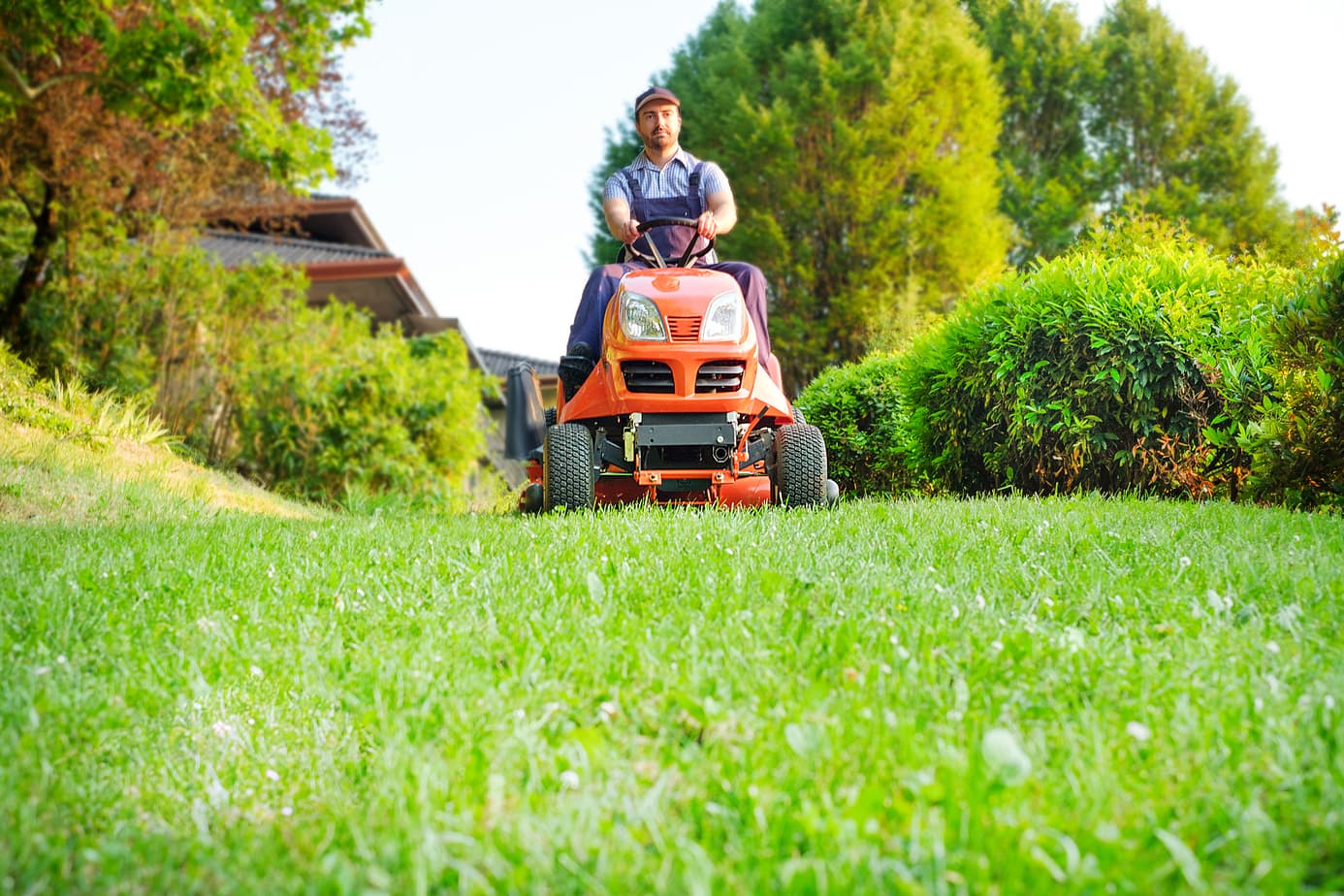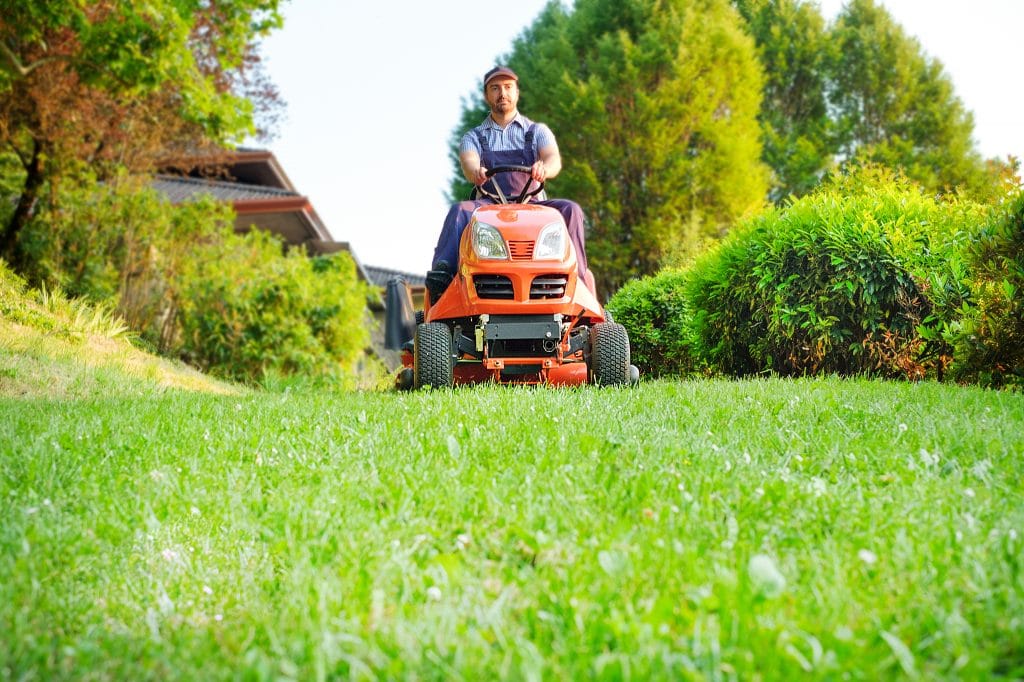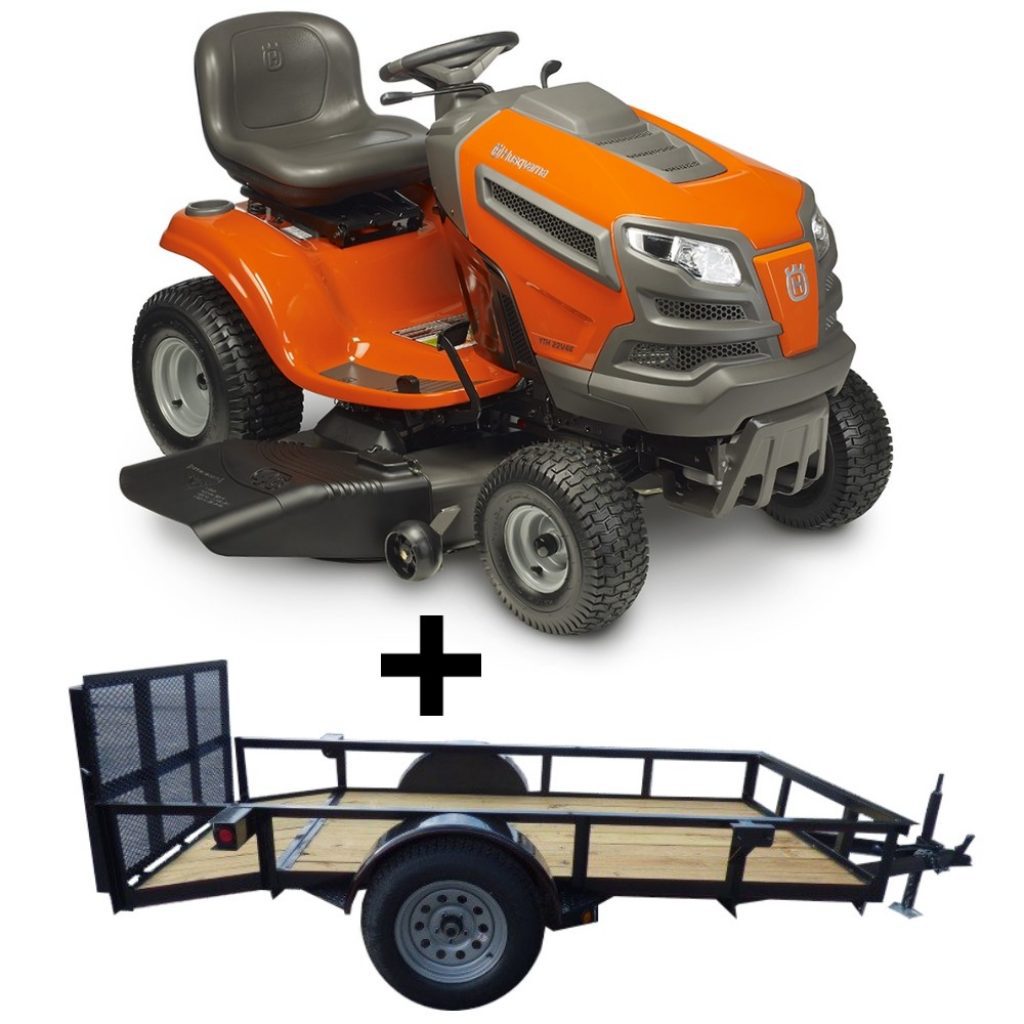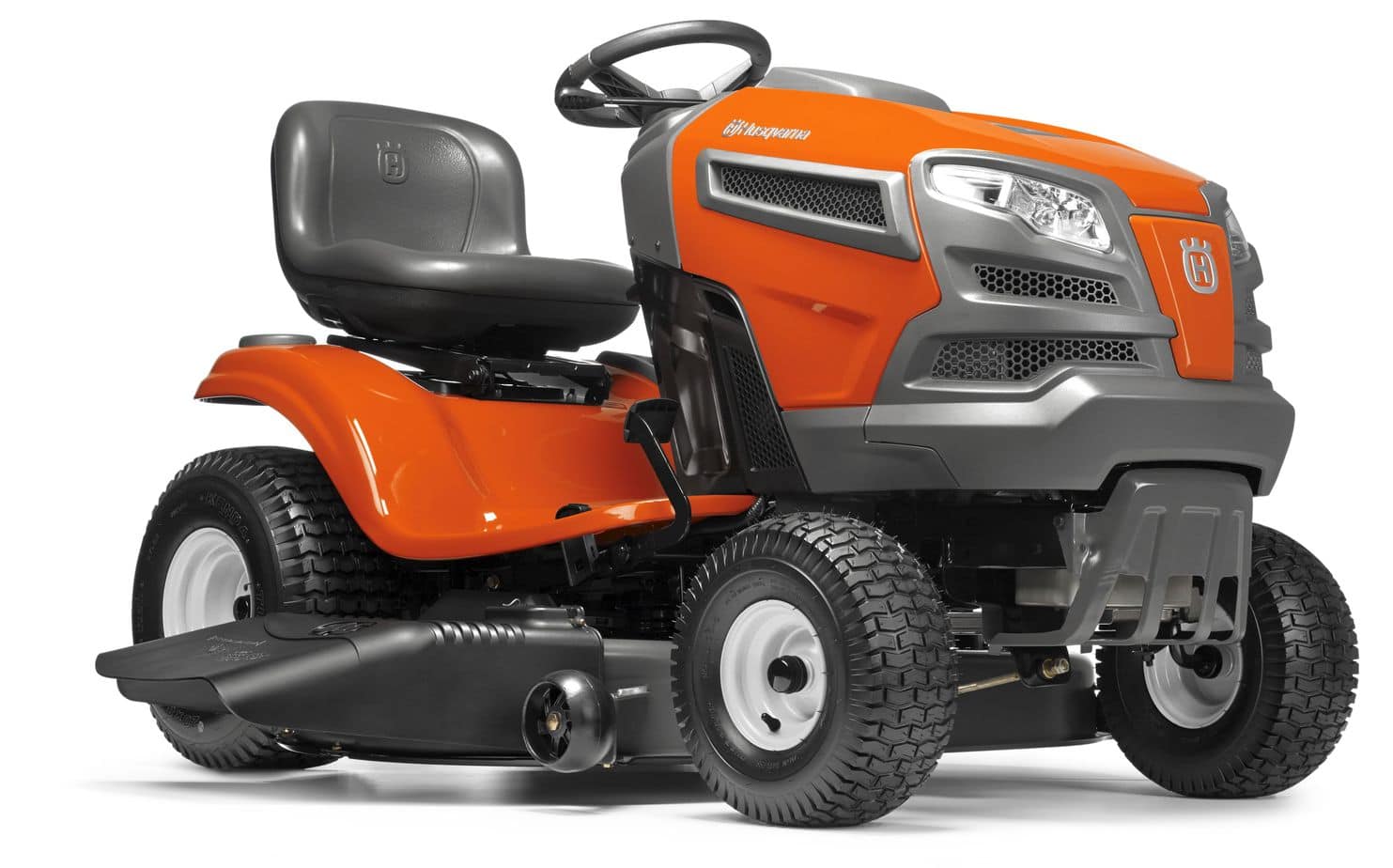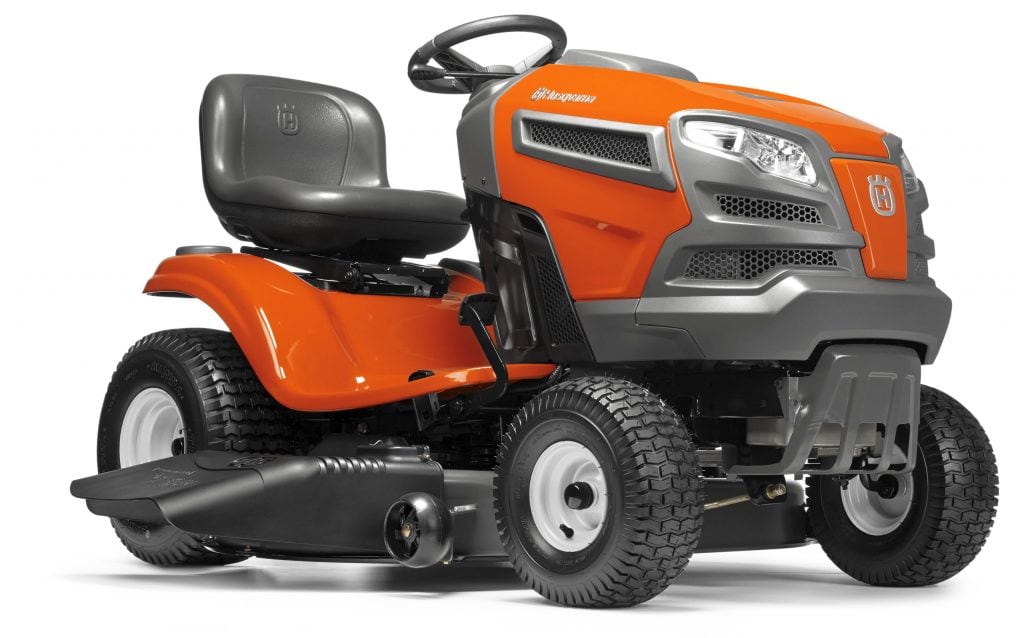 Reviews about Husqvarna YTH22V46
First, this is coming on a crate and they will put it on the ground IF you pay the extra $50, otherwise, it's FOB Freight on Board and you will need some extra muscle to get it off the truck. The $50 is worth it. The Mower needed only minor adjustments to the deck prior to the first run. Mainly, one needs to be sure to lower the rollers on the front of the deck to prevent the deck from bottoming out which can bend the metal if you hit a hole. Also, you will need to lower the air pressure in the tires as they are overfilled for easier transport. The gas tank on this is huge. It states 2.5 gallons in the specs but I put in 2 gallons and it only filled the tank halfway. I now have 3.5 hours on the mower and still running off the original 2 gallons of gas so it's fairly efficient as well. The first cut was in wet grass that was about 24 inches tall and while there were some "missed" or bent stalks the 22 hp engine didn't slow or complain once. The second cutting I didn't have any problems with as the grass was only 3 inches. The lawn looked very even and the Mower ran smoothly without issue. This mower will throw grass about 20 feet. So if you don't want to deal with the clippings being spread out, I recommend getting either the Mulching kit or the Bag system. The turning radius on the mower is about 12-18 inches from what I experienced. The reverse cutting works well so I wasn't too concerned about the turn radius. For people complaining about the crate, it protects the mower during transit and you can use the wood for the fire pit. A win in my book. Note: this is a mower. It's not going to drive like your car or truck. It does not have shocks so you will feel the bounce which is why the seat has a spring. Finally, it's a great mower for the price and I am completely satisfied with the purchase. 
Ryan F.
I bought the YTH22V46 in October 2018 because pushing a lawnmower over nearly a half-acre these days is increasingly more difficult. I am extremely pleased with my purchase. It rides nice, it's relatively quiet, durable making very nice cuts. I also purchased the three-bag grass catcher with it making life oh so much better with clean up. The only issue I did find a problem with was after about 3 hours of use I raised the Attachment Lift Lever from 3 to 4 and something snapped loose. The tab under the plastic mold had somehow slipped past the metal wheel shroud and the plastic slide pointer broke in half where part of it disappeared. I removed the hardware that secures the Lift Lever Molding and re-inserted it successfully securing it in place. I haven't had any issues since. As for the Slide Pointer that broke off, well I'm not that absent-minded remembering what deck level I need so it stays off. Otherwise a fantastic piece of lawn equipment. I'm thrilled about my investment.
Kiss67
I have had this mower for about 4 years now and initially, it was a bit hard to start. But after changing the battery to a higher cranking amp battery, it starts easily every time. It has been a great mower and I have had no issues with it. I like the hydraulic transmission system and the reverse foot pedal. I use the deck wash hose attachment each and every time as it keeps the grass from building up under the deck. I bought the mulching blades right after I bought it and it does a great job. This has been an awesome mower.
FredW

Husqvarna YTH22V46 46 inch 22 HP (Briggs) Lawn Tractor